A long time ago in a galaxy far, far away, CGI was still in its infancy, and if you wanted cheap props for a science-fiction movie, you created them the old fashioned way – by making them from whatever you had available.
When a relatively unknown film-maker named George Lucas announced that he was making a sci-fi space opera, prop makers were faced with the task of creating lots of futuristic-looking movie guns.
They did this in the same way that they always had – by taking existing guns and adding bits and pieces to make them look a little more as if they were advanced weapons. That's why gun enthusiasts have such fun working out the origin of many of the guns in the Star Wars original trilogy.
Because the first three Star Wars movies were filmed at Elstree Studios in London, many of the weapons used as the basis for props were British or readily available in Britain in the late 1970s.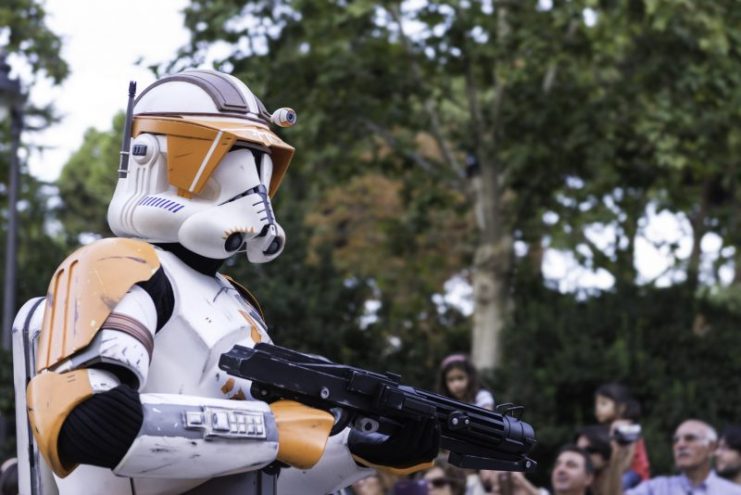 Blas Tech DL-44 Heavy Blaster Pistol
The most famous gun from the original Star Wars films is the blaster pistol used by swashbuckling smuggler Han Solo (Harrison Ford). This was created by combining a non-firing Mauser C-96 'Broomhandle' with parts from the Revell Visible V-8 Model Kit.
If you look closely, you'll see that half a piston from the model kit has been fixed to each side of the magazine on the Mauser and other parts from the kit have been glued to the frame above the grip. These were combined with a telescopic sight and a cone over the muzzle to produce a distinctive and low-cost prop.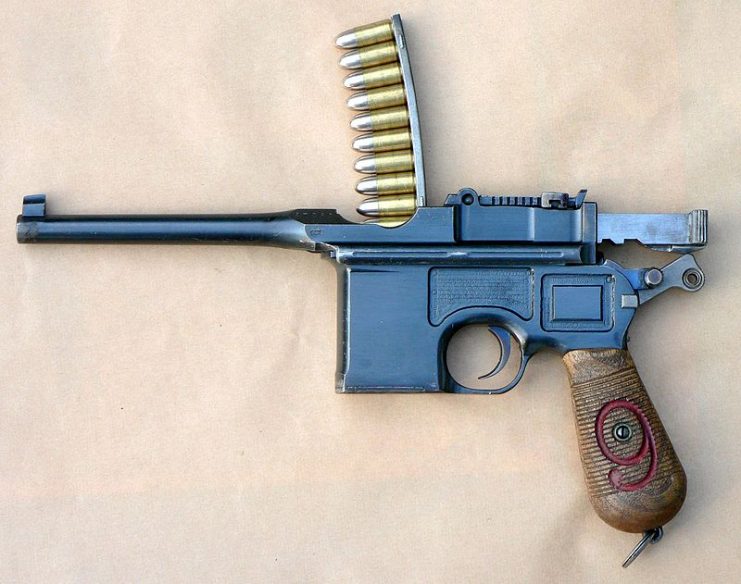 To keep costs to a minimum, prop makers at Elstree used a C-96 that was already in their possession to create Han Solo's blaster. This pistol was first used in the 1968 movie The Naked Runner, where Frank Sinatra plays Sam Laker, an assassin who uses the C-96 with a silencer and a telescopic sight.
The fact that the C-96 at Elstree had already been modified by removing the front sight to allow the fitting of a silencer and adding a mount for a telescopic sight made it even simpler to convert it into a futuristic-looking blaster.
In A New Hope, there was very little money available for props, but by the time of The Empire Strikes Back the pistol had evolved. In the second film, it has a custom-made, turned aluminum cone over the muzzle instead of the off-the-shelf black, perforated first version. The details on the frame have been improved and refined.
However, it remains recognizably a Mauser from 1896.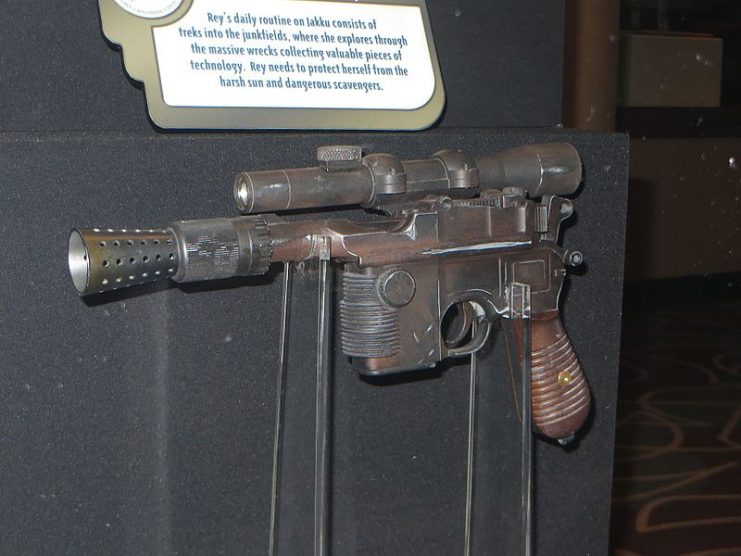 Blas Tech DT-12 Heavy Blaster Pistol
Seen only briefly in A New Hope, this pistol is carried by Greedo, the character killed by Han Solo in a confrontation in the cantina. It's actually a Ruger Mk I .22LR Target Pistol with a shortened barrel, finned muzzle cover, and the addition of several unidentified bits and pieces on the slide and receiver.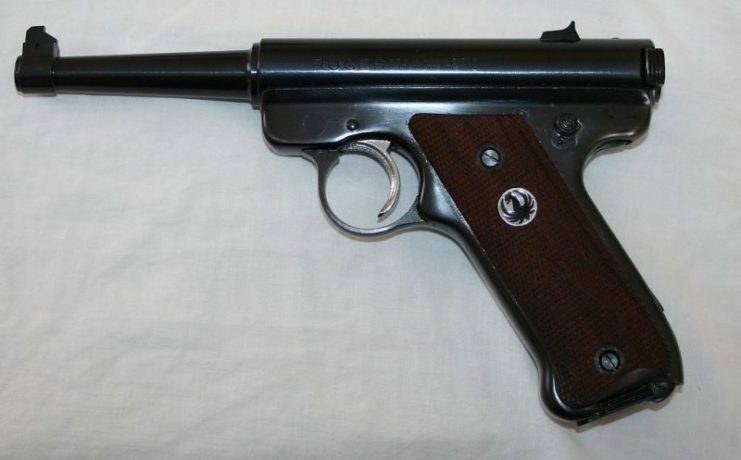 Drearian Defense Conglomerate Defender sporting blaster pistol
Some guns used in the original trilogy were barely modified at all. For example, the pistol carried by Princess Leia at the beginning of A New Hope is clearly a Russian Vostok Margolin .22LR Target Pistol with the addition of an extended muzzle shroud.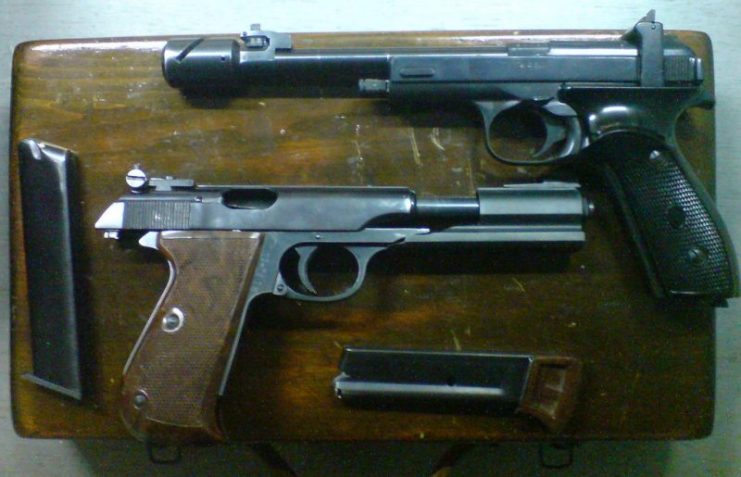 Blas Tech DH-17 Blaster Pistol
This small blaster pistol can be seen being used by both rebels and imperial troops in A New Hope. It was created by using the grip and part of the receiver from a British Sterling Sub-Machine gun combined with a short barrel and a state-of-the-art (in the late 1970s) single-point OEG (occluded eye gunsight).
General Lando Calrissian's Blaster Pistol
This one (as far as I know) doesn't even have a name in the Star Wars canon, but the blaster pistol carried in a shoulder holster by Lando Calrissian in Return of the Jedi is a Heckler & Koch P9S pistol with the addition of some form of optical sight and an extended barrel.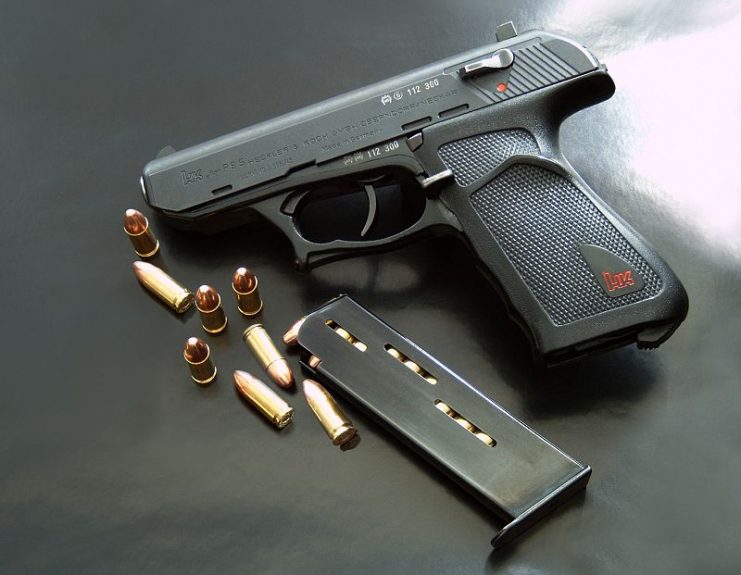 E-11 Blas Tech Standard Imperial Sidearm
The E-11 is a light blaster rifle capable of semi and fully automatic fire and is the weapon carried by most Imperial Stormtroopers.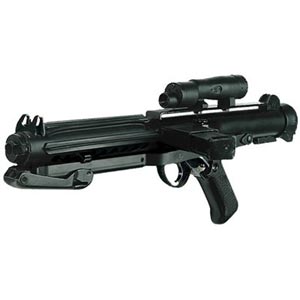 This prop was also created simply by using a British Sterling L2A3 submachine gun. A shroud was fitted over the barrel, a much shorter magazine was added, and the folding rear stock was either removed or folded forward for filming.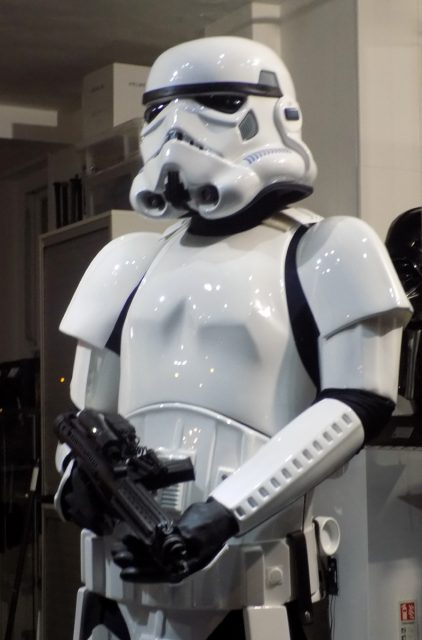 Blank-firing Sterlings were used in A New Hope and The Empire Strikes Back, and you can occasionally see blank cartridges being ejected as these weapons are fired. For Return of the Jedi, a Japanese model of the Sterling was used to avoid the problems of ejecting blanks.

Blas Tech A295/A280 Blaster Rifle
A standard weapon of rebel soldiers in The Empire Strikes Back, this was produced using a cast-resin, non-firing replica of the German Sturmgewehr 44 with the stock and magazine removed as well as various covers, shrouds, and a telescopic sight added to make it look a little different.
In Return of the Jedi, rebel troopers are equipped with the A280 Blaster Rifle, created by modifying a non-firing, resin cast M16 in the same way.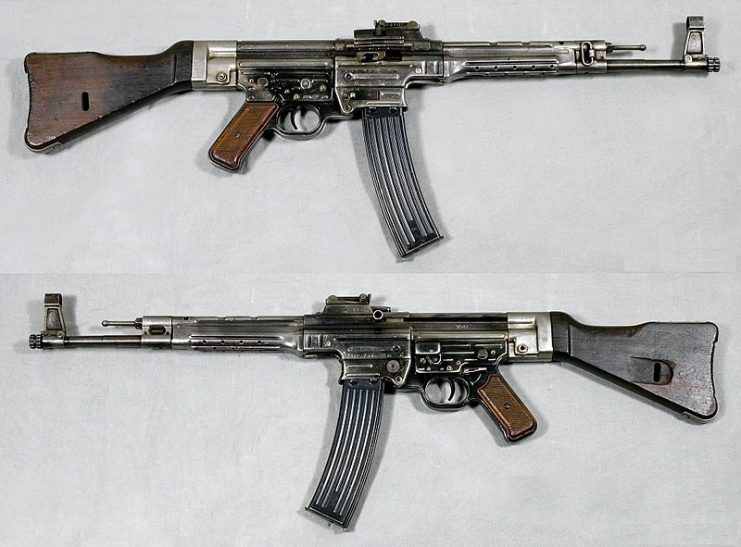 Blas Tech T-21 Light Repeating Blaster
In A New Hope, several Imperial Stormtroopers on Tatooine can be seen carrying a heavy weapon which was later identified as the T-21 Light Repeating Blaster.
These props were created using a minimally modified British World War One Lewis Gun. This light machine gun was adapted for the film by adding ribbing to the barrel and removing the large, circular magazine.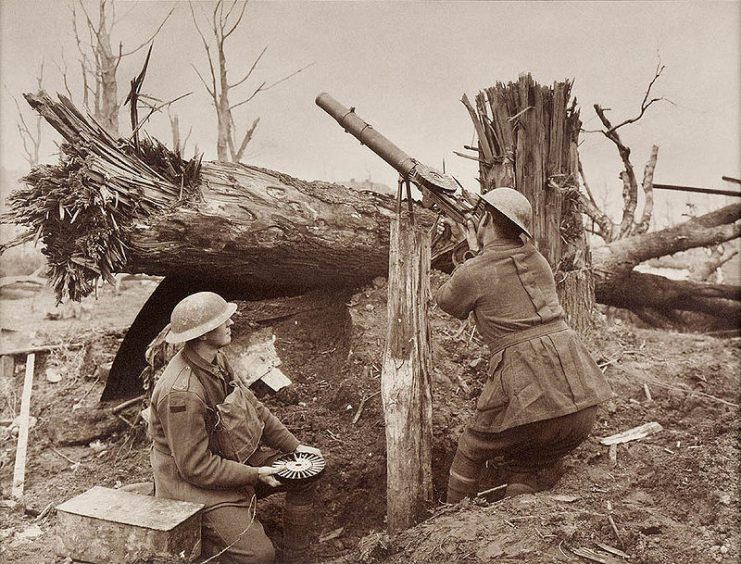 Blas Tech DLT-19 Heavy Blaster Rifle
A heavy support weapon carried by Imperial Stormtroopers in A New Hope, the DLT-19 is based on another light machine gun with minimal modification, this time the World War Two era German Maschinengewehr 34.
These are used in the movie with the ammunition drums removed, their wooden stocks painted black, and with some slight changes to the barrel shroud.

RT-97C Heavy Blaster Rifle
Also seen being carried by Imperial Stormtroopers in A New Hope, this heavy blaster is based on a German MG-15 from the 1930s with minimal modification including the addition of a telescopic sight.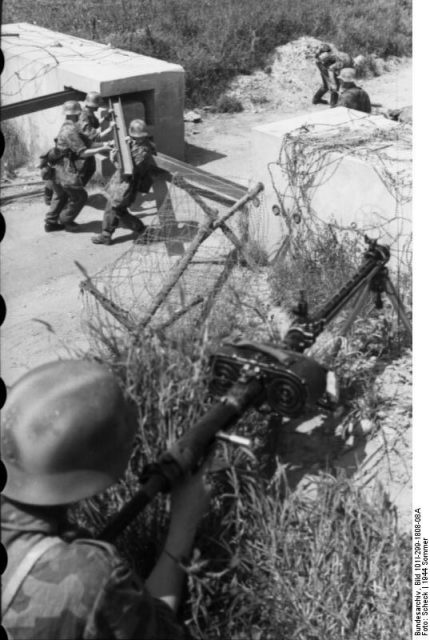 Blas Tech EE-3 Carbine Rifle
This weapon first appeared in The Empire Strikes Back where it was wielded by bounty hunter Boba Fett. It is actually a Webley & Scott No.1 Mark 1 flare gun, originally produced for use by the Royal Flying Corps during World War One. For the movie, it was modified with embellishments to the barrel and the addition of a telescopic sight.
It's worth noting that the weapon names referred to here were not used in the original trilogy. The weapons in the first movies were only ever referred to as "blasters," and the precise identification of weapons and even the back-history of companies like the Blas Tech Corporation were created later by fans and spin-off publications.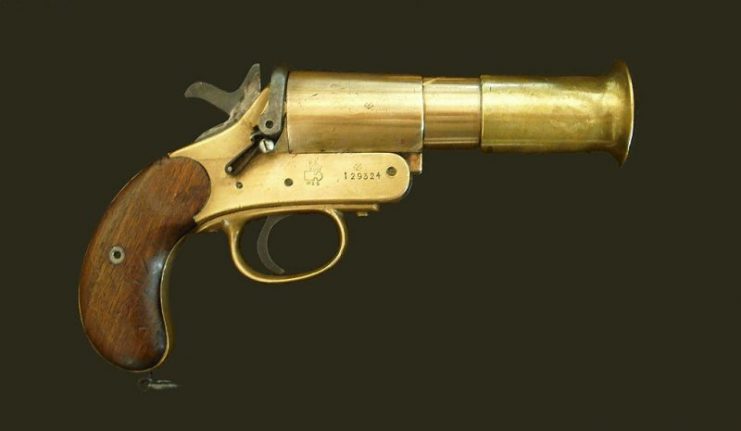 Read another story from us: Did You Know? Five Movie Stars that Served in the Military
In the Star Wars movies which followed the original trilogy, far more money was available so prop guns were generally made from scratch, and it's clear that a great deal of effort went into their design.
In the original film, money was tight, and props were made from whatever was to hand and could be easily and cheaply modified. For gun enthusiasts, part of the pleasure of watching the first three films is trying to spot where the various blasters originally came from.
We hope you enjoy our content. We think it's important to keep war history alive. If you do too, please consider becoming a supporter. Thanks.
Become a Supporter