Three days after the attack on Djebbel Djaffa, B Squadron of 48 RTR was detached from 21 Tank Brigade and sent to Guhriatt El Atach, where they would support an infantry attack on Point 174.
This squadron was formed into a composite battalion under command of 142 Royal Armoured Corps and assigned to support 2nd Battalion Sherwood Foresters for their assault on a ridge. Peter Gudgin was present for this action as the B Squadron Infantry Liaison Officer.
The B Squadron tanks arrived late to their start point, so the infantry were forced to commence their attack without them. Despite this, they managed to secure the hill but were soon the subject of a fierce counter attack. The Foresters were alone until nine tanks could be manoeuvred into position to support them from a ridge behind the infantry and slightly lower than Point 174.
This is when we now believe Tiger 131 was disabled. But by whom?
In an after action report Major C Joss, Commanding Officer of B Squadron 48 RTR, wrote;
"… Captain Rand saw an aerial mast moving along the ridge of 174. He put his gun onto it and informed the rest of 9 Troop. The tracks appeared and the tank was identified as a Mark. VI. …He told his Troop to hold their fire… as there was one of our infantry carriers just below the Mark VI and he thought an under might hit the carrier. This unfortunately happened but the Mark VI disappeared and came up again in a different position and was hit. The crew bailed out and were shot by our infantry."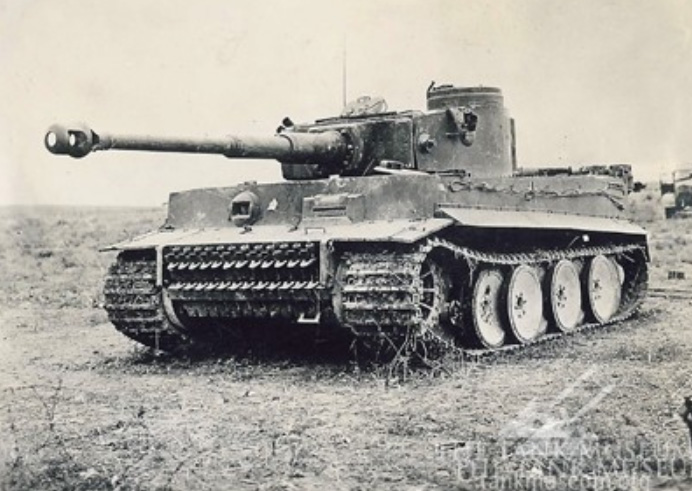 Is it possible that this entry refers to Tiger 131? Despite considerable effort, the crew of Tiger 131 have never been identified or come forward – could it be because they were all killed as they ran?
What happened at Point 174?
Joss' report continues; "Lt. Kingsford and 10 Troop… all arrived on 174 without incident and started changing positions and coming up to turret-down to observe. It was at this juncture that Sgt. Cummin's tank, coming up to engage a Mk VI some 500 yards to the front (which was stationary and apparently abandoned but which he thought might still be used by the enemy as a mortar observation point) was hit by an 88mm shell fired from a position about 2000 yards away…"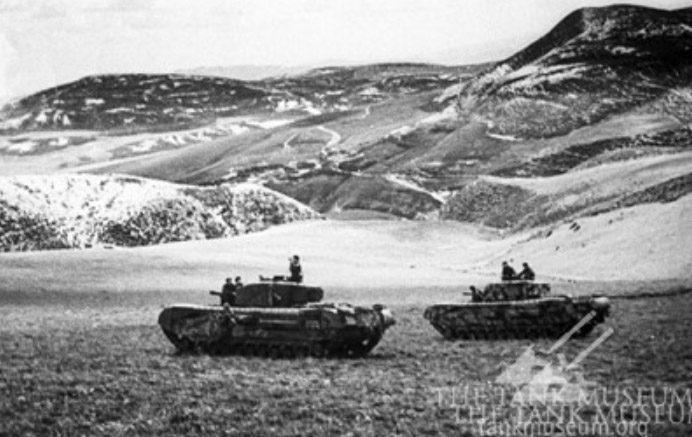 This stationary and apparently abandoned tank could also be a reference to Tiger 131. But this wasn't the first time Point 174 had been fought over. The previous day, 142 RAC were in action alone on the ridge. The 142 RAC war diary reports that a Major F Roper believed he had knocked out a Tiger.
However, 174 was still in German hands at this point, making it likely that the Germans themselves would have recovered this tank unless it was damaged beyond the point of repair. Of course we know Tiger 131 was not that badly damaged.
By the time 48 Royal Tank Regiment withdrew from Point 174, they were able to record in their war diary that that "five enemy tanks were destroyed… One Pz Kw Mk. VI was damaged."
It is disappointing there isn't more compelling detail on what and how this tank was damaged. But with evidence now suggesting anti-tank guns and tanks firing on enemy tanks here, The Tank Museum wanted to see if it could be certain as to what knocked out Tiger 131.
A message from The Tank Museum:
"Please Support Us: As a charity, we rely on public support for all our activities. Our work is funded entirely by people like you. With your support, we can continue to create content. With the right support we might be able to do it more regularly – and can be even more ambitious. Please Click on the Banner Below."
Thanks to the Tank Museum for this Blog, which originally appeared here.