Arlington National Cemetery Tours will Support the Annual Wreath Across America Day on Saturday, December 16, 2017 and January 20, 2018.
Arlington National Cemetery Tours is proud to support Wreaths Across America and their mission of honoring our nation's greatest heroes. On Saturday, December 16, 2017 and January 20, 2018. On these two days, we'll assist the organization at Arlington National Cemetery to place ribboned wreaths at the foot of every headstone in a touching ceremony that celebrates the lives and service of our military veterans dating back over 150 years.
Partnering with Wreaths Across America, the cemetery's official tour company will suspend their normal tours to assist the organization for this special tradition to honor and remember the active duty service members, veterans and their family members who've been laid to rest in the cemetery.
The public may participate in the event on December 16, which begins with an opening ceremony in front of the Women in Military Service for America Memorial near the main gates of Arlington Cemetery at 8:15 am. Those who wish to volunteer to lay and remove wreaths will be given instructions and wreath distribution will begin at 9:15 am.
The ceremony will include some brief introductory remarks and will provide volunteers with information and instructions.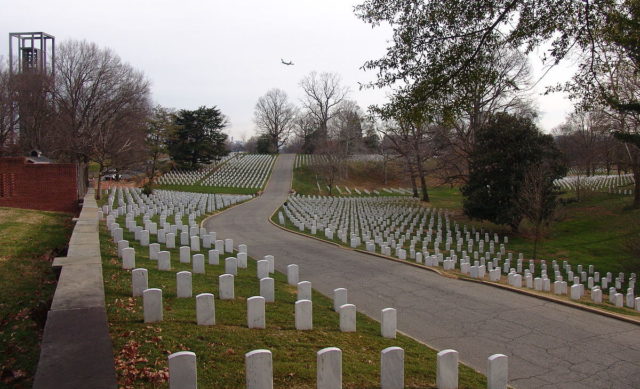 Laying of the wreaths
All gates into the Cemetery will open at 8:30AM to allow volunteers to enter the grounds. There will be 65 wreath trucks located throughout the Cemetery which will open for wreath distribution at 9:15AM.
How you can help make a difference
Because Wreaths Across America receives no government funding, their efforts are made possible by generous individual and corporate sponsors and by the thousands of volunteers who organize and attend wreath-laying ceremonies across the country. Here are a few of the many ways you can get involved.
Volunteer At Arlington: Donate your time by helping distribute wreaths at Arlington National Cemetery's wreath-laying ceremony on National Wreaths Across America Day – December 16, 2017.
Sponsor A Wreath: Consider contributing a financial gift by sponsoring a wreath to honor our fallen heroes.
For more information: Arlington National Cemetry