War History online proudly presents this Guest Piece from Jeremy P. Ämick, who is a military historian and writes on behalf of the Silver Star Families of America.
Losing a brother during World War II was a traumatic event for Eldon, Mo., resident Faye Belshe –a tragedy whose sting the decades have not diminished. In memory of the passing of her beloved sibling, Mueller now wishes to perpetuate the memory of a good-spirited young man who loved baseball and answered the nation's call to arms as a paratrooper during a time of war.
"Wayne was born in Hooker, Okla., on November 15, 1923," said Belshe, while describing the youngest of her four siblings. "All five of us were born there," she added.
The Rock Island Railroad employed their father, Belshe explained, which often required that the family move to follow his work. They would later spend several years living in Kansas but, in 1939, they moved to Eldon when their father was again transferred.
"At that time, Wayne had two years of high school remaining and I can remember the first thing he did when we got (to Eldon) was walk all over town," recalled Belshe. "When he went by the school, there were kids playing baseball and the next day he went back to the school with his ball glove."
Mueller's sister mirthfully added, "He loved baseball and I tell everybody that he came to Eldon with a change of clothes and a ball glove."
For the next two years, Mueller continued to flesh out his growing interest and agility in baseball by participating on several local teams and, after graduating in 1941, finally made the decision to explore making a career of the sport he loved.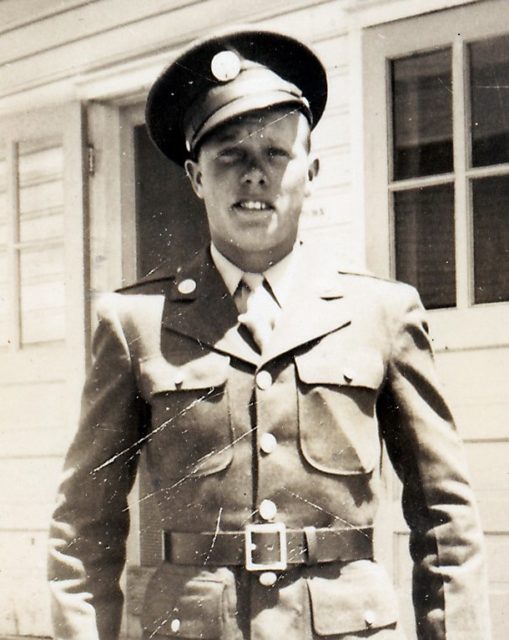 "He went down to Springfield (Mo.) to try out for the Cardinals but it rained all three days that he was there," Belshe said. "Back then, they didn't have the artificial turf that they do now and because it was so muddy, he didn't get a chance to try out. Then," she added, "he came back home and got his draft letter shortly after that."
Leaving home in March 1943, Mueller traveled to the West Coast and completed his basic training at Camp Roberts, Calif. –a massive training site where "436,000 troops passed through an intensive 17-week training cycle" during World War II," notes the Camp Roberts Historical Museum on their official website.
The young recruit then traveled to Fort Bragg, N.C., where he underwent the training to become a paratrooper. While there, he was attached to the 506th PIR (Parachute Infantry Regiment) under the 101st Airborne Division. According to a history of the 506th, the regiment left Ft. Bragg at the end of 1943 and soon arrived at Camp Shanks, N.Y., to prepare for their overseas deployment.
The regimental history further notes that the division took part in several exercises "in preparation for the coming invasion of occupied Europe" and, on June 5, 1944, "the men of the 506th (were) parked by the aircraft that were to carry them into their first combat mission."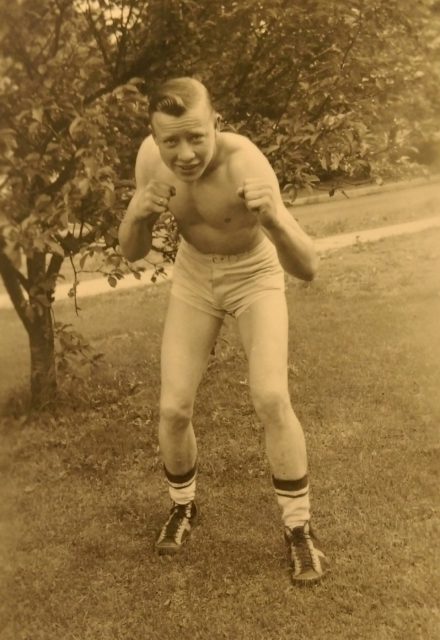 Early the next morning (June 6, 1944), Mueller and the men of the division made their combat jumps behind enemy lines. Although they were essentially scattered far from their designated landing zones and incurred significant casualties, they were able to help secure parts of the high ground above the beaches later stormed by the seaborne forces during the D-Day landings.
"When Wayne landed on D-Day, he survived that, of course," his sister noted. "He sent me home a piece of the parachute he used that day and I have kept it all these years."
Less than three months later, the 101st made their second combat jump as part of Operation Market Garden. This operation was a bold plan by British Field Marshall Montgomery for Allied airborne forces to seize roads, bridges and important cities in Holland, essentially cutting the country in half, allowing British armor and motorized columns the opportunity to reach the German border.
During this operation, wrote Mueller's older brother Paul in an article for The Signal –Enterprise (Wabaunsee County, Kan.), the 20-year-old paratrooper from Eldon went missing in action (MIA) near Osphuesden, Holland, on October 5, 1944 after his group was "overrun by a German battalion." His brother further noted, "Of a group of 44 troopers, 15 escaped."
"My parents never gave up hope that Wayne was alive and might come home someday," said Belshe. "But 10 months after he went missing, we were informed that they had recovered his remains," she soberly added.
Mueller's remains were eventually returned home to the family and interred in McFarland Cemetery in Kansas. In the weeks after learning of their son's demise, Faye explained, her parents struggled to find ways to cope with the unexpected loss of their beloved son.
"It was very depressing for my parents … so much so that my dad had to retire from the railroad," Belshe said. "After that, my father became more involved with Bethany Lutheran Church (Eldon, Mo.) and spent his time keeping busy with volunteer activities there," she added.
The tears Faye has shed for her youngest brother have in no way diminished over the years; however, she continues to relish the moments they spent together as children and young adults and hopes that the story of his service will be cherished by all for whom he fought during the war.
"He was never married and didn't have any children to carry on his legacy," his sister shared. "All of the young folks now weren't alive back when World War II was going on so they don't fully comprehend all of the sacrifices that were made for them."
With evident solemnity, she concluded, "I think it is our responsibility to share these stories with the younger generations so they can understand what my brother and his fellow soldiers did for our country."