While his comrades fell on all sides, Charette repeatedly surged through the heavy rain of hostile fire to aid his injured comrades.
The US Navy revealed that a future guided missile destroyer will bear the name of US Navy Korean War veteran and Medal of Honor recipient William R. Charette.
The planned Flight III destroyer, USS William Charette, designated DDG-130, will be the 80th destroyer of the Arleigh Burke class of guided missile destroyers.
The destroyer will be built by Bath Iron Works, a major United States shipyard in Bath, Maine.
The announcement of the US Navy's plan to honor Master Chief Hospital Corpsman William R. Charette was made by the Secretary of Navy, Richard V. Spencer.
"The actions of Hospital Corpsman William Charette will neither be forgotten nor diminished," Spencer affirmed in a statement during the announcement.
A native of Ludington, Michigan, Charette enlisted with the Navy on January 11, 1951, and saw action in the Korean War where he served in the Fleet Marine Force as a hospital corpsman.
Charette was deployed to South Korea in February 1953 and attached to Company F of Third Platoon, 2nd Battalion, 7th Marine Regiment, which is part of the 1st Marine Division. He was a third class petty officer at the time.
Charette received his Medal of Honor from President Dwight D. Eisenhower on January 12, 1954 for his exceptional heroic action "above and beyond the call of duty," which took place in the early hours of March 27, 1953, only a few months towards the end of the war.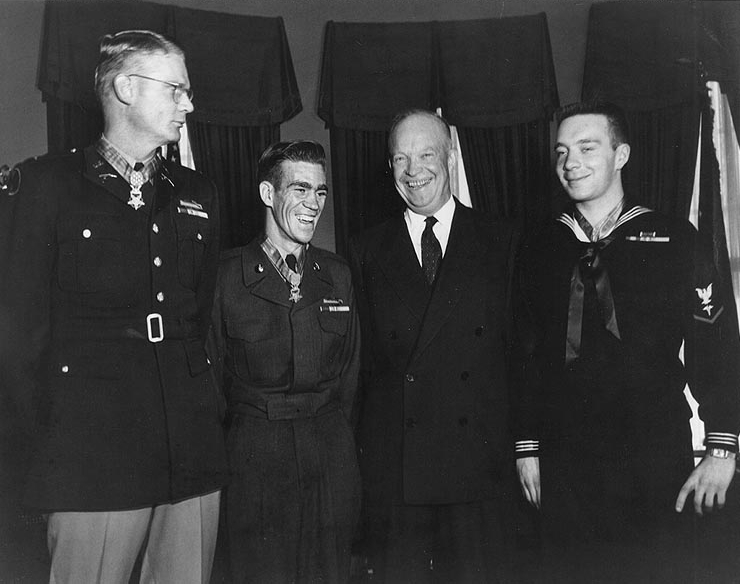 Just the night before, Marines of the 5th Marine Regiment, 1st Marine Division had come under attack by Chinese forces. The fierce engagement that followed lingered into the next day. By March 27, out of three Marine hill outposts in the area, two outposts named Vegas and Reno were overrun by the hostile forces.
Owing to the importance of Vegas, the Marines launched a counter-attack in a bid to reclaim the outpost.
But this move took a heavy toll on the 5th Marines as enemy small arms and mortar fire ripped them apart. While his comrades fell on all sides, Charette repeatedly surged through the heavy rain of hostile fire to aid his injured comrades.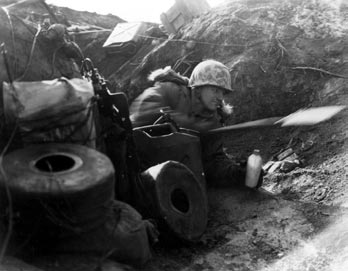 While he attended to one wounded Marine, a grenade landed just a few feet away. Without hesitation, Charette threw himself over the wounded man, shielding him from the blast with his body.
The blast ripped his helmet and his medical kit apart, and knocked him unconscious.
He eventually regained consciousness due to the pain, with his face bleeding and his eyesight affected. After treating his wounds enough to enable himself to see and move, he headed back into action.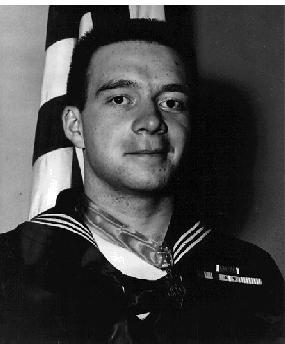 He made use of torn pieces of his uniform to dress his comrades' injuries, and on one occasion gave his own vest to a wounded Marine whose vest had been blown apart by an explosion. On another instance, when another explosion wounded five Marines in a trench, Charette found them and attended to them. He stood up in the midst of the murderous rain of bullets and shells, carrying the most critically injured Marine to safety.
He was among the casualties recorded in the combat, but came out alive, with several Marines thankful to him for saving their own lives. His bravery and dedication was first rewarded with the Navy Cross, and subsequent to that, he received the Medal of Honor.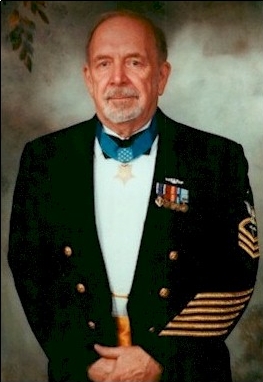 "Charette put himself at extreme risk during intense combat to render aid to Marines in need. His efforts saved lives and I am honored that his legacy will live on in the future USS William Charette," Richard V. Spencer said.
Only five sailors received the United States' most distinguished military honor for actions in the Korean War, and all five of them were hospital corpsmen serving with the Marine Corps.
https://www.youtube.com/watch?v=1FCo8QlK54Y
However, four out of the five decorated sailors were honored posthumously. Charette was the only recipient who was still alive when the Medal of Honor was presented to the worthy sailors.
He left the Navy on April 1, 1977 as a Master Chief Hospital Corpsman, having served in the US Navy for 26 years. Charette passed away on March 18, 2012 owing to complications from heart surgery, and was interred at the Florida National Cemetery.
The USS Charette will weigh 9,300 tons and be 510 feet long. It will have a complement of 380 officers and enlisted personnel, and carry two Sea Hawk helicopters.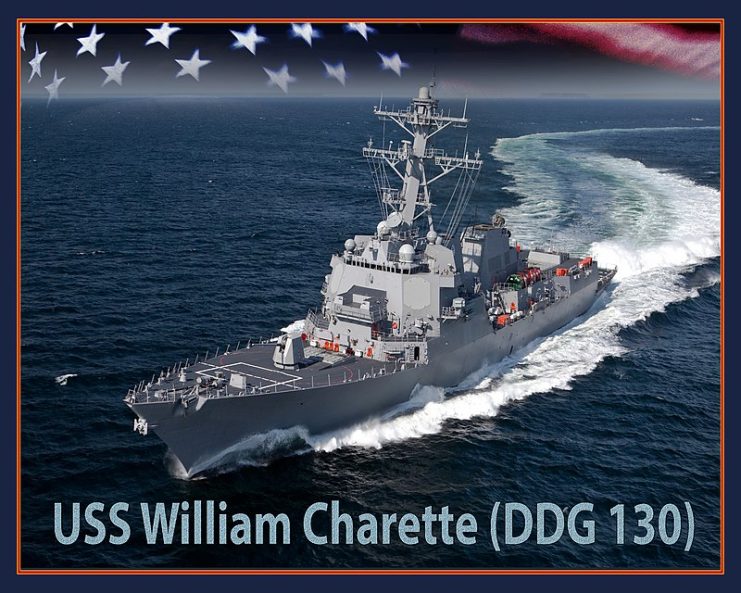 Read another story from us: The Mighty Iowa-Class Ships, Formidable Weapons
The Arleigh Burke-class destroyers are among the world's most sophisticated surface warships, with the ability to carry out strategic land strikes, as well as engage in antiaircraft warfare, antisubmarine warfare, and surface warfare simultaneously.
As a Flight III Arleigh Burke-class destroyer, Charette will be poised to continue the legacy of dauntlessness in service to the United States in the years to come.