Today, the Mercedes-Benz G-Class is associated with the Kardashians more so than warfare, but this tried and tested vehicle was actually designed for the military. This luxury SUV is still used in a military specification by a number of nations today. This month Mercedes-Benz announced a new version of the G-Class for military use, bringing improvements over the last model in almost every way.
The G-Wagen, as it is more commonly known, has been in production since 1979, making it one of the longest-produced vehicles in Daimler's history. This latest edition follows in its predecessor's footsteps, offering great performance on and off the road.
The new vehicle is designated the W464 and is an update of the W461, which has been in production since the early 1990s. The W464 will be available to military and government agencies only. Its exact specifications have not yet been released, but the W464 will come with a 3 liter straight-six turbo diesel engine and an 8-speed automatic transmission.
This engine will produce 245 bhp, and more importantly for its role, 600 Nm of torque. This is a major improvement over its previous model, which used a 3 liter V6 turbo diesel that produced 180 hp and 400 Nm of torque. Although this is still a long way from the fastest civilian G-Wagen, which uses a 6 liter twin-turbo V12 engine with 620 hp and 1,000 Nm of torque.
The W464's engine has been produced since 2017 and has been used on civilian Mercedes models like the S-Class and E-Class. It meets Euro 3 standards, so it can run on poor quality diesel fuel often found in less developed countries.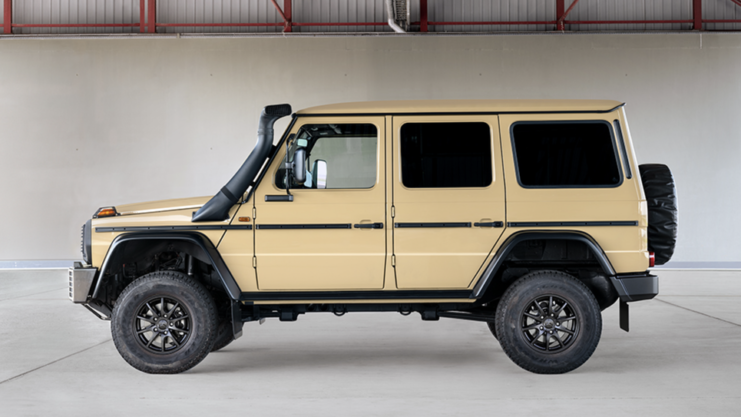 The new G-Wagen's 8-speed automatic transmission replaces the previous version's 5-speed automatic transmission, and the vehicle now uses a 24-volt electrical system. Modern features like LED headlights and day running lights have now been added to the military-spec G-Wagen.
In addition, improvements to the vehicle's solid axle suspension system make the already excellent off-roader even better.
Mercedes says "Emergency crews whose task is to protect, rescue, and safeguard can always rely on the durable all-terrain vehicle with the three-pointed star."
It can be delivered either as a 2-door cab-chassis, which can carry 2.5 tons of cargo or as a 5-door, which can carry 1 ton of cargo. Both types can tow a 3.5-ton load.
The 5-door version has 221 mm of ground clearance to help the vehicle pass over large obstacles, can climb 45-degree slopes, and ford over 600 mm of water. Reportedly, the W464 can operate in a temperature range from -35 degrees to +50.
The vehicle will be available in 2022.
The G-Wagen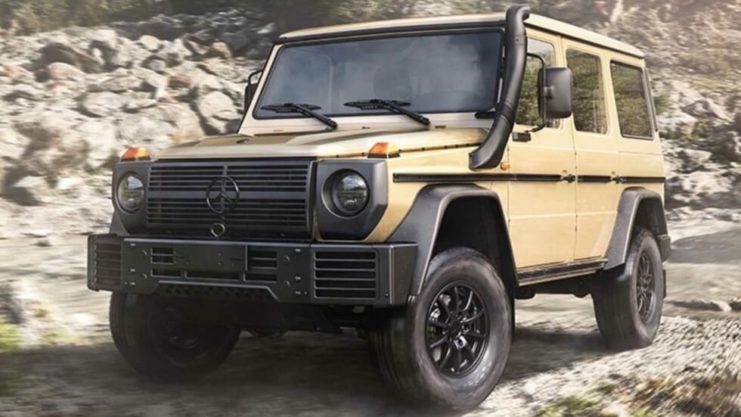 The G-Wagen is one of the most legendary vehicles in the automotive world. From its inception as a military vehicle, it now mostly serves an entirely opposite customer base and rarely sees any mud at all. Despite this, it has no lost any of its excellent off-road credentials, and in fact, has improved on them.
Its appearance has not dramatically changed since 1979 when the W460 was released. This was produced until the early 1990s when it was replaced by the W461 and the W463. As mentioned, the W461 was primarily for governments and militaries and remained an extremely practical and capable utility vehicle. The W463 was visually similar to the W461 but offered more luxurious features to compete with vehicles like the Range Rover.
The W463 remained in production until 2018, and over its life offered a huge range of petrol, diesel, turbocharged, naturally aspirated, twin-turbocharged, and supercharged engines. One of the most notable features of the civilian G-Wagen was it retained its sibling's excellent off-road performance. Its three locking differentials are a rare feature even among contemporary vehicles.
To commemorate the thirtieth anniversary of G-Wagen production, Mercedes-Benz introduced a bonkers 6×6 version that was produced in a very small quantity.
Although the new W464 improves on the W461, the latter will still remain in production.