There are few pilots as decorated as Lieutenant Colonel Charles "Bazooka Charlie" Carpenter. After joining the Army in 1942, he went on to become one of the most fearsome Tank Aces in the European Theater, causing the Germans to rethink their position on the L-4 Grasshopper and its capabilities in battle.
Sent to serve in the European Theater
Charles Carpenter enlisted in the US Army in 1942 for flight training. After being commissioned as a second lieutenant, he was sent to France in 1944, where he was assigned to General George Patton's 4th Armored Division. He was tasked with being an artillery spotter and assigned to an L-4 Grasshopper – better known by its civilian name, the Piper J-3 Cub.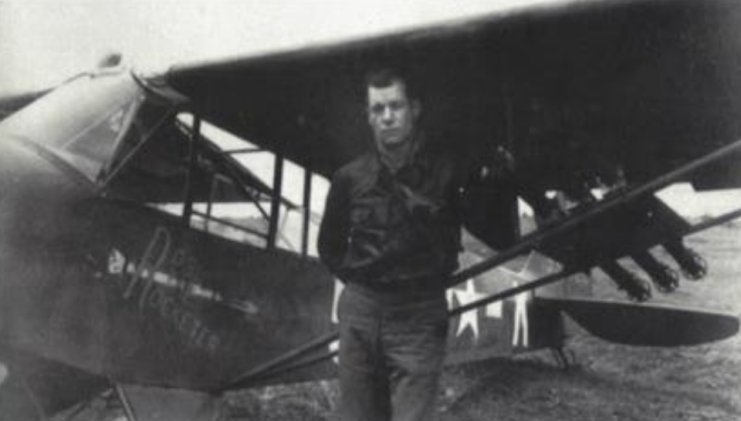 While the L-4 was perfect for low-level, low-speed reconnaissance missions, it wasn't a fighter plane. It only had room for two people, and was almost identical to the civilian Cub, aside from the fact that rear windows and plexiglass skylights were installed for added visibility. While it was able to hit a top speed of 85 MPH, its small size meant its occupations and on-board equipment exceeded its weight limits.
Comfortable with his role at first, Carpenter soon craved a more active role – and it wasn't long until he found it. While scouting for advanced landing fields near Avranches, France, he came across a US unit pinned down by German soldiers. Carpenter immediately jumped atop a .50-caliber machine gun, fired at the enemy units and rescued his comrades.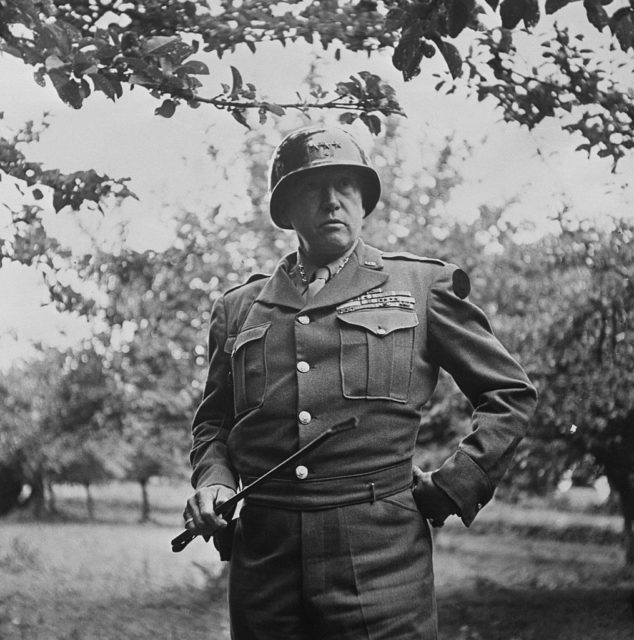 He then ordered the troops to follow him into the German-occupied town, despite not being their commander. While the US forces were able to capture it within minutes, the engagement was not without error. In the midst of the fighting, Carpenter ordered a tank to fire at what he thought was an enemy vehicle. However, it turned out to belong to the US, and he was immediately arrested and threatened with a court-marshal.
Thankfully for him, his actions impressed General Patton, who awarded him a Silver Star and reportedly said Carpenter was "the kind of fighting man I want in my Army."
The man of many nicknames
Inspired by other L-4 pilots, Charles Carpenter eventually installed six M1A1 bazookas to the wing struts of his aircraft. With the aid of an ordnance tech and a crew chief, the launchers were wired into the cockpit, allowing them to fired by flipping electrical switches. Each could fire a single rocket-propelled grenade capable of penetrating three inches of armor plating.
His first notable accomplishment in the air came during the Battle of Arracourt on September 20, 1944, a counteroffensive launched by the German 5th Panzer Army in response to US advances in France. During the fighting, Carpenter used his bazookas to take out a German armored vehicle, along with four tanks.
After upgrading his launchers to the M9 platform, Carpenter gained the ability to fire M6A3 High Explosive Anti-Tank rounds. This opened up a new world of possibilities for the pilot, who used his flying skills to dive directly at enemy tanks and open fire just 100 meters above the ground, before pulling straight up and getting out of the way of return fire.
Carpenter's exploits included destroying a German column advancing toward Allied troops, before landing and taking six enemy soldiers prisoner with a rifle he found on the ground, as well as flying three combat sorties during an engagement with German soldiers. This latter fight resulted in him not only breaking up the attack but destroying two tanks in the process.
His exploits gained him fame in the United States
Charles Carpenter's actions in Europe gained him notoriety back home. His actions were covered in a host of publications, including the Associated Press, Stars and Stripes, Liberty magazine, Popular Science and the New York Sun. They also afforded him many nicknames: "Bazooka Charlie," the "Mad Major" and the "Lucky Major."
He gave many interviews to the press, which not only generated support for troops serving in Europe but also lent themselves to the legend that was Charles Carpenter. Speaking with a reporter, he once said that his idea of fighting a war was to "attack, attack, and then attack again," and in another interview expanded on this, saying, "Some people around here think I'm nuts, but I just believe that if we're going to fight a war, we have to get on with it sixty minutes an hour and twenty-four hours a day."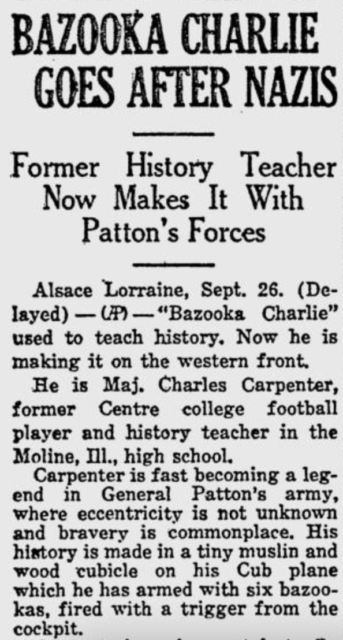 He also credited his actions as being the reason why the German Army changed its opinion of the L-4, from a plane not worthy of attention to one needing to be shot down. "Word must be getting around to watch out for Cubs with bazookas on them," he once told Stars and Stripes. "Every time I show up now they shoot with everything they have. They never used to bother Cubs. Bazookas must be bothering them a bit."
Retirement from the Army
In 1945, Charles Carpenter was diagnosed with Hodgkin's disease and given a prognosis of no more than two years. As such, he was honorably discharged from the Army. During his service, he was promoted to lieutenant colonel, and along with his Silver Star was awarded a Bronze Star with Oak Leaf Cluster and an Air Medal with Oak Leaf Cluster.
Carpenter was officially credited with destroying or disabling six German tanks, two of which were the fearsome Tiger Tank, and several armored vehicles, making him a Tank Ace. However, it's believed his unofficial total is much higher.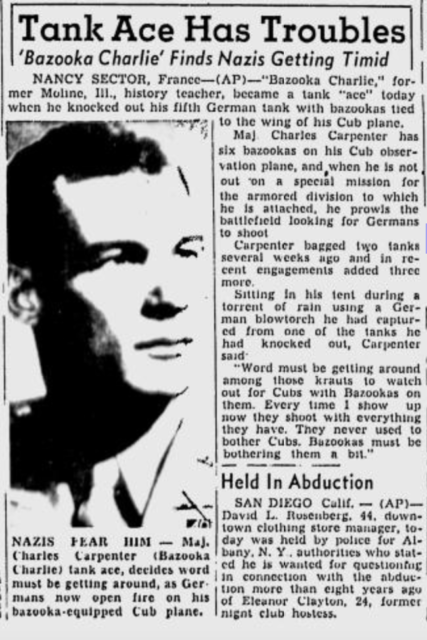 In civilian life, Carpenter returned to his pre-war career as a history teacher in Urbana, Illinois. During the summer, he ran a boys' camp in the Ozarks, focusing on teaching outdoor skills and building character. In 1966, he passed away from Hodgkin's disease, defying the odds given to him by medical professionals and leaving behind a legacy that won't soon be forgotten.