Thomas Jefferson is rumored to have had six children with one of his slaves, Sally Hemings. Recently, archaeologists studying a description of Hemings' room determined that the room must have been adjacent to Jefferson's room.
However, a bathroom for tourists was built over that room in 1941. So, they excavated the bathroom and found a 13 foot long, 14 foot, 8 inch wide room underneath. The room contained a brick hearth and fireplace, original flooring and evidence of a stove that had once been in the room. Her room, within which she may have given birth to Jefferson's children, will be open to the public after renovations are complete. Hemings' room in Jefferson's Monticello mansion in Charlottesville, Virginia, was a step up from most other slaves on the plantation. Still, it had no windows and would likely have been very dark and damp.
The location of the room seems to support the rumors of Jefferson's relationship with Hemings. Hemings lived from 1773 to 1835. According to her son, Madison, her father was the father-in-law of Jefferson, John Wayles. There are no known portraits of Hemings. One of the only written descriptions of Hemings to survive to the present day was written by Isaac Granger Jefferson, a slave who worked as a blacksmith. He described Hemings as being light-skinned, nearly white, with long, straight hair.
Jefferson inherited Hemings from Wayles' estate in 1774 along with her mother, Elizabeth. The Hemings didn't arrive at Monticello until 1776, though. While a child, it is likely that Hemings served as a nursemaid to Jefferson's daughter, Maria. It is known that Hemings did serve as an attendant to Maria and that she accompanied the Jeffersons on their trips to Paris.
Hemings gave birth to six children, all of whom are believed to be fathered by Jefferson after his wife Martha died. The children include Beverly, Harriet, Madison, and Eston Hemings. It is said that Jefferson kept Hemings' children as slaves until they became adults. He freed each one of them once they were of age.
Though never freed, Hemings was allowed to leave Monticello to live with her sons after Jefferson's death.
James T. Callender, a one-time ally turned political enemy of Jefferson, wrote in a September 1802 newspaper article that Jefferson kept one of his slaves as a concubine. He even stated that her name was Sally and that Jefferson had several children with her.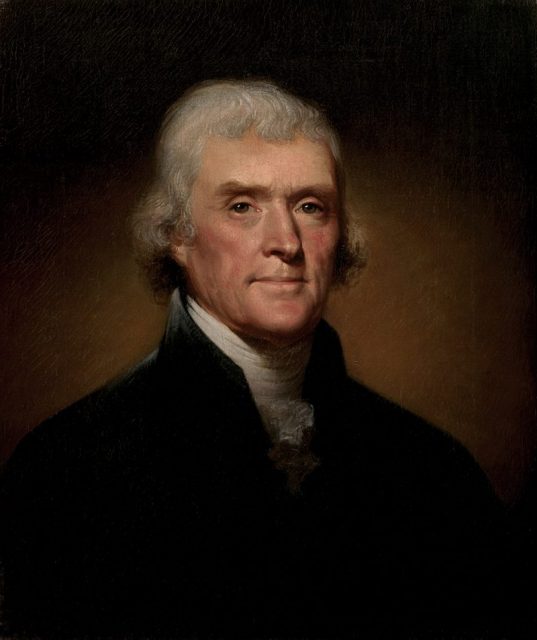 Rumors of Jefferson's relationship with Hemings had been mentioned prior to 1802, but the Callender article spread those rumors further than they had ever traveled before. Federalist opponents of Jefferson took the rumors up and began publishing them in more newspapers for the rest of Jefferson's term as president.
Jefferson had a policy of not responding to personal attacks. There is no public or private evidence that he ever confirmed or denied the rumors, though some point to a letter he wrote in 1805 as a denial. There is no record of Sally Hemings addressing the issue.
Thomas Jefferson is most famous for being one of the fathers of the US. He wrote the Declaration of Independence and served as the country's third president.
The first African-American elected to the California State Assembly was Frederick Madison Roberts in 1918. He is the great-grandson of Hemings, born to Hemings' grand-daughter, Ellen Wayles Hemings.
A DNA study performed in 1998 linked the male descendants of Hemings with male descendants of Jefferson. That test is debated by some.
The Community Engagement Officer of Monticello is Gayle Jessup White who is descended from both families, the Jeffersons and the Hemings. Sally Hemings was the great-great-great-great-aunt of White. She has mixed feelings about her heritage but hopes to use her position to not only tell the story of Jefferson but also the story of the slaves that lived at the plantation.