The WWI Burberry had evolved for war use, featuring D-rings on the belt to attach equipment, a pistol flap in the breast, epaulets to display rank, and a storm shield.
Few items of 20th century military apparel are more iconic than the trench coat. Associated in pop culture with everything from tough private detectives, rugged outdoorsmen, intrepid adventurers, iconic sci-fi characters from movies such as Bladerunner and The Matrix, to vampire hunters and, of course, military men, the trench coat is one of the few items of fashion to have changed little in form or style over the past hundred years.
While it is true that the garment as we know it originated in the trenches of the First World War (hence the name "trench coat"), where it was initially worn by British officers, the item of clothing that would become a trench coat was developed around a hundred years before WWI.
The origins of the modern day trench coat (and the style of the trench coat used in WWI) can be traced back to the early 19th century. In 1820, an English inventor, Thomas Hancock, and a Scottish chemist, Charles Macintosh, created a type of waterproof garment by coating long jackets with rubber. The resulting garment was called a mack, and was marketed in Britain to men of the upper classes.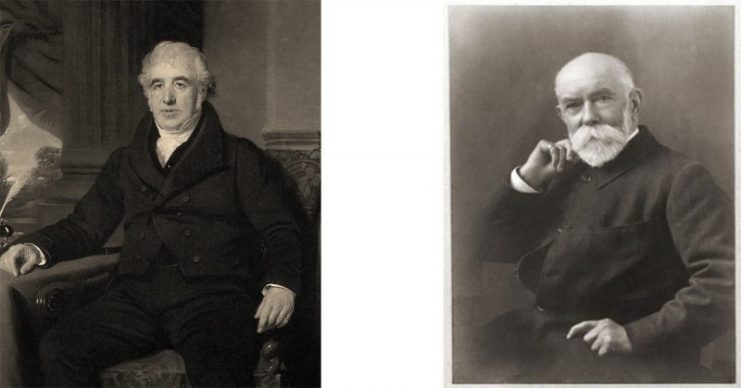 The mack worked well when it came to keeping rain out, but it also kept sweat in, and macks soon developed a reputation for getting rather smelly, pretty quickly. The fabric was improved as technology advanced throughout the nineteenth century, and marked improvements were made by John Emary in 1853 and by Thomas Burberry in 1856.
Both Emary's and Burberry's coats were more breathable than the earlier macks, and repelled water just as effectively. Emary named his company Aquascutum (Latin for "water shield), while Burberry simply gave his company his own name.
Burberry invented a fabric (gabardine) in 1879 of which the individual fibers of material were waterproofed prior to the construction of the garment. This resulted in the best "trench coat" yet – although the name "trench coat" had yet to be invented.
In what had formerly been a neck and neck race, Burberry began to take the lead late in the 19th century. Burberry coats were worn by British officers in the Anglo-Boer War (1899-1902), and at this time Burberry patented a coat design called the Tielocken.
The Tielocken's features were essentially those of what we would recognize as a trench coat: it was knee-length, double breasted, and had a broad collar and a belt.
Thus, the garment that was later christened the "trench coat" was actually invented over a decade before the First World War broke out. Burberry's company again came into the spotlight in the first decade of the 20th century when Roald Amundsen used his coats in his expedition to the South Pole, and then when Sir Ernest Shackleton led an expedition across Antarctica.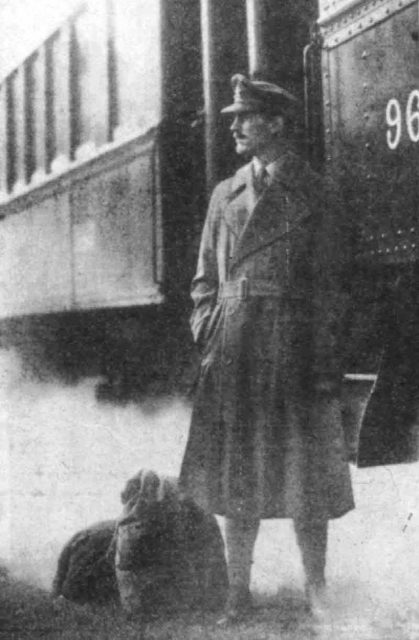 As Burberry's company had become one of the official suppliers of clothing to Britain's armed forces during the Boer War, it came as no surprise that his Tielocken coat was used by British troops. The WWI Burberry Tielocken had evolved for war use, featuring D-rings on the belt to attach equipment, a pistol flap in the breast, epaulets to display rank, and a storm shield.
An important point to note about these specific coats is that they were reserved for officers only. Enlisted men were not allowed to wear them, although they did have their own coats. Most soldiers, up to this point, had worn greatcoats.
https://youtu.be/3coQ8Px2H8A
While they appeared similar in design to Burberry's trench coat, the old-style greatcoats, from a 19th century design, were nowhere near as practical. Greatcoats had generally been made of wool, or cheaper materials – often of poor quality – and were usually not waterproof, and were uncomfortable and poorly cut.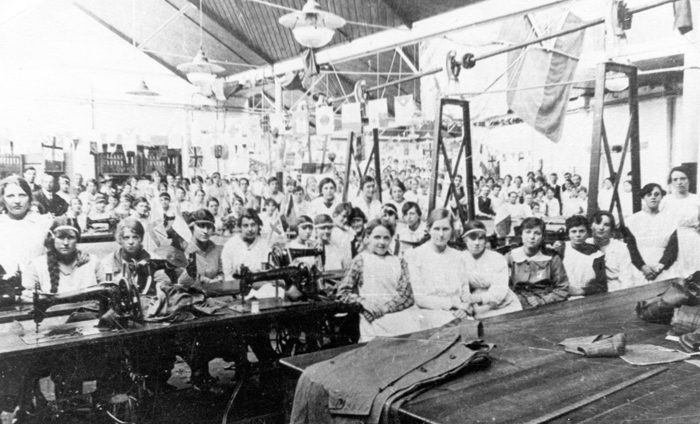 They were also generally quite heavy, and hindered soldiers' mobility. While many troops of the First World War were issued with greatcoats, the greatcoats were often so long that the soldiers cut the bottoms off to prevent them dragging in the mud and soaking up trench water, which made them even heavier and more cumbersome.
When it came to stacking up Burberry's Tielocken coat against a standard-issue greatcoat for an enlisted man, there really was no contest. Burberry's waterproof, comfortable, stylish coat was both extremely well-made and immensely practical for life in the trenches – and thus his coats, worn only by British officers in the first stages of the war, became known as trench coats.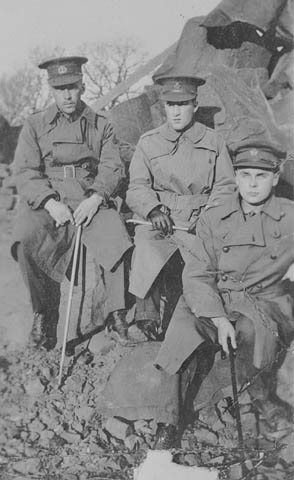 Of course, the fact that the trench coat was only worn by officers was not lost on enemy snipers. For German sharpshooters, identifying officers – who were important targets – in British trenches at a distance became quite easy, and thus the trench coat began to become more of a curse than a blessing to many a British officer who was picked off by a sniper's bullet.
When America entered WWI in 1917, American officers took a few cues from their British counterparts, and soon enough they too were wearing trench coats.
Recognizing a great business opportunity, marketers soon began selling trench coats to the public, advertising them as items to be worn in solidarity with those fighting in France. Thus, the first civilian use of the trench coat was more of an expression of patriotism than a pure fashion statement.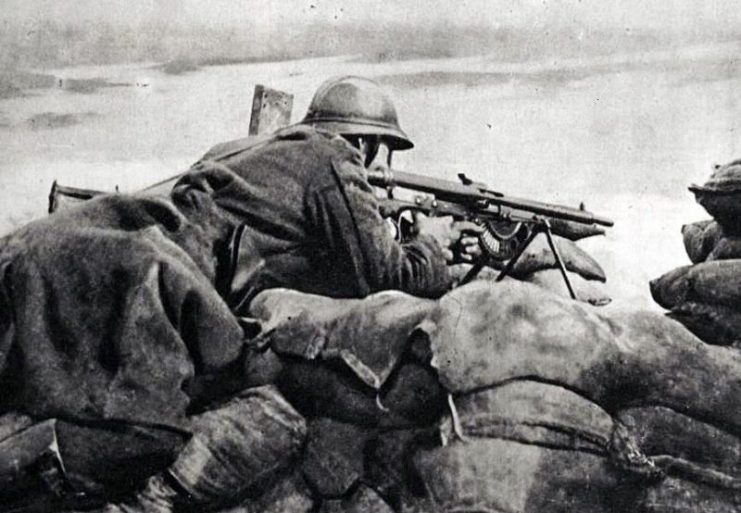 After the war was over, many British officers kept their trench coats and wore them in civilian life. Trench coats thus attained an air of upper class association, seeing as most British officers came from the landed class.
However, the popularity of the trench coat began to spread on both sides of the Atlantic. While they often remained high price garments, cheaper versions began to be made.
Both WWII and the Golden Age of Hollywood went on to popularize trench coats further. Aquascutum, despite having earlier been less popular than Burberry, got back into the race in a big way during WWII, when it became one of the official manufacturers and suppliers of Allied military clothing.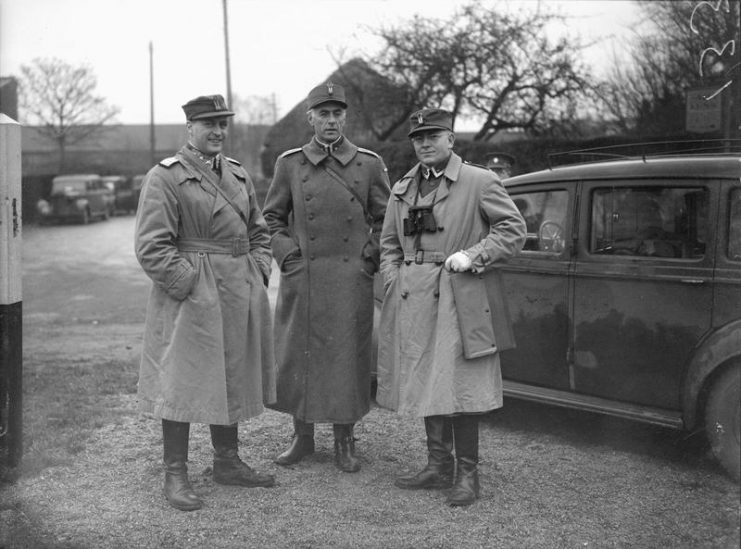 Read another story from us: Whittling Time Away: Trench Art of WWI
In the decades following the Second World War the trench coat went on to achieve worldwide popularity, becoming a classic icon with the sartorial staying power of blue jeans and tee shirts.
Today, you can find trench coats in any city on the planet – but most people you ask probably won't know where the "trench" in trench coat comes from, or that this iconic garment was actually first developed for war.