Gunther Plüschow was a man of singular talents, feats, and ambition. In the English-speaking world, we might have heard of his escape from a POW camp in Britain during World War I (the only man to ever successfully do so) or possibly have read a piece of only a small handful of literature in English about him. But chances are, we haven't heard the whole story of this man's high-flying life of daring and wonder.
Plüschow lived his life at the end of the age of great exploration of the planet, a true adventurer with exploits set in legend—but mostly unsung outside of Germany and Argentina.
Plüschow was born in Munich, Bavaria in 1886. At the age of just 10, he entered military school and by 1901, as a naval cadet. During training, Plüschow saw a postcard of Tierra del Fuego (the archipelago at the Southern tip of South America) and a life-long dream was born. But it would take many years, thousands of miles and a lot of luck and cunning to reach the "Land of Fire."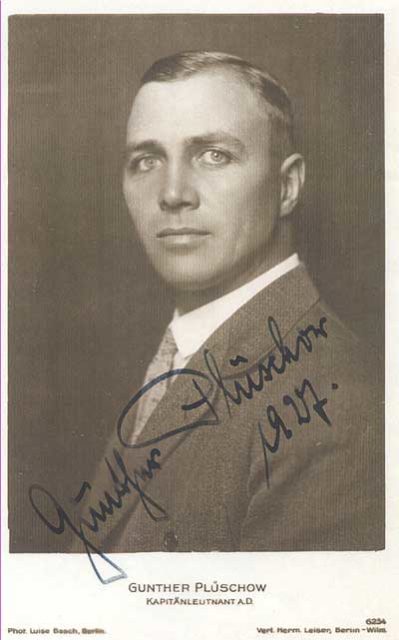 After studying at the Rumpler Aviation School, Plüschow was stationed at the German East Asian Naval Station in Tsingtao (now Qingdao) China. Tsingtao was a German colony on a 99-year lease, much like Hong Kong was for the British.
While in Tsingtao, he flew as a naval reconnaissance pilot in a Rumpler Taube, the first monoplane to be mass-produced by Germany. In 1914, as the Empires descended into WWI, Japan demanded that Germany would leave their colony. The Germans refused, and both Japan and England attacked.
The colony was soon lost, but not before Plüschow, fighting from the air, downed a Japanese plane with his pistol. He was then ordered to fly off and escape, carrying final dispatches and documents from the governor.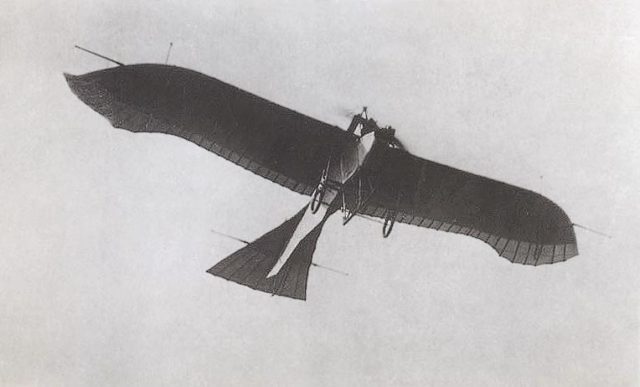 Plüschow managed to fly about 250 kilometers before crashing his plane in a rice paddy and continuing overland. Walking, sailing down rivers, bribing local officials, and surviving on wit and luck, Plüschow made it to Shanghai, over 700 kilometers from Tsingtao.
In Shanghai, he reportedly met the daughter of a diplomat he knew from Berlin and was able to secure documentation showing him to be a Swiss national. With his alias, Plüschow boarded a ship that sailed to Nagasaki, Honolulu, and then San Fransisco.
Plüschow had left Tsingtao in August 1914. On January 30, 1915, he was on a ship bound for Italy out of New York. This incredible saga would soon take a bad turn, however, when bad weather forced the ship to stop at Gibraltar.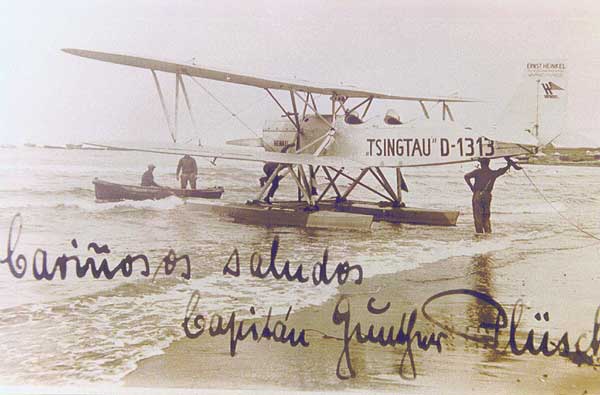 Word of this famous aviator and enemy on the run had spread through the British Empire. Surprise and joy must have filled the British officials when they discovered the enemy alien they had arrested was, in fact, Plüschow.
In May, he was sent to the POW camp at Donington Hall in Leicestershire, England. One day, he saw a deer inside the fence line of the camp and figured that if it had managed to get in, he must be able to get out. So, on July 4, 1915, under cover of a storm, he found the weak point in the barbed wire fence, slipped out, and headed for London.
Scotland Yard issued warning to the public of a man with a dragon tattoo on his arm on the run. As a Lieutenant of the German Navy, he would have been better dressed than the average prisoner, but he abandoned this for raggedy clothes, and coal dust and grease in his hair and on his face to disguise himself as a dock worker. He lived in London for three weeks, unnoticed.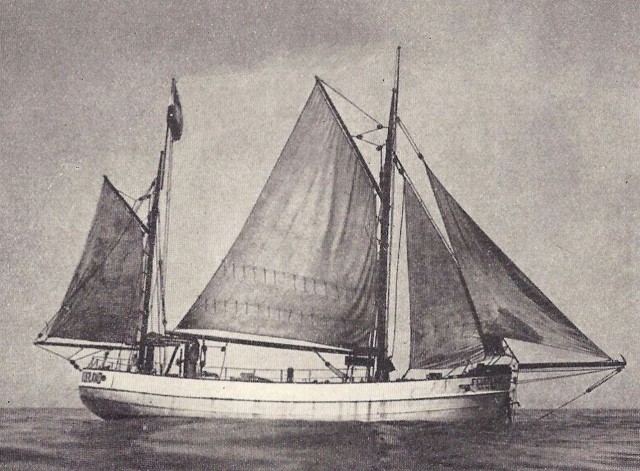 In this time, he read books on Patagonia, hid in the British Museum, and even took some pictures of his stay in London.
Plüschow managed to hide on a ship to the Netherlands, con his way through customs and railway officials and made it back to Germany. Once home, he was first arrested as a spy, due to the rather unbelievable nature of his journey. Once identified and vindicated, he became a national hero. Germany kept him safe at home for the remainder of the war. As a propaganda figure, he was very valuable.
In 1916, he married. He published his first book, The Adventures of the Aviator from Tsingtau, which sold 700,000 copies. In 1918, his son was born, whom he named Guntolf.
After the war, he finally was able to sail to South America, where he rounded Cape Horn, disembarked in Chile and travelled by land to Patagonia. Upon his return to Germany, he published his second book, Segenfahrt ins Wunderland (Voyage to Wonderland).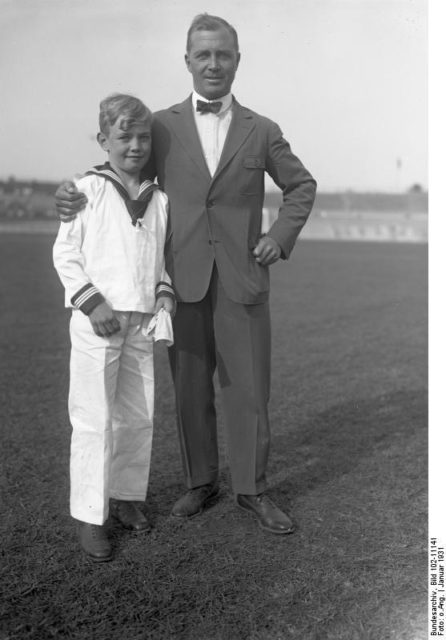 On November 27th, 1927, Plüschow set sail in his ship the Feuerland, again for Patagonia. Ernst Dreblow, his engineer, travelled via ocean steamer with their plane, a Heinkel HD 24, which they dubbed the Silver Condor.
For months, the two explored the harsh and beautiful land. They were the first explore and film Patagonia and Tierra del Fuego by air. After selling his ship and returning to Germany in 1929, Plüschow published a book (complete with photographs) and a documentary film of these exploits, both titled Silberkondor über Feuerland (Silver Condor over Tierra del Fuego).
In 1930, his wanderlust had brought him back to Patagonia to explore the Perito Moreno Glacier. In January 1931, Plüschow and Dreblow were forced to land their seaplane on a lake surrounded by glaciers and broke a float on the landing gear. For days, they tried to repair the plane and, finally, succeeded in taking off.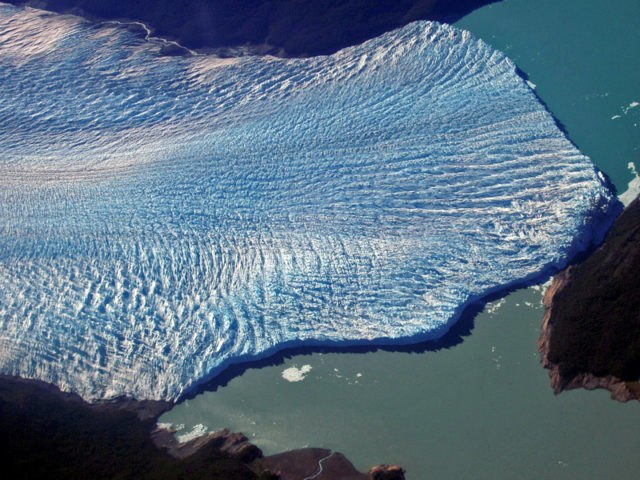 Soon, however, a wing of the plane broke and both men jumped out of it. Plüschow's parachute failed, and he was killed. Dreblow landed in a lake and swam to shore, but died of exposure some hours later.
Though often fabled for being the only man to successfully escape from a POW camp in Britain in either of the World Wars, Plüschow's heart was in flying and exploring the captivating land that he loved. In his diary, the explorer, writer, aviator, and cinematographer wrote:
… we rose in spite of the enormous load that we took, and quickly we became lost in the vista of the Earth under our feet. As soon as we arrived at the altitude of 2,000 meters, I look[ed] around and downwards: Incredible and savage beauty!
-From the diary of Captain Gunther Plüschow, 1928. Provided by Roberto Litvachkes to ALLSTAR Network
By Colin Fraser for War History Online