Autumn 2018, The final flight of a Douglas DC-3/ Dakota from the Florida Swamps to Madurodam, the insider's story 
On the 23rd of Oct. 2018, a very well-preserved Douglas C-47/ Dakota came from the Florida swamps to the Smallest Airport in the World, in Madurodam.
This is the famed Theme Park, showcasing Holland's Highlights in The Hague, in the Netherlands. Via a sea transport over the Atlantic, she arrived in the port of Antwerp and was transported over the road to its final destination.
This aircraft was tracked and viewed in 2008 during one of my many Dakota Hunter trips.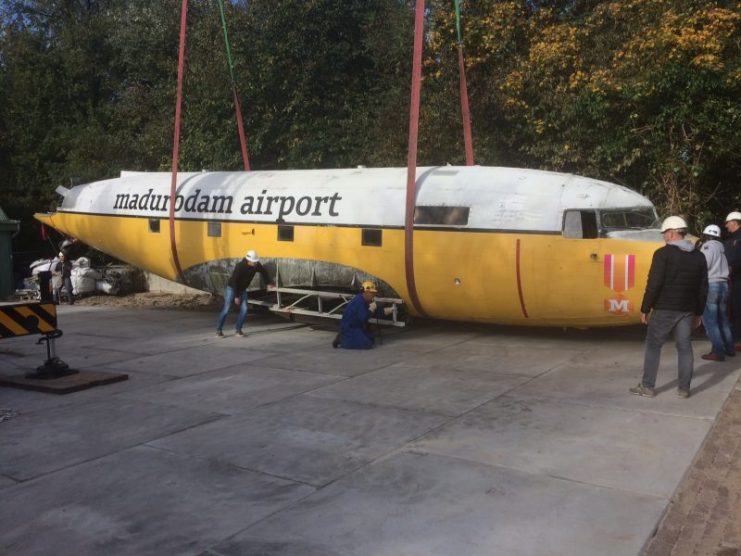 She was found on a very tiny airstrip right in between the swampy grounds of Shell Creek, east of Punta Gorda, Florida, USA. The DC-3/ C-47 aircraft (built in WWII) made her final operational flight in 2004 that ended abruptly when she came in on a single engine for a forced landing on this airstrip, doomed to never take off again from the boggy meadows where she slowly sank away into a state of total dereliction.
See the photos attached and read the continuing story of this DC-3 salvage operation that will end in a very special display, soon attracting tens of thousands of spectators coming to see this iconic aircraft.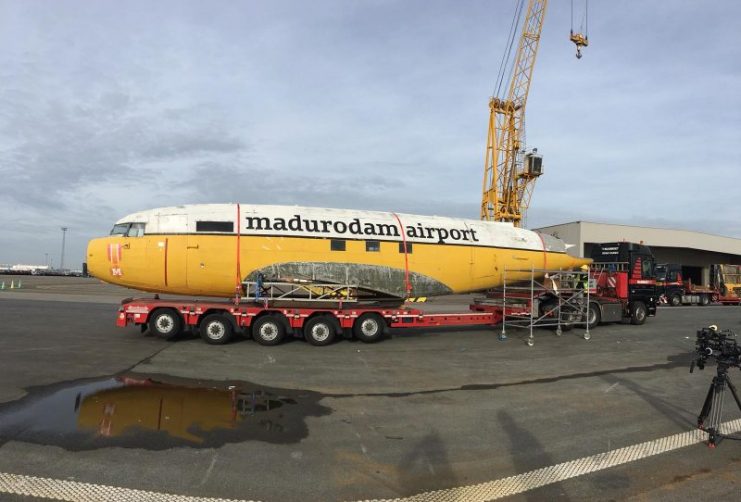 In Sept. 2018, Friends Jesse Giling and Ernst Boot flew into Shell Creek with me. They had a sweaty job to disassemble the airframe that had stood there for 14 years.
Under a scorching Florida sun, they also met the local alligator in the adjacent pond who kept a keen eye (or two) on all their activities, not amused with all that noisy drilling out of thousands of rivets which had to be removed in order to separate the wings and tail from the airframe.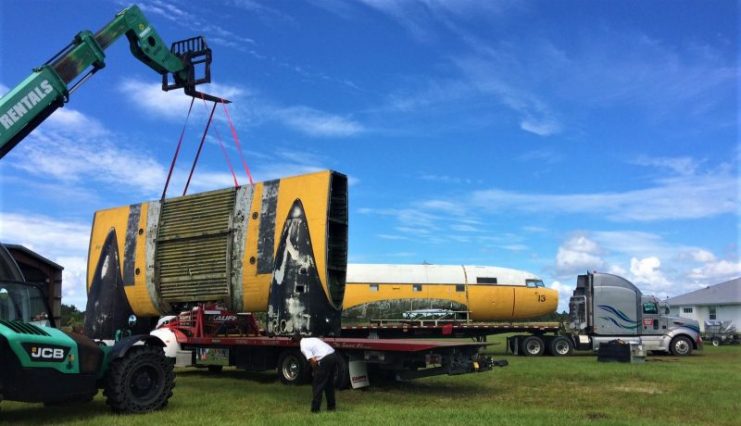 Finally, their lengthy job was done with the loading of 2x 40-foot containers, while the Central Wing section and the Fuselage were being hoisted on their flatbed trailers. It ended up with an "Oversize Load" banner on the trailer but that word also applied to the work that Jesse and Ernst had executed.
Their first-time wrenching on a complete DC-3 airframe, taking her apart into "Road-transportable" pieces, all within 2 weeks, Bravo!
After a 4 weeks journey, the "Swamp Queen" arrived in the port of Antwerp, Belgium, where the DC-3/ C-47 was rebaptized for publicity purposes, sporting the letters " Madurodam Airport".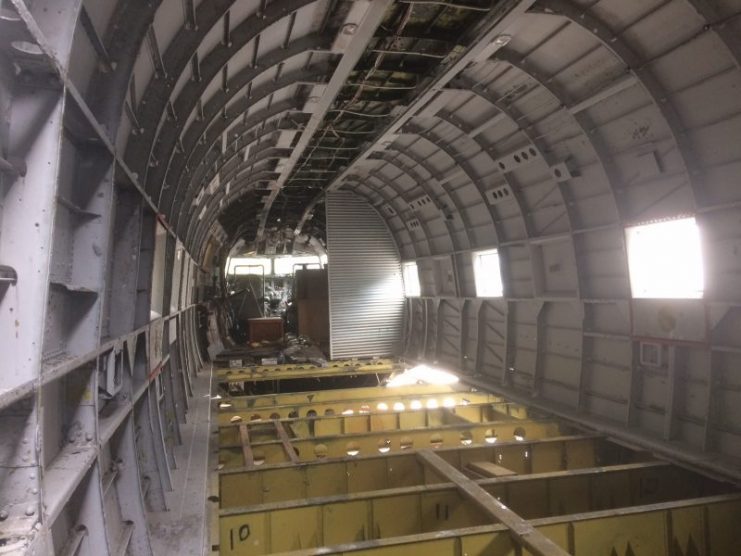 This aircraft has an extremely well-preserved airframe when considering the not-so-favorable Florida precipitation. Was it due to a good paint job just prior to her last flight?
Look inside and you will notice also a near complete cockpit with most instruments, dials and handles still in place. The fact that this aircraft made her final landing on a private property may have protected her from the souvenir hunters that normally pick a cockpit empty within 5 years time. Maybe that peeping Alligator also helped in its role as a Watch Dog?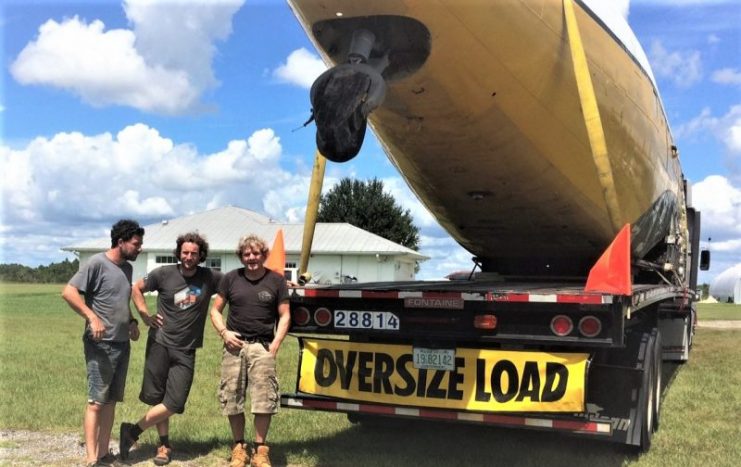 Soon more news and photos will follow about new projects The plan for this plane is that it will be lifted to the central part of the Madurodam Theme park.
Its real mission will be disclosed later, they are planning to have their first 1 :1 scale attraction operational in Spring 2019.
For more info, stories and photos about my Tracking and Salvaging of the Douglas DC-3/ C-47/ Dakota, come to my Blogs on

and read more about my adventures from all over the World where I found those Legendary Planes, in flying condition, but more often abandoned, derelict or crashed.
Follow me on Facebook and get the news and blogs.
You can read the 5-Star reviews of my 2 books, (The Dakota Hunter & 80 Years, a tribute to the PBY Catalina) being the perfect Christmas Gift for yourself, you (Grand-) Dad, Family or a Friend, come to see it on Amazon.