For sale by Platinum Fighter Sales -1954 Hispano Aviation HA-1112-M4L. History: Based on the G-2 variant of Messerschmitt's legendary Bf-109 fighter, Hispano Aviation's HA-1112 is considered by many to be the ultimate development of the Bf-109 family when post-war variants are taken into account.
What began in 1944 as Spain's attempt to salvage a serviceable aircraft for themselves from a failed arrangement with Germany, reached it's peak in 1952 with the first flight of the HA-1112. The aircraft would serve the Spanish Air Force until 1965 and become a popular substitute for its Bf-109 sibling in films and airshows.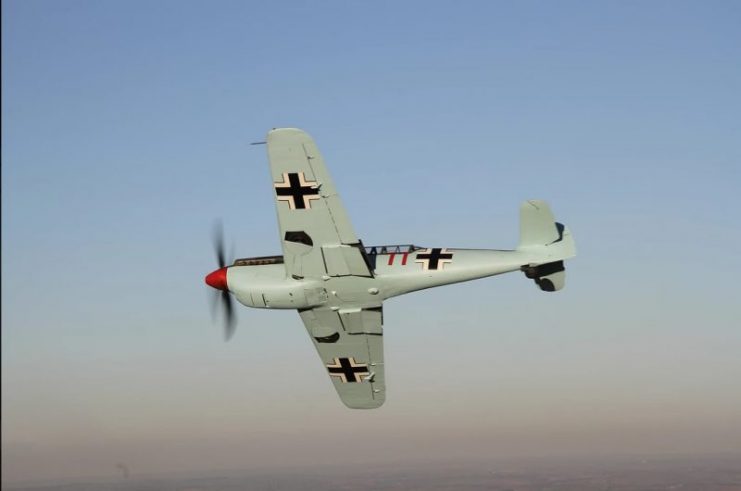 Although 233 single seat fighters were built, only two dual-control two seat trainers were built. The first was powered by the Hispano-Suiza 12Z and designated HA-1110-K1L.
The second two seater was built with a Merlin 500 engine and designated HA-1112-M4L. The HA-1110-K1L was eventually converted to an HA-1112-M4L. The subject aircraft G-AWHC is the original and only genuine HA-1112-M4L dual-control two seater in existence, making it one of the rarest warbirds available in the market place today.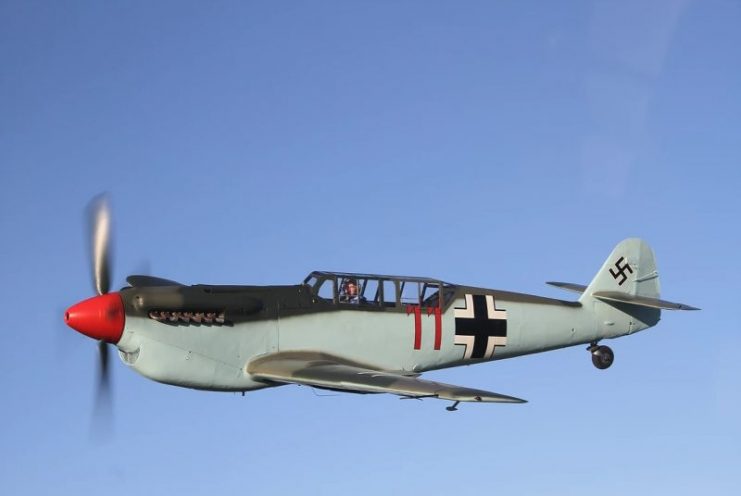 Into Battle:
A number of Buchóns were deployed to Spanish Sahara (1957-58) to battle Moroccan insurgents and their allies. The Buchóns were primarily tasked with giving close air support to army units on the ground. During the battle, the HA-1112 earned the distinction of being the last member of the Bf-109 family to participate in actual battle.
​Onto the Movies:
​Staring roles include iconic movies such as:
"Der Stern von Afrika" (The Star of Africa) A German film from 1957 focusing on the Luftwaffe ace, Hans-Joachim Marseille.
"Battle of Britain" The legendary British film from 1968 features many Buchóns (including this example) filling the Bf-109 role.
"Memphis Belle" The 1990 American film about the Boeing B-17 bomber of the same name.
"The Tuskegee Airmen" A 1995 American film about the famous fighter group of all African American pilots in WWII.
"Dark Blue World" A Czech film from 2001 about Czechoslovakian pilots in the RAF during WWII.
Enter Wilson 'Connie' Edwards:
During 1968, 'Connie' Edwards and additional members of the Confederate Air Force (as it was known then) visited Europe to purchase surplus military aircraft (Warbirds), including HA-1112 Buchons and Spitfires.
Having done so, they were approached by Hamish Mahaddie – aircraft procurement officer for Spitfire Productions during the making of the iconic 1968 classic film, Battle of Britain. Edwards and company agreed to lease the aircraft to Mahaddie on the basis that they would fly the aircraft in the movie.
As Connie tells it, "Well, three months became 11 months and I ended up Chief Stunt Pilot. During that 11 months, I flew everything including Spitfires, Hurricanes, 109s, Heinkels and even the B-25 photo ship. We also drank plenty of beer and I became good friends with Adolf Galland and 'Ginger' Lacey. At the end of filming they owed me $80,000 and couldn't pay and wanted to give me an I.O.U. I said, Screw that noise!
I'll take those 16 Messerschmitts (Buchons) as payment! After they agreed, the production company realised they needed two Messerschmitts for an upcoming movie, so I traded them two Messerschmitts (Buchons) for my favourite Spitfire IX MH415 and shipped em all home to the Ranch in West Texas." There the last of the HA-1112s and Spitfire sat for over 45 years in a hangar in the dry West Texas climate – unmoved, unmolested, still in their movie paint and unrestored!
​Enter Luftwaffe General Adolf Galland:
​During the filming of the 1968 Battle of Britain movie, Luftwaffe and British Aces Adolf Galland and Robert Stanford-Tuck were employed as technical advisors. During this period, they both flew HA-1112-M4L G-AWHC during a break in filming. (See b/w photos on this page) The old adversaries, who fought each other during the 1940 Battle of Britain had become close friends and hunted Game together with Tuck serving as godfather to Galland's son Andreas.
45 Years on:
A genuine 'Barn Find' with continuing history since the day it left the factory!
In 2014, 'Connie' Edwards engaged Platinum Fighter Sales to market and sell his remaining Messerschmitts (Buchons). Within 24 hours Platinum had the first offer and the majority of the Buchons were purchased by a Swiss Company. The balance of aircraft including the world's only HA-1112-M4L, G-AWHC going to an Australian Collector.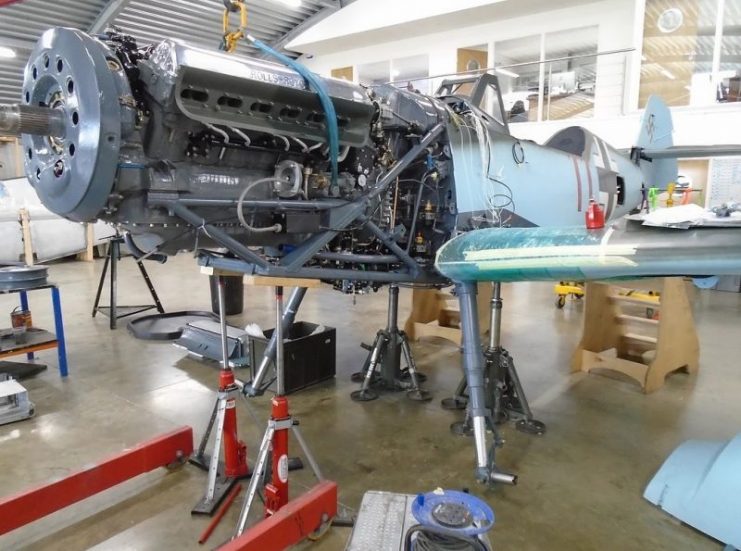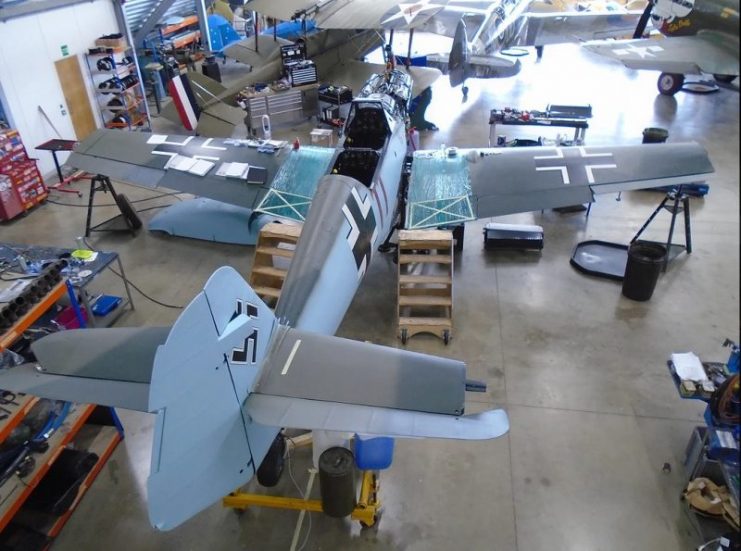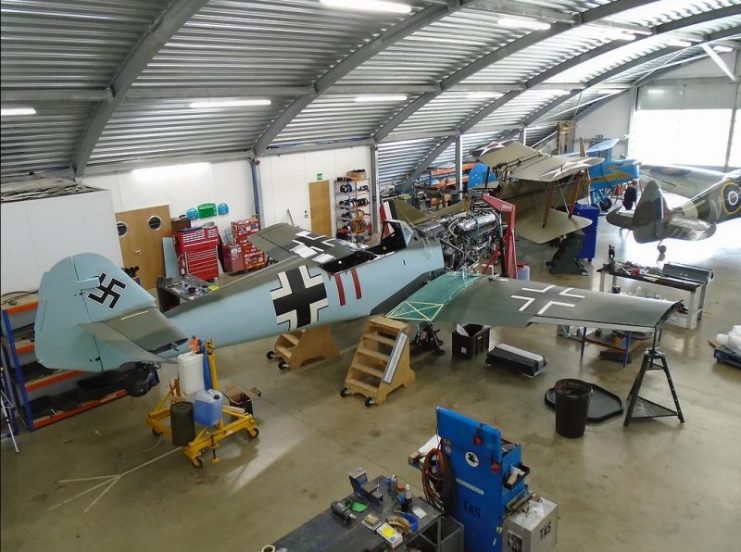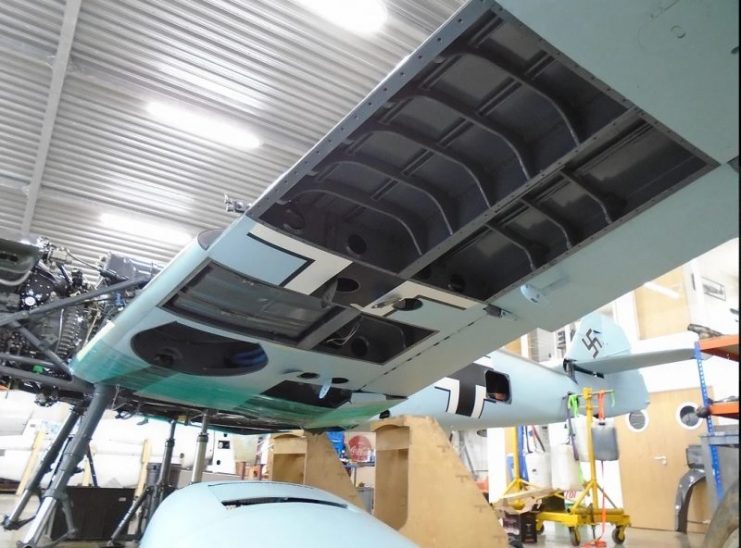 After Closing of the sale/s, HA-1112-M4L was shipped off to Air Leasing in the UK for restoration, flight readiness and registration with the UK CAA. She performed her first post restoration test flight in the capable hands of Richard Grace on 24 November 2017. http://aerodynamicmedia.com/last-surviving-hispano-ha-1112-m4l-performs-first-post-restoration-flight-video/
Email Simon Brown – simon@platinumfighters.com or John Rayner john@platinumfighters.com Call us toll free: +1800 210 1951. www.platinumfighters.com
Given G-AWHC's rare factory two seat configuration, Battle of Britain movie history, being flown by such legends as Adolf Galland and Robert Stanford-Tuck, it makes the aircraft very attractive from an investment point of view. In addition, G-AWHC has enormous potential as a revenue earner providing passenger flights to history and movie buffs alike (subject to authority approval).