The American B-29 Superfortress heavy bomber entered service in 1944 and spearheaded the mass bombing campaign of mainland Japan. It then saw limited use in Korea before being phased out of service in 1960.
It was by far the most expensive project of World War II, costing around $41 billion in 2018 dollars. For context, that is the entire budget of Belgium's armed forces for the next ten years.
The Germans so feared it being deployed in the Western European theater–although it never was–that they developed the Focke-Wulf Ta 152 high altitude fighter/interceptor to deal with it.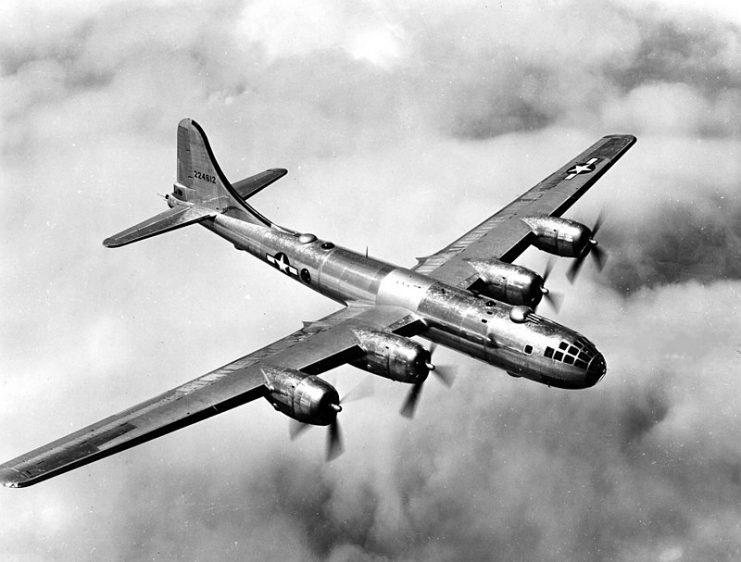 It was only in production for 3 years (1943-1946) and the need for massive numbers of them quickly disappeared when WWII ended. Many went straight from the production line into storage and were eventually scrapped.
It was also quite quickly made obsolete. First, it was reclassified from a heavy bomber to a medium bomber.
Then, it was replaced entirely by the larger and faster Convair B-36 Peacemaker. This too was quickly replaced by jet powered bombers and rapid advancements in technology.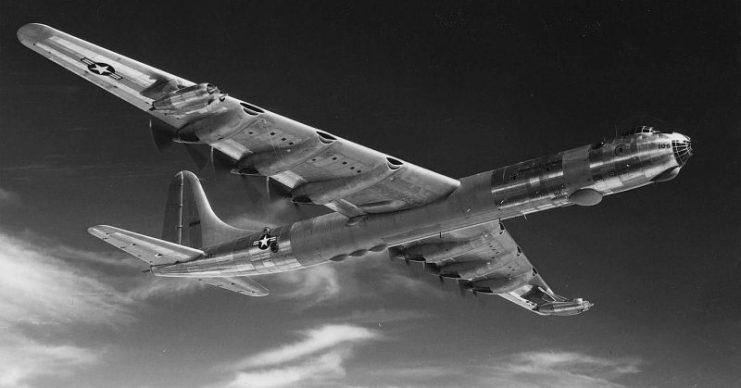 Here are some interesting facts about the mighty Boeing B-29 Superfortress.
Performance and Attributes
| | | |
| --- | --- | --- |
| | B-29 | Compared to other Aircrafts |
| Crew | 11 | Twice as many as an Italian Savoia-Marchetti SM.79 bomber. |
| Length | 99 ft | The same length as three German Messerschmitt Bf 109 fighters, lined up |
| Wing Span | 141 ft | Twice that of a German He-111 bomber. |
| Wing Area | 1,736 sq ft | 2.5 times more than a Russian Ilyushin Il-4 bomber. |
| Max. Speed | 357 mph | The Japanese Kawasaki Ki-61 Hien Fighter was just 3 miles per hour faster. |
| Rate of Climb | 900 ft per minute | Nearly 50% more than the German Heinkel He 177 Griffin heavy bomber. |
| Service Ceiling | 31,850 ft | Nearly 2,000 ft higher than that of a Russian Yak 9D fighter. |
| Total Engine Power | 8,400 hp | Equivalent to 11 British Gloster Gladiator bi-plane fighters. |
| Range | 3,250 miles | 25% farther than a British Vickers Wellington bomber. |
| Max. Bomb load | 22,000 lbs | Over 10 times more than that of the Japanese Mitsubishi G4 "Betty" bomber |
| Max. Take off Weight: | 124,000 lbs | Equivalent to 18 fully loaded British Supermarine Spitfire VB fighters. |
| Stall Speed | 105 mph | The same as the US North American F-51D Mustang fighter. |
| Fire power | 12 x 0.5 cal HMGs | 6 times as much as the Japanese Nakajima Ki-43 Hayabusa fighter. |
| Produced | 3,900 | Over 5 times more than the Boeing B-52 Stratofortress Strategic bomber. |
| Unit Cost | $9 million (2018 value) | Twice as expensive as a B-24 Liberator bomber. |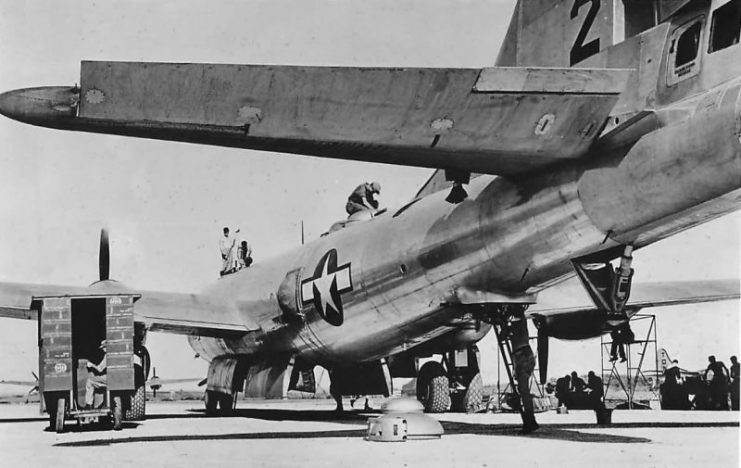 More Facts
Was the first bomber to have a fully pressurized cabin.

Had a central fire control system that controlled its remote control guns, aided by a early analog computer.

Had a revolutionary new high-lift wing design which could take tremendous amounts of stress.

Had 11 crew members consisting of: pilot, co-pilot, bombardier, flight engineer, navigator, radio operator, radar observer, central fire control operator, right gunner, left gunner, and tail gunner.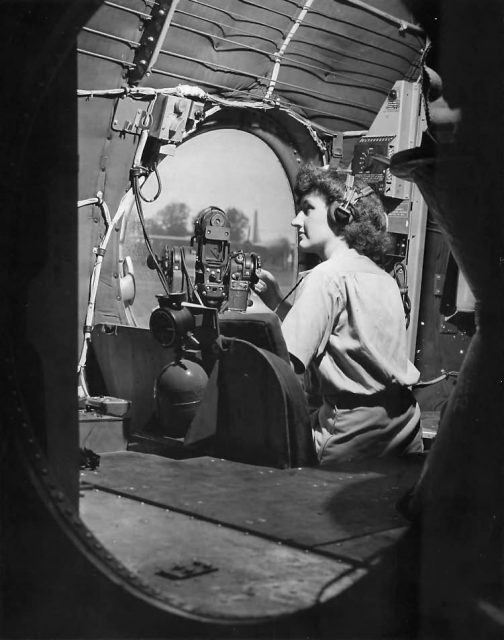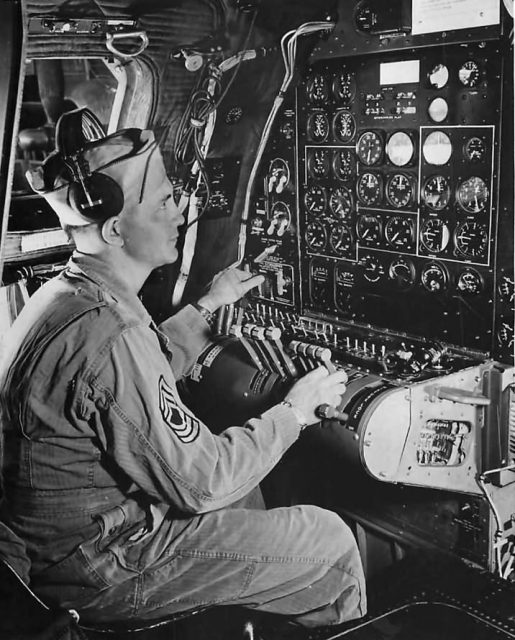 Value for Money
A B-29 would cost you in today's value (2018) just over $9 million, which could also buy
Half a BAE Hawk Advance Trainer.

1/8 of a F/A 18E Super Hornet multi-role fighter.

1/200 of a B-2 stealth bomber.

85% of a British Vulcan strategic bomber–a bargain as it could carry the same bomb load over the same range, but at twice the speed and 4 miles higher than the B-29 could.

450 brand new Ford Focus hatchback cars, with free servicing!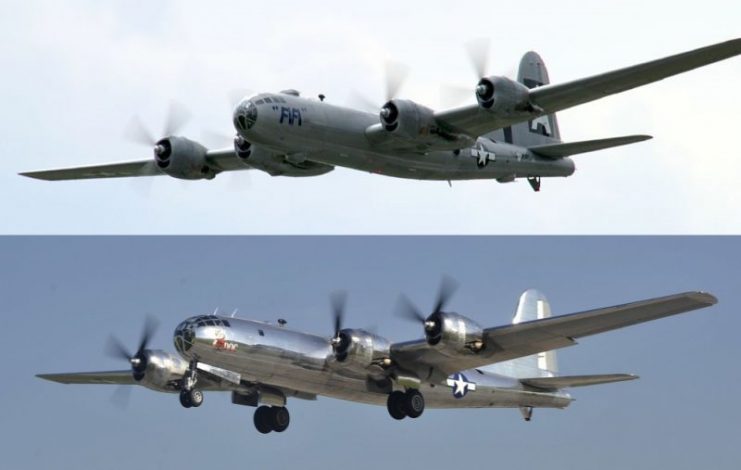 Uses For the B-29
Apart from being a strategic bomber, it was also used for air-sea rescue, electronic intelligence gathering, and weather reconnaissance.

A stripped down B-29 was used to test the idea of broadcasting television via aircraft rather than satellite in 1949. The system was called Stratovision and though there was attempts to develop it over the years, ultimately it was not a success.

Used to experiment with the failed concept of being a mother-ship, carrying McDonnell XF-85 Goblin Parasite Fighters.

Converted Superfortresses called KB-29s were used to explore the then-radical idea of air-to-air refueling. 282 were later successfully converted into Strategic Tankers for aerial refueling.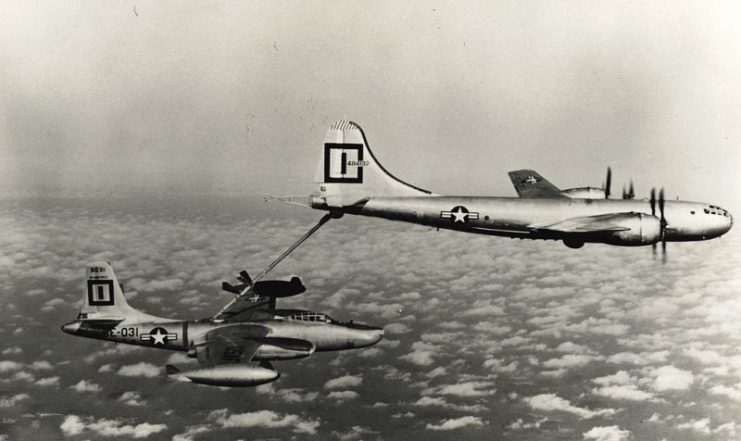 Close Relatives
The B-50 Superfortress, which had more powerful engines and a stronger airframe, was introduced in 1948. It was the first aircraft to fly around the world nonstop. A variant of the B-50, called the Washington, was used as a stopgap aircraft by the British for a short time in the 1950s.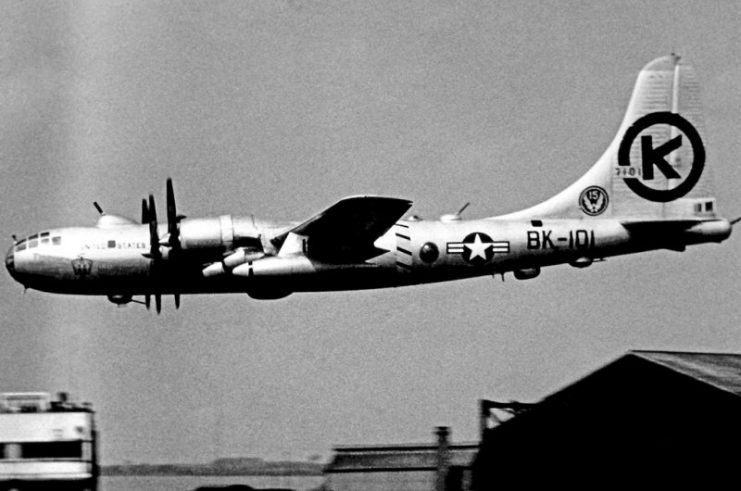 Several B-29s were forced during WWII to make emergency landings in Soviet territory. The Soviets took the opportunity to develop their own version of the B-29 through reverse engineering.
It was called the Tupolev Tu-4 Bull, and filled an important gap in the Soviet arsenal as it lacked any kind of strategic bomber at that time. A total of 847 were built and a small number were given to communist China.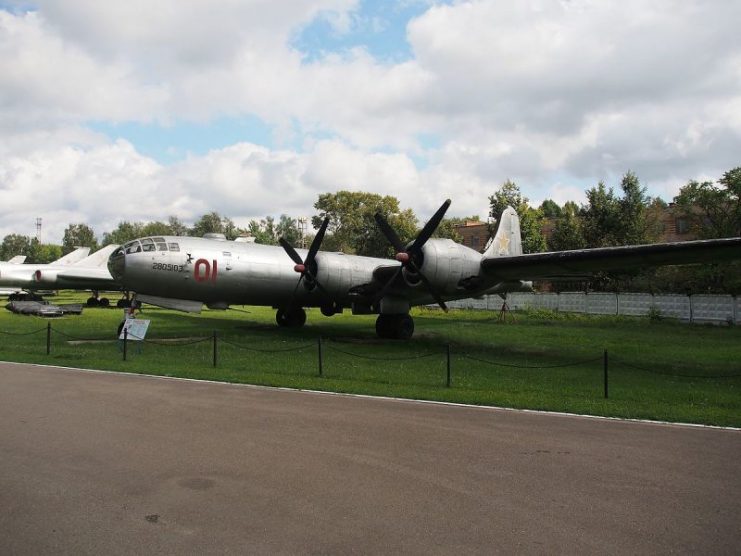 Soviet attempts to develop variants of the Tu-4 were unsuccessful. Only 1 aircraft each was built of the Tupolev Tu-70 passenger liner and the Tu-80, which had longer range. Neither went to serial production.
The Chinese attempted to develop a TU-4 fitted with an Airborne Early Warning Radar called the KJ-1AEWC Project 926. Only 1 was built in 1969. Despite some far-fetched claims by the Chinese authorities that it was equivalent to 40 ground based radars, it was quickly considered obsolete by the People's Liberation Army Air Force, and the project was canceled.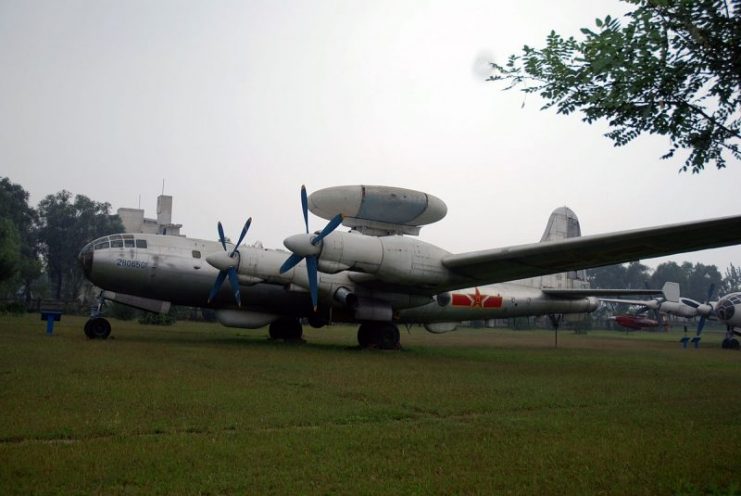 B-29 and the Atomic Bomb
"Now I am become Death, the destroyer of worlds." –J.Robert Oppenheimer, head of the U.S. project to develop the atomic bomb.
The atomic bomb has only ever been used twice in warfare, and both times it was delivered by a B-29. As a result, the B-29 was often associated with the atomic bomb during its career.
On August 6, 1945 Enola Gay, a B-29 named after the pilot's mother, dropped the first atomic bomb on Hiroshima. The blast killed 75,000 Japanese, injured 70,000 more, and destroyed 69% of the city.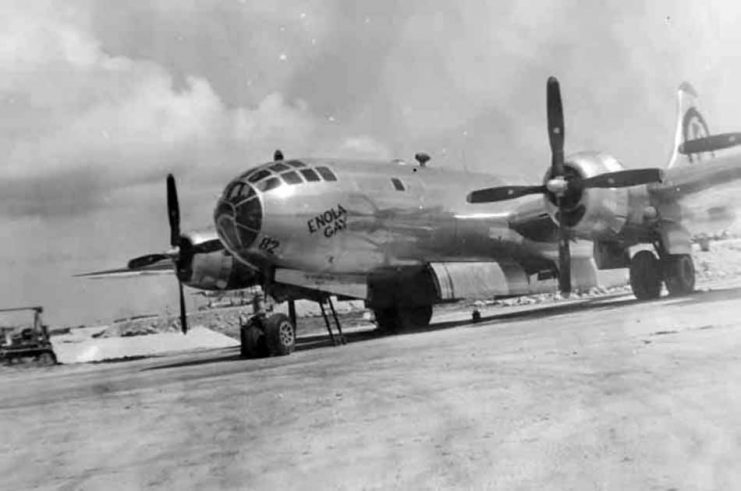 A B-29 called Bockscar dropped the second atomic bomb on Nagasaki three days later. The blast killed 35,000 Japanese, injured 60,000, and destroyed 44% of the city. The aircraft was named after its regular pilot Captain Frederick Bock, but on that day it was piloted by Major Charles Sweeney.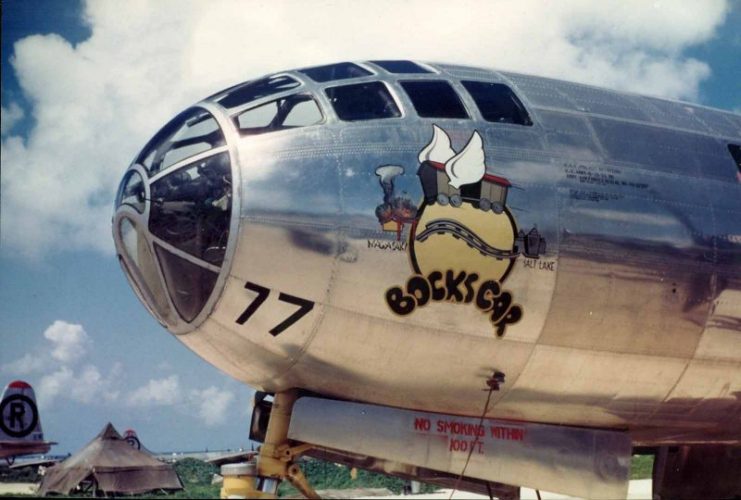 Read another story from us: Futuristic Cannons of B-29 Superfortress: Ahead and Behind the Times
In 1950, a B-29 crashed into a mountain in New Mexico while carrying atomic bombs with detonators installed. There was no radioactive contamination, and according to the U.S. military there was never any chance of the bombs going off as they had not been primed.
The first atomic bomb to be dropped by Soviet aircraft was carried by a Tupolev Tu-4 Bull, the reverse-engineered copy of the B-29.