It's late afternoon on the 5th of June. Eisenhower's decision to 'Go' has worked its way down from top level to all ranks. And his "Great Crusade" speech has been read to the millions involved in what very soon is to be one of the most important days in modern human history.
All over the Southern parts of England ten thousands of paratroopers, glider troops and aircrew have started preparing for the airborne landings into Nazi occupied Normandy. And amongst the over 10.000 Allied aircraft ready for what is about to happen are over 800 twin-engined and unarmed Douglas C-47 Skytrains/Dakotas.
These winged work horses carried the brunt of all men into battle across the English Channel and may well be called the "Unsung Heroes". The day upon them we all know now as D-Day! And on the 6th of June 2019 D-Day will be 75 years ago.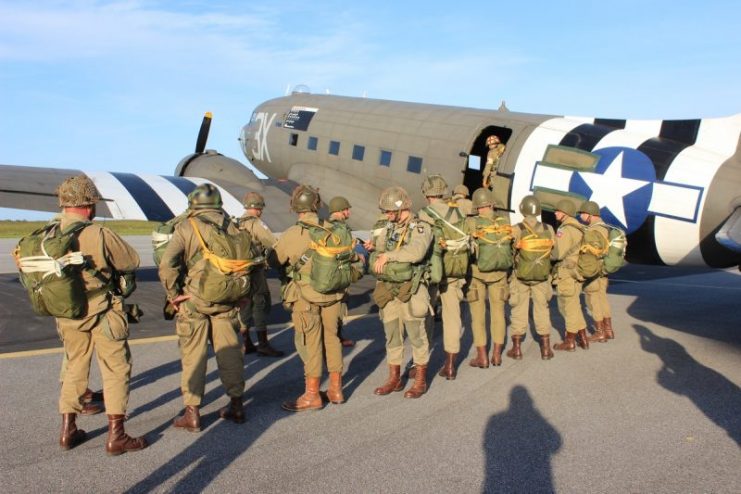 It is early 2018 now and a year and a half ago a team of friends have started their preparations for a commemoration which has no equal. Up to 40 of these "Unsung Heroes" are assembled from all over the Globe for the June 2019 "Daks over Normandy" event, to precisely reconstitute what happened in 1944.
The 75th commemoration of D-Day in June 2019 provides the team with a very last opportunity to organize the Daks over Normandy event and to honour those who have paid so much to liberate Europe. Daks over Normandy will be a once in a lifetime event. For the first time in 75 years the skies over the UK and Normandy will witness a large formation of Douglas DC-3/C-47 Dakotas and hundreds of Paratroopers. And for the first time in 75 years will this many of these magnificent aircraft be assembled in the very place where they saw their finest hour and please make sure you follow and like their Facebook page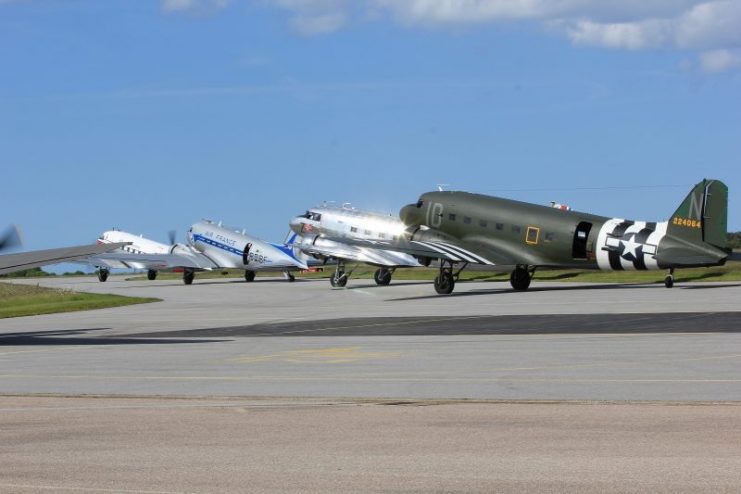 From 2 to 9 June 2019 up to 40 DC-3/C-47's will get together. Their owners fly them in from all over the World. From Scandinavia, Hungary and the rest of Europe, from Canada and the United States and even from as far away as Australia. All this for what may very well be the very last time. All this to commemorate those who paid such a high price for our freedom. And all this so everyone can watch paratroopers jump over Normandy one more time and admire these magnificent aircraft on the ground and in the air, where they belong.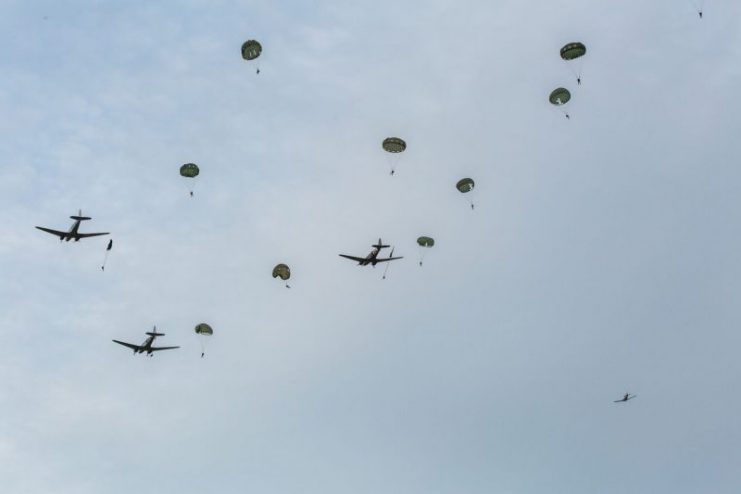 Daks over Normandy presents itself two locations: from 2 to 5 June at Duxford Airfield, UK and from 5 to 9 June at Caen Carpiquet Airport in Normandy, France! Both locations where carefully chosen because of their facilities their infrastructure and their World War II heritage.
After two days open to the public at Duxford Airfield on 3 and 4 June, with flying demonstrations, scenic flights and – weather permitting – practise parachute jumps, the event follows into the footsteps of the Greatest Generation! on 5 June 2019 about 300 men and women will board the aircraft to, exactly like 75 years before, fly across the English Channel and to jump into one of the historic D-Day drop zones. All with 'old-style' round parachutes and all adorned with WWII style airborne uniforms. 7 and 8 June will again see flying demonstrations, scenic flights and parachute jumps. This time at Caen Carpiquet Airport in Normandy, France.
The preparations for this truly epic event are in full swing and confirmation has been received for 29 aircraft already. The biggest challenge the team is facing is – as always – the funding. The Daks over Normandy team has attractive corporate sponsorship packages, and the website, which shows all information available up to now, provides the option to help you make a well-needed donation. You can find it at www.daksovernormandy.com With your help Daks over Normandy will indeed be epic and once in a lifetime. History in the making… Again… Just like in 1944…!