Corsair 92436 was built by Goodyear Aircraft Corporation in Akron, Ohio and was delivered to the US Navy on the 10th of July, 1945. Although too late to see combat action in WWII, she arrived at Pearl Harbor, Hawaii and was placed with the Marine Carrier Aircraft Service Unit 1 (MARCASU1) at Marine Corps Air Station Ewa (MCAS EWA).
​From there the Corsair was immediately assigned to Marine Fighting Squadron 213 (VMF-213). The Corsair stayed with VMF-213 until April 12, 1946 when she was shipped back to Naval Air Station San Diego for reconditioning and repair. In early 1947 she was assigned to the Naval Air Reserve Training Command at Squantum, Massachusetts.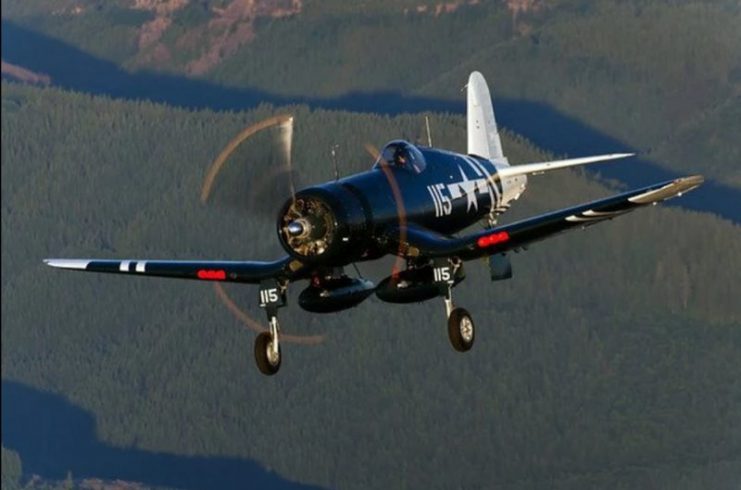 That started a chain of assignments to various Naval Reserve Squadrons all over the country, including Florida, Colorado, Texas, Michigan and right up the road at Seattle. Her final assignment was at NAS Dallas and was put in storage at Litchfield Park, Arizona in February of 1954.
On October 20, 1959 the Corsair was purchased from the storage yard by Alu-Met Smelters of Long Beach, California for $485.67. That same year she was purchased by Ed Maloney, founder of the Planes of Fame Air Museum in Chino, California for $650. In 1972 she was sold to the Desert Aviation Company in Las Vegas and finally ended up with the Canadian Warplane Heritage Museum in Ontario in 1973. The Canadians flew the Corsair at airshows all over the US and Canada until 1998 when she was purchased by a private owner, brought back to the US and placed on loan to the Olympic Flight Museum.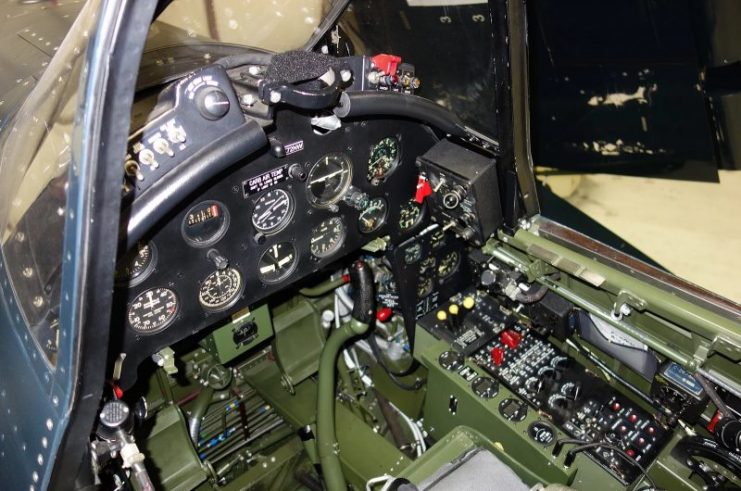 ​By 2002 the years of use finally caught up with the Corsair. General wear and tear from a lifetime of use and various accidents and damage during her military years finally brought about the decision to restore the old girl to her former glory. She was sent to Airpower Unlimited in Jerome, Idaho to begin what would be an eleven and a half year restoration, encompassing over 38,000 hours of labor. This has been one of the most in-depth Corsair restorations completed so far.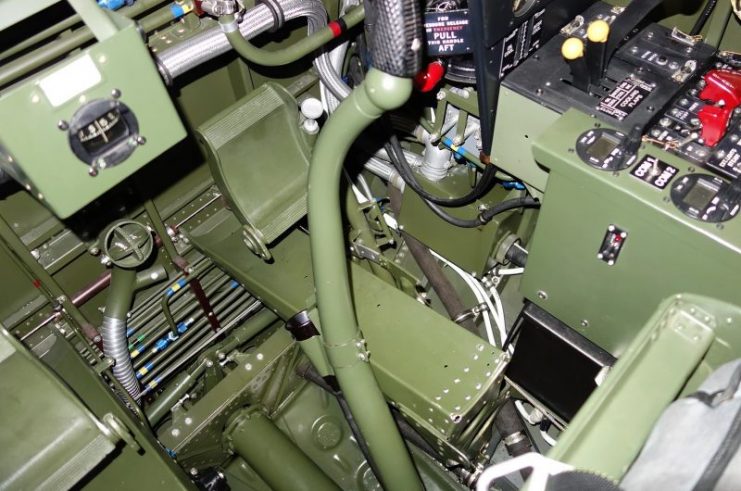 When it came time to choose a paint scheme for the aircraft it was decided use one from the time that she was in the Military. The US Navy record cards only show one particular squadron of assignment by name, VMF-213. During the time period that this Corsair was assigned to that squadron in Hawaii, they were doing carrier operations off of the USS Saidor. Existing pictures of the squadron's Corsairs at that time were used to come up with the paint scheme the airplane carries today. We know the airplane was in the squadron and at that location during the time frame and there is a high probability that she carried these markings.​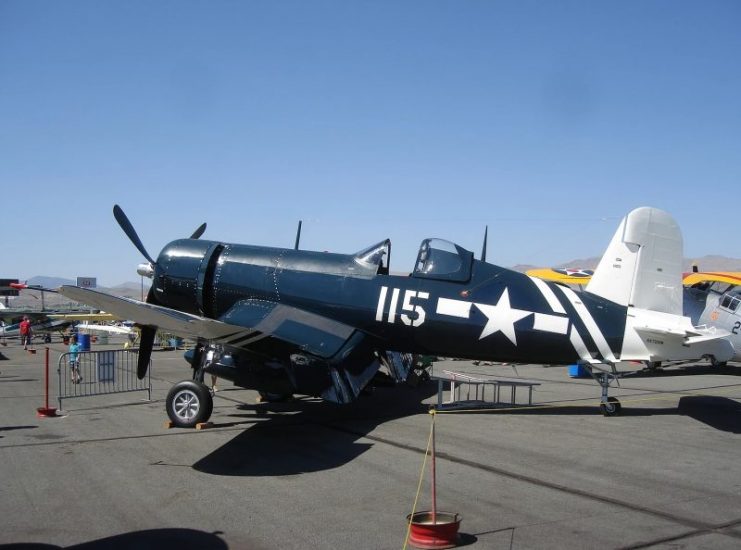 The identification number "115" on the fuselage was chosen because it is the same number this Corsair carried when it was painted in Royal Navy colors during most of her life as an airshow performer.
We wanted to pay homage to her warbird past if possible and also commemorate her military history. Less than thirty of these historic airplanes remain flying in the world today. The Olympic Flight Museum is proud to display the finest example of one of history's greatest airplanes.
Location Washington State
​For sale by Platinum Warbirds
​Call us toll free: +1800 210 1951
Email Simon Brown
simon@platinumfighters.com
​
Email John Rayner
john@platinumfighters.com