As an actor and military technical adviser, Dale Dye has been the driving force behind some of the most beloved and revered war epics.
He played Captain Harris in the Oscar-winning best picture, "Platoon," where he delivers the classic line at the end, "It's a lovely (expletive) war," as bombs rain down on his position. He was in the pivotal war department scene in "Saving Private Ryan." Likewise, the award-winning miniseries "Band of Brothers" wouldn't have been the same without his eye toward accuracy and the sharp Southern drawl of Col. Robert Sink, played by Dye.
Over the years, Dye has become America's commanding officer, who, along with R. Lee Ermey of "Full Metal Jacket," is one of the most recognizable military veterans in Hollywood today. However, Dye's resume of hit films and an impressive Rolodex of contacts hasn't gained him the creative control he wants.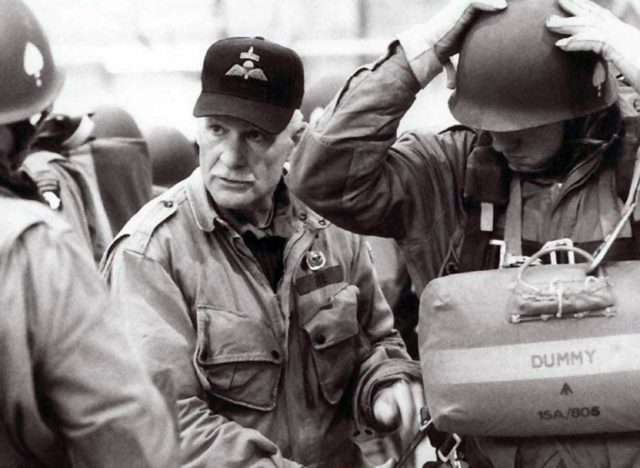 Scroll down for videos
The Hollywood establishment, he said, has balked at producing a World War II script he wrote and wants to direct, called "No Better Place to Die."
The road to a director's first feature film is often long and filled with obstacles.
So Dye, 73, is appealing to his own band of brothers — veterans and current servicemembers — to help bring his passion to life.
"It's been a real fight," Dye told Stars and Stripes last week. "It's something I've been trying to do for years and haven't had much luck through the Hollywood system. But I'm not the kind of guy who quits."
A battle with no retreat
Dye wrote the screenplay in 2011 for "No Better Place to Die," which serves as a prequel of sorts to "Saving Private Ryan." The film details Able Company of the 505th Parachute Infantry Regiment, 82nd Airborne Division, as they take and hold the vital La Fière bridge over the Merderet River early on D-Day, June 6, 1944.
Able's objective was crucial to the success of the D-Day attack. Though the battle is known to history aficionados, it has somehow escaped widespread renown.
Able Company parachuted into France with their British counterparts ahead of the invasion. They were tasked with taking and holding two bridges connecting the Normandy beachheads with the rest of the countryside. They had to halt a ferocious German counterattack. Fail, and the Allies would be cut to pieces and pushed back into the sea.
They fought to the last man in a battle with no retreat.
"They started their attack on the Germans midmorning," Dye said. "They had 50 percent casualties by nightfall. … They held it, and they held it against tanks."
Based on the screenplay, Dye's film would show the parachute assault and gliders hitting the ground in controlled crashes with reinforcements for the paratroopers. The action would start immediately.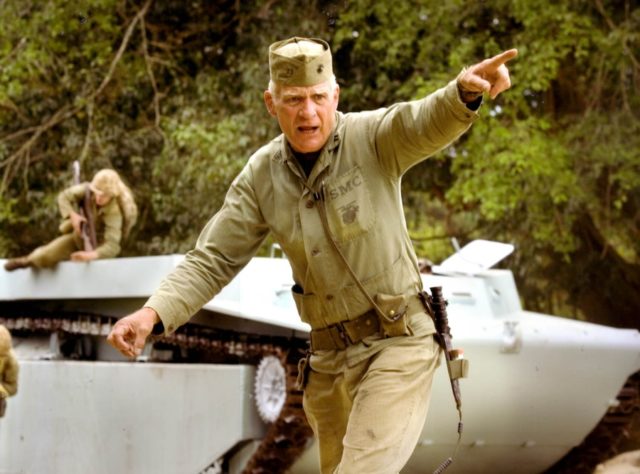 "It has all the elements of 'Ryan' but is more intense," Dye said.
The film's name comes from a true story about a decimated platoon operating before the bridgehead, sending a note asking company commander Lt. John "Red Dog" Dolan for orders, Dye said. The reply came back, "We hold here. There is no better place to die."
The words rallied the men.
Dye recently launched a crowdfunding campaign on Indiegogo called Operation Ivory Tower, to breach what he sees as the privileged ivory towers of Hollywood.
"Several Hollywood types have rebuffed our concept of making the film with veterans, especially as actors. Why? There are so many talented veterans in Hollywood, yet it's hard for most to get work … and respect as creative individuals," Dye wrote on the crowdfunding page. "Operation Ivory Tower will breach the ivory towers of Hollywood that allow only a select few to pass through its guarded gates."
Dye plans to raise the money for pre-production to get the film rolling, which includes final development of the film, legal costs, securities and business filings, precasting, location scouting and budget finalization. He is confident if that happens, and they can add some top talent, they can persuade financiers to back the project and foot the bill for its estimated $25 million price tag.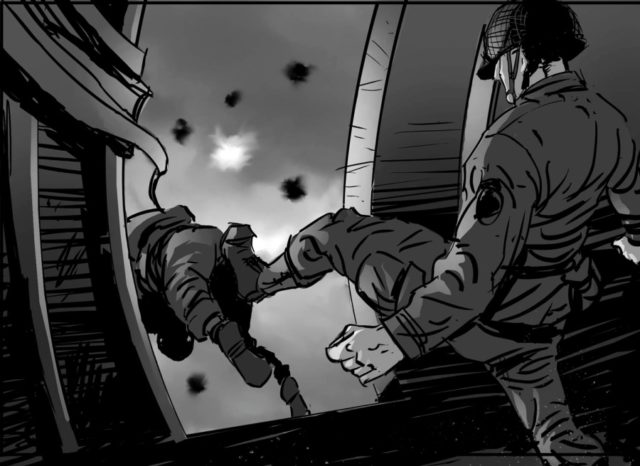 He has been shopping the script for "No Better Place to Die" and says he always receives a positive response until he insists that he direct the film.
"I'm a first-time feature director," Dye said. "But I know how to do this."
He has worked with Hollywood legends, including Steven Spielberg, Oliver Stone, Tom Hanks and Brian De Palma. Dye marvels at his good fortune.
"I've learned from Spielberg," Dye said. "I've had the greatest career the world has ever known."
Now, he wants his own turn behind the camera.
From Vietnam to Hollywood
Dye began studying the D-Day battle when he was in the Marine Corps, he said. He considers himself an amateur historian "like all good Marines."
He was always impressed by small-unit genius and heroics and how it almost always led to successful larger campaigns.
Dye served in the Marines for over 20 years, from 1964 to 1984. His service included three tours of Vietnam, where he survived 31 major combat operations and was awarded the Bronze Star with "V" device for valor, three Purple Hearts, the Navy Commendation Medal with "V" device for valor and several other decorations.
After 13 years as an enlisted Marine, he was chosen for and successfully attended Officer Candidate School. He rose to the rank of captain and served in Beirut with the multinational peacekeeping force in 1982 and 1983.
Dye was awarded a second Navy Commendation Medal with "V" device and a Combat Action Ribbon for his service in Beirut.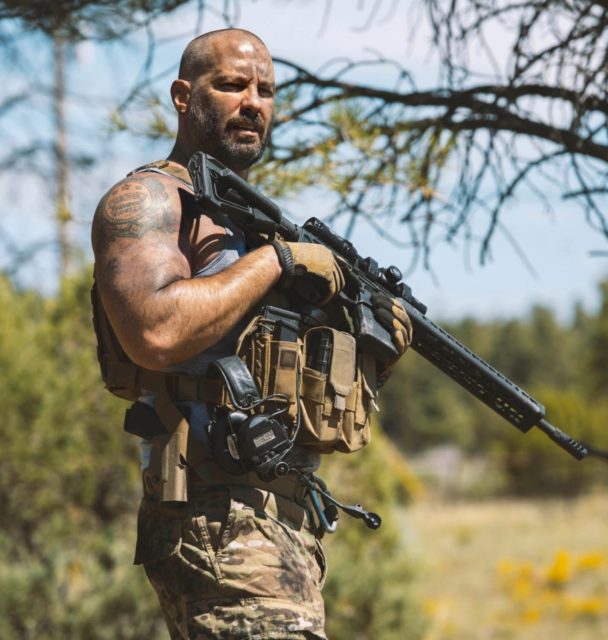 After retiring from the Corps, he worked for Soldier of Fortune magazine for a year before heading to Hollywood in 1985, according to his online biography. Dye did not intend to become an actor when he arrived. He wanted to change the way war movies were made and bring authenticity to the scenes and characters. He has also said he needed to stay in the fight for his own peace of mind.
"As I would take actors into the field, however, and train them to be believable military men and women on screen, directors started to notice that I was already doing what I was training them to do … so why not cut out the middleman and just give one of the roles to me?" he wrote on his website. "I gave it a shot and found that I loved it."
It wasn't always smooth sailing, Dye said. He said he was looked down upon for being a veteran.
"The attitude when I started out was that anyone who had voluntarily served couldn't possibly have a creative bone in their body," Dye said. "I think traces of that still exist."
Scott Levy, a Marine Corps veteran, actor, and producer for the "No Better Place to Die" project, agrees. Levy has appeared in "24: Legacy" on TV, "The Submarine Kid" movie, the "Medal of Honor: Warfighter" video game and Linkin Park's video for "Castle of Glass," which has nearly a quarter-billion views on YouTube. He believes that veterans have a hard time breaking into the industry and that Hollywood is less than receptive to those who serve.
"Hollywood wants our stories; they want us to technically advise, but clearly they just do not care," Levy said. "There are a lot of vets out here [in Hollywood] and a lot of talent. We've got to make our own content."
Dye said he receives stacks of letters every year from talented veterans who can't catch a break. He hopes to usher in a new era for veterans in the business with his film. He plans to hire as many veterans in front of and behind the camera as he can to work on the project. He also plans to donate money to veterans charities.
"The crowdfunding allows us to create buzz and raise initial funds, which will help get the ball rolling," said producer Tom Costa, a former officer of the 505th Parachute Infantry Regiment. The veteran-focused concept "has never been done before in film history."
Costa said they had someone willing to fund the project who declined at the last minute because the cast had not been chosen and there was no distribution deal in place. He and Dye believed that funding was supposed to help them secure those crucial elements. They said they planned to re-approach potential financiers after the crowdfunding campaign.
The effort has raised over $14,500 and it runs through the end of June. Dye hopes veterans will help spread the word.
"We're trying to harness the great power of the people to get behind us and get this made," he said. "We're going to dissect the airborne assault. It's going to be exciting and it will be visually spectacular."
For more information, visit their IndieGoGo site or their Facebook page.
Please share this amongst your friends and help make this movie happen – it is time this story was told.