The P-51 Mustang Fighter, a North American Aviation, is one of the most iconic fighters / fighter-bombers that is single-seated and was used during World War 2. In total over 15,000 of these were manufactured.
The Mustang was designed originally to be used with the Allison V-1710 engine – making it a very good aircraft. When the B & C models were made of the P-51, they added a Rolls Royce Merlin engine and this completely transformed its performance at high altitude (15,000+ feet) which meant it matched or even bettered that of the Luftwaffe's fighter jets.
The final version of the P-51 was the P-51D, and this was powered by yet another engine, the Packard V-1650-7, and was fully armed with .50 caliber M2 machine guns (6 in total on each jet).
From late in 1943 P-51's were used to escort bombers in raids over occupied Europe and over Germany, all the way to Berlin. The P-51's with the Merlin engines were also used as fighter-bombers which made sure that the Allied ruled supreme in the air in 1944.
1. Built in Texas & California
North American Aviation (NAA) built the P-51 Mustang in factories based in Inglewood, California, and Dallas, Texas.
2. Prototype
It took them 102 days to build the engineering prototype. The NA-73X prototype first flew on October 26, 1940. The first Mustangs were the P-51As. They had Allison V-1710 single stage V-12 engines. On November 30, 1942, the Merlin-powered XP-51B fighter was test flown. This model added speed and a ceiling above 40,000 feet. Flight tests confirmed the potential of the new model.
3. First Use
The RAF were the first to use the P-51, beginning their use in January of 1942. Starting in late 1943, the US Army Air Force Eighth Air Force used P-51B fighters to escort bombers on raids over Germany. They later supplemented with P-51D fighters, starting in mid-1944.
4. They were everywhere
P-51 Mustangs were used in both the Pacific and the European theaters. After WWII, more than 55 countries used the P-51 in their militaries.
5. The P stands for
The "P" in P-51 stands for "Pursuit." This was changed in 1948 to "F" for "Fighter."
6. Model D
P-51D of the 99th Fighter Squadron, 332nd Fighter Group shows off it distinctive red tail, probably at Ramitelli Airfield, Italy, 1944-45.
The most widely produced version of the P-51 was the P-51D, recognizable by its bubble canopy and Rolls Royce Merlin engine.
7. Ordnance
The P-51D had six .50 caliber Browning machine guns holding 1,880 rounds (400 rounds in each gun and 270 rounds in each outboard.
So here are the details of the this gorgeous warbird if you have a spare $million or four!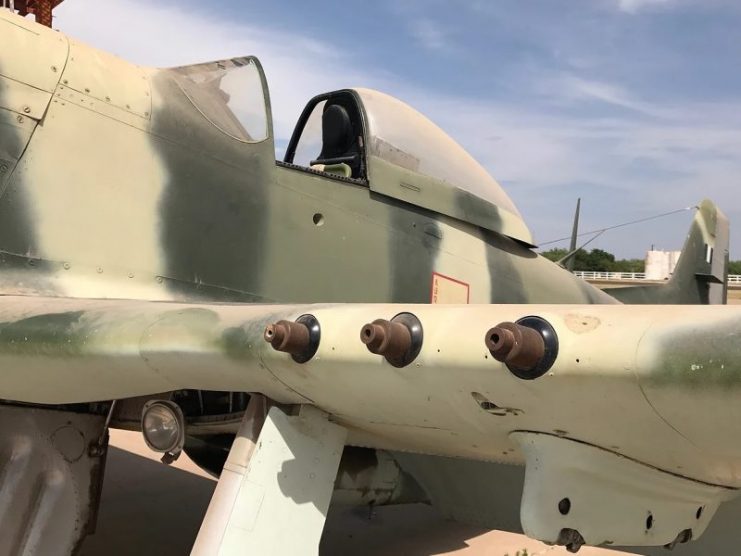 1944 North American P-51D "Mustang" with huge Merlin Engine and P-51 Airframe Inventory – S/N 44-77902 – N38227
USD $4,500,000
​
SPECIFICATIONS
1944 North American P-51D Mustang, S/N 44-77902 – N38227.
​Airframe:
Original, unrestored, undamaged airframe and it was last flown in 1983 and Platnium Warbirds discribe it as a 'Time capsule – barnfind'.
Engine:
Packard Merilin
V-1650-7 w Rolls Royce 620 Heads and Banks
Propeller:
Hamilton Standard 24-D50 Paddle Propeller
Equipment:
N38227 is in its original condition as purchased from the Fuerza Aerea Guatemalteca. All armor plating and equipment is still installed.
History:
North American P-51D S/n 44-77902 flew in the Guatemalean Air Force between 1954-1972. In 1972 it was returned to the United States and registered as N38227. Flown in the U.S. between 1972 1983, N38227 last flew in 1983. N38227 has been stored inside in a dry climate for over 30 years.
This may be the last original unrestored P-51D Mustang in original military configuration.
​For sale by Platinum Warbirds
​Call us toll free: +1800 210 1951
Email Simon Brown
simon@platinumfighters.com
​
Email John Rayner
john@platinumfighters.com
Just for a bit of triviaiIt cost $50,000 to produce a P-51 in 1944, this equals about $673,000 in today's dollars. Happy buying!!