At 9:58 AM, February 19th, 1942, the humming drone of Japanese fighters and bombers was heard over Darwin, Australia. The residents, soldiers, and sailors of Darwin looked to the skies and saw the coming terror. Just over two months after the devastating Japanese air raid on Pearl Harbor, Hawaii, this was the first Japanese assault on Australia.
After the U.S.A. joined the war, Darwin, a harbor on the northernmost point of Australia's Northern Territory, became a crucial relay point for Allied troops, aircraft, navy, and shipping. Though it had so quickly become a major port for the fight against Japan, it was not very well guarded against an air raid.
The Japanese, who were poised to invade the islands of Timor and Java to the North and Northwest of Darwin, seized the opportunity to try and deal a blow to the Allied forces' supply lines.
There were two Japanese attacks on Darwin that day. The first came from four aircraft carriers, the second, arriving two hours later, from airfields in the Dutch East Indies. The four carriers, from the 1st Carrier Air Fleet, were the Akagi, Kaga, Hiryū, and Sōryū, the very same ships that had launched the assault on Pearl Harbor.
The first wave of planes from the carriers consisted of A6M Zero fighters, D3A dive bombers, and B5N torpedo bombers. They were lead by Commander Mitsuo Fuchida, who also led the first wave at Pearl Harbor. In total, 242 Japanese aircraft took part in the bombing of Darwin on that day.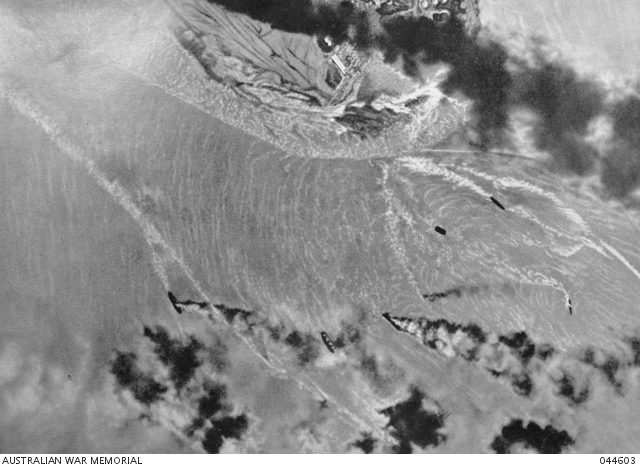 The Japanese pilots had a multitude of high-value targets. There were at least 12 Australian and U.S. warships in port, including the U.S. Navy destroyer Peary and seaplane tender USS William B. Preston. Furthermore, there were at least 45 other ships (merchant, transport, etc.) including a hospital ship in port. Darwin's population was reduced from 5,800 prior to the war, down to about 2000, as civilians and others were evacuated as it became a substantial military base. Despite this reduction, Darwin's port was still a busy, crowded and vulnerable place.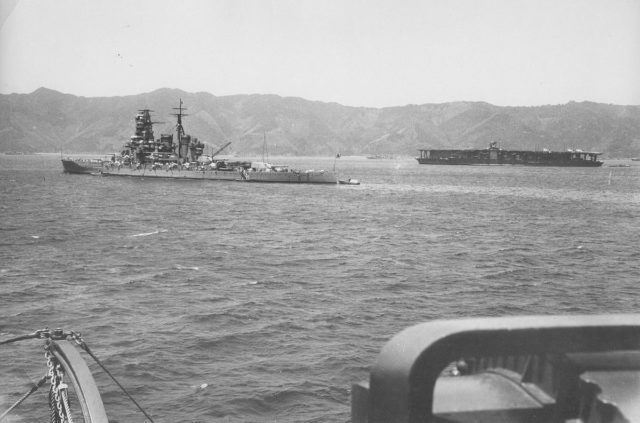 Darwin had already housed military bases for the Royal Australian Navy and Air Force, but now played host to U.S. troops and had built up the local airfields to handle U.S. B-17 bombers (the Flying Fortress).
The 31 aircraft at the Darwin airfields during the attack were Australian Lockheed Hudson light bombers and CAC Wirraways (Australian-built training craft that were now being used in fighting service) and also ten U.S. Army Air Force Curtiss P-40 Warhawks.
The only air defenses in Darwin were 18 anti-aircraft guns and a number Lewis machine guns. The big guns were to be manned by soldiers with very little training, and ammunition, too, was in short supply. The Australian military's Lowe commission, which investigated the Darwin raids of February 19th concluded that at least 36 anti-aircraft guns and 250 fighter planes would have been needed to repel the attack.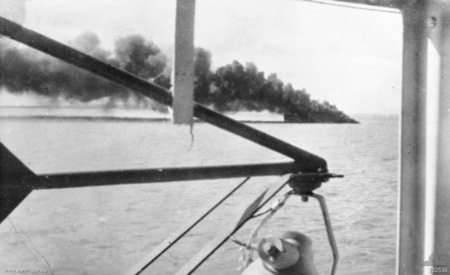 There was almost no forewarning of the raid, so there was no opportunity to evacuate civilians or try to prepare a defense. The missionary Father McGrath of the Sacred Heart mission on Bathurst Island spotted the Japanese aircraft at 9:35 and tried to alert the proper authorities using his pedal-powered radio, but RAAF officers believed that he must have seen the American P-40s which had just flown into Darwin. So, with 20 minutes of warning and preparation lost, the air raid sirens didn't sound until the Japanese zeros were strafing ships in the harbor.
There were scenes of destruction and chaos in Darwin the immediate aftermath of the raid. Eight ships were sunk in the first attack, including the USS Peary. The wharf was bombed, killing more than 20 workers. The airfield, army barracks, and oil tanks were also bombed and suffered heavy damage.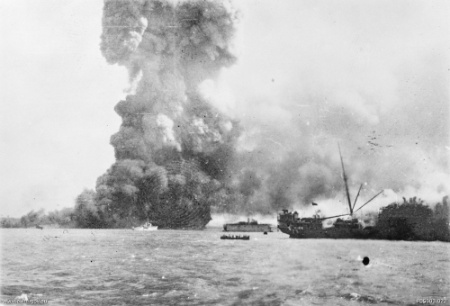 The second raid came just before noon and Japanese G3M and G4M bombers (27 of each), flying from island bases in the Pacific attacked the RAAF base and airfield. Six RAAF servicemen were killed. Six Australian and two U.S. aircraft were destroyed and others damaged. Including civilian planes, about 30 aircraft were destroyed in the raid.
Reports and historical analysis of the Darwin raids estimate that between 236 and 300 people were killed, including civilians. This number is far less than the thousands who died at Pearl Harbor, but some reports conclude that even more bombs were dropped on Darwin than on the American naval base.
As the bombs were falling, rumors of an impending Japanese invasion began to spread wildly through the town and bases. When RAAF wing commander Stuart Griffith ordered all his airmen out of the battle zone, "half a mile down the main road and then half a mile inland," which was mainly spread through word of mouth, confusion and misunderstand compounded on the fear of Japanese troops making landfall and many interpreted it as a general evacuation. Many gathered their belongings and fled. Because of the chaos and resulting "evacuation," 278 servicemen were initially thought to have deserted.
For the Japanese, the raid was a huge success. They had lost three men (two killed and one taken prisoner) and four aircraft (one pilot was rescued at sea). They sank eleven ships in total, ran three aground, and damaged 25 others. Furthermore, they had made it abundantly clear to the Allies that they had no intention of letting them use Darwin as a safe harbor for their war effort. The Allies realized that Darwin was to exposed to Japanese attacks and began favoring ports like Brisbane and Fremantle, on Australia's East and West coasts, respectively.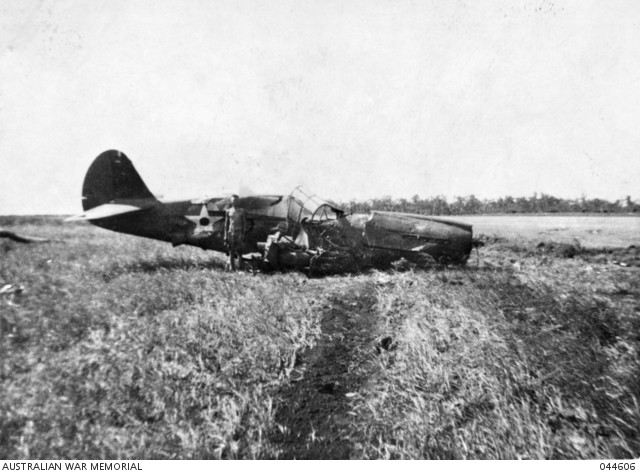 Many people in Australia were angered at what was perceived as a government cover-up of the raid in delayed reports and news coverage. Many believed that the government was trying to prevent panic and feared that Japan was soon to invade Australia.
The bombing of Darwin is remembered to this day. At 9:58 AM on February 19th, every year an air raid siren calls out to mark the event.
– By Colin Fraser for War History Online