Yi had never commanded a navy before, but went on to win 11 naval battles in the first four months of the war.
Admiral Yi Sun-Sin is a well known national hero in Korea, but he is often overlooked in the West. Yet, many historians place him on the same level as Horatio Nelson and the best admirals in world history.
He famously never lost a battle or even a single ship. His revolutionary contributions to naval warfare and remarkable naval skills should not be overlooked. As an admiral, Yi managed to overcome superior forces on numerous occasions, including one battle where he was outnumbered at least 20 to one.
If it were not for Yi's contributions, Korea today might well be part of Japan.
(Note: East Asian naming conventions hold that the last name comes before the given name. Yi is the family name.)
Making a Legend
Despite Yi's legendary status in Korea, his military career did not get off to a promising start. In fact, he did not become an officer until he was 34, making him the oldest junior officer in the army.
Part of the reason for this was that Yi failed the Korean military exam on his first attempt when he was thrown from his horse and broke his leg. However, he passed on his second attempt.
Yi first saw action in the army against a group of marauders called the Jurchen. Yi lured them into battle and utterly crushed them. He captured and executed their leader, then continued to lead successful campaigns against those who remained.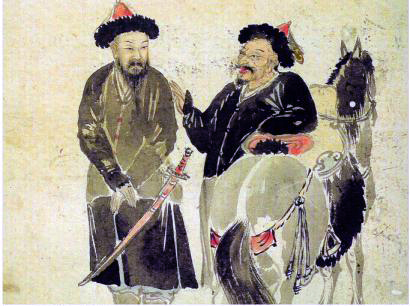 However, the military of the Joseon Dynasty had several rival cliques, and Yi was one of many leaders undermined by jealous superiors. After being falsely accused of desertion during battle, Yi lost his rank. However, he still had his allies and was soon appointed as commander of a military training academy.
It was becoming clear that Japan had designs upon Korea, and Yi took advantage of his new post to build up the regional navy. It was during this time that Yi showed his creativity by creating a revolutionary new type of ship.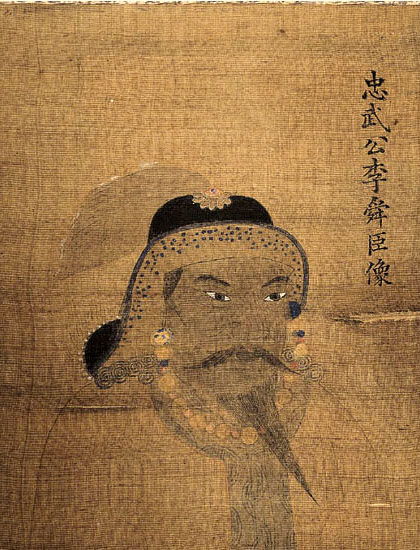 The Turtle Ship
One of Admiral Yi's most significant accomplishments, which in turn enabled many of his later successes, was the invention of the turtle ship.
The turtle ship gets its name from the metal covering over its top deck which was in contrast to the open decks of other ships at this time. This covering provided excellent protection against incendiary and ranged weapons. Most historians believe the turtle ship was the first armored ship and some consider it the first ironclad.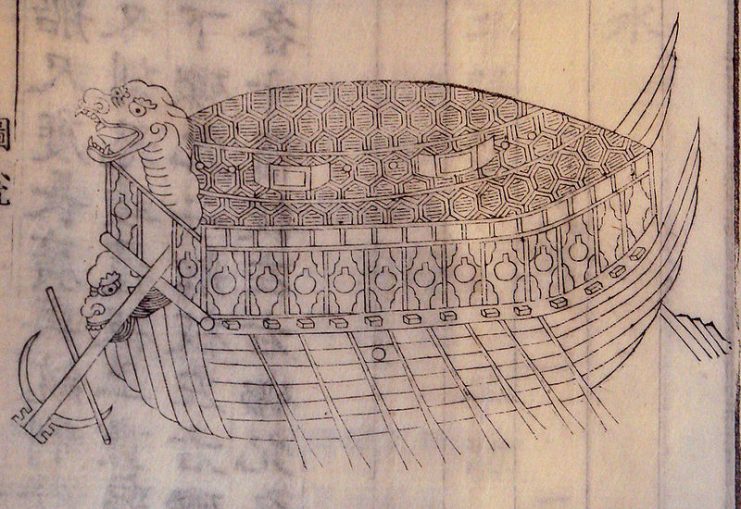 Its primary weapons included cannons, a dragon's head on the bow that could be used for various weapons, and spikes on top of its metal plating. The cannons were significant since the Japanese generally did not use many cannons on their ships.
The dragon's head was originally intended only for intimidation purposes, but Yi soon found that he could place various weapons in it. A simple cannon could be used, but smoke screen weapons and even incendiary weapons were used as well.
Finally, the spikes on the metal covering the deck made boarding the ship nearly impossible. It was both an offensive and defensive marvel.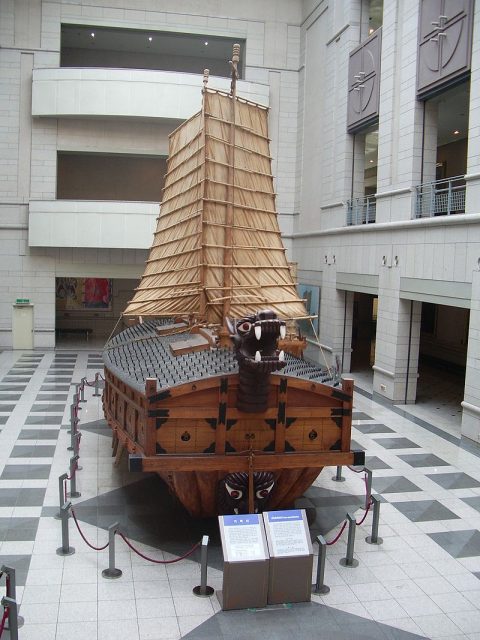 Japan Invades
Japan launched an invasion of Korea just over a year after Yi took up his post. Yi had never commanded a navy before, but went on to win 11 naval battles in the first four months of the war.
His first naval battle was the Battle of Okpo where he and another commander, Won Gyun, destroyed 26 Japanese ships while only suffering three men wounded on the Korean side. Yi soon pursued other Japanese ships in the area and destroyed them. The Japanese often abandoned their ships in fear when he arrived, leaving them to be destroyed.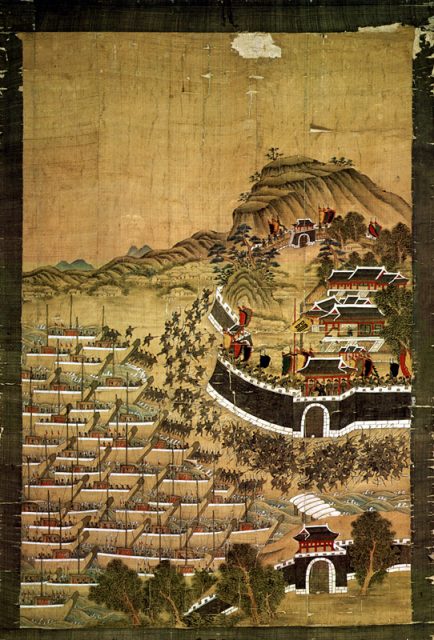 Toyotomi Hideyoshi, the leader of Japan, responded by increasing his navy's size to 1,700 ships. However, Yi had a number of advantages.
First, he made sure his men were well trained. Second, he knew the coastal areas where the fighting took place well and was able to take advantage of tides and straits. Third, his natural leadership abilities inspired his men. Finally, Yi had his turtle ships.
Unfortunately, the war was going poorly for Korea on land. The Japanese had been able to land away from where Admiral Yi was and had taken much of Korea, including Seoul. However, the Koreans formed an alliance with the Ming Chinese dynasty, who helped turn the tide of the war on land.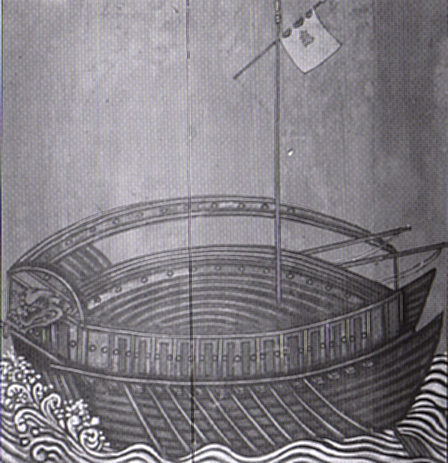 Stopping Four Invasions
The Japanese launched three more naval campaigns in 1592. Yi unleashed his turtle ships during the second campaign.
The turtle ship first saw action in the Battle of Sacheon where Yi's forces destroyed the entire Japanese fleet while only suffering five men wounded. However, one of these men was Yi, who was shot in the shoulder although he survived.
By the end of 1592, Admiral Yi had won at least 15 battles and forced back all four invasions. Japan retreated from Korea; however, they would not stay away for long.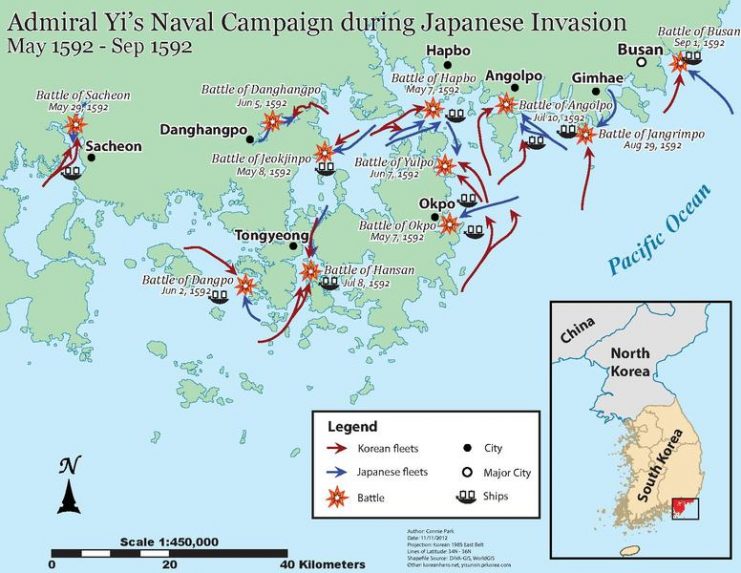 In the meantime, Admiral Yi ran into problems of a more political nature. The Japanese decided to take advantage of rivalries in the Korean court and sent one of their men, a double agent named Yoshira, to sabotage Yi's reputation.
Yoshira gave false information to Korean leaders and convinced them to send Yi to an area that Yi knew would be too treacherous for his ships.
Yi was suspicious of anything spies claimed but, although Yi's instincts were correct, he was arrested, demoted, and almost tortured to death at the behest of his political opponents for disobeying orders. His allies eventually secured his release.
In the meantime, Japan, aware that Yi had been removed, launched a new invasion.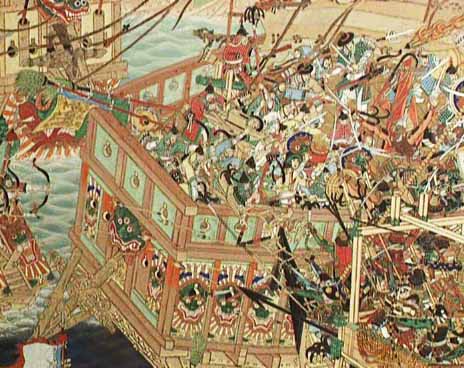 The Hero of Korea
Won Gyun was killed in action shortly after taking command of the Navy in the disastrous Battle of Chilcheollyang. Yi once again became an admiral. He was placed in charge of the entire surviving Korean fleet – 13 ships.
Admiral Yi, seemingly doomed due to Won Yun's failure, prepared to make a last stand. However, he planned to take as many Japanese with him as possible. He took up his position at the Myeongryang Strait because it was a choke point, had a strong favorable current, was enveloped in shadows from the surrounding mountains, and had treacherous whirlpools.
The battle began early in the morning when the current was flowing north. Around 330 Japanese warships attacked Yi's 13 vessels.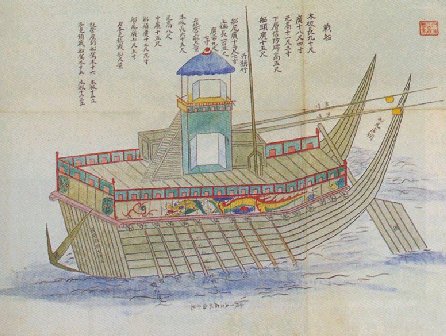 In reality, the battle began as 330 versus one, as only Admiral Yi was bold enough to advance his ship towards the Japanese. He knew that he had two more advantages on his side: his numerous cannons (which the Japanese barely used at this time) and his archers. In contrast, the Japanese ships were designed for ramming.
As the flagship bombarded the Japanese from a distance, the other Koreans took heart and slowly joined him.
The current soon shifted to the south as the Japanese were in the strait. Consequently, the closely grouped Japanese ships began ramming into each other. The nearly helpless Japanese ships were an easy target for the Korean cannons. Japanese sailors began jumping ship but drowned in the strong current.
By the end of the day, the Japanese had lost half of their men and 30 ships. Some modern historians believe that even more Japanese ships were lost. Admiral Yi took around ten casualties and lost zero ships.

The Final Battle
In December 1598, the Japanese sent yet another fleet to Korea, this time towards Noryang. The Battle of Noryang would prove to be Admiral Yi's final battle.
By this time, the Ming navy had arrived to help. The Ming brought six war junks and 57 smaller ships. The Koreans had 82 of their usual warships, plus three turtle ships. The Japanese retreated once again as the Koreans used the straits to their advantage.
Admiral Yi ordered an aggressive pursuit to destroy the fleet. However, this came at a great price as Admiral Yi was fatally shot in the shoulder during the battle.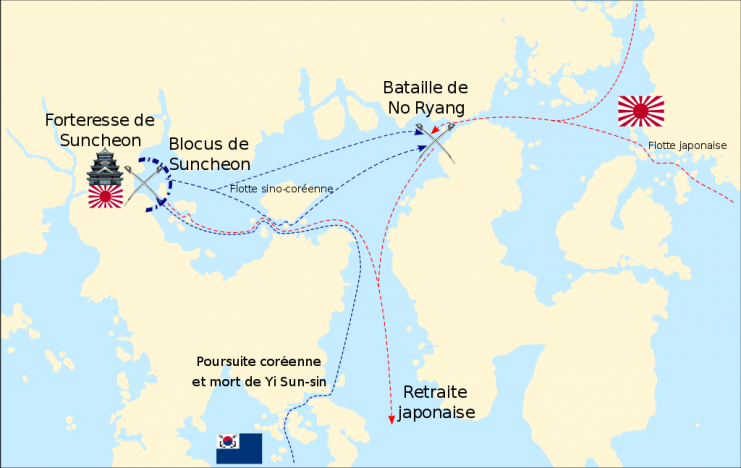 Ever dedicated to his cause, the Admiral's last words were for his nephew, Yi Wan, to put on his armor and beat his war drum. By impersonating Admiral Yi, he knew that Yi Wan would keep up the morale of his troops.
The pursuit was incredibly successful, and the Korean-Chinese fleet destroyed around 200 Japanese ships. The Koreans, once again, lost no ships.
Legacy
After Yi's death, Koreans everywhere were distraught. Shrines were built across the country in his honor, and he was given a proper burial next to his father. Fortunately for the Koreans, this battle proved to be the end of the war, and Korea was saved.
Today, not many things unite North and South Korea, but honoring the memory of Admiral Yi Sun-Sin is one of them. Admiral Yi's posthumous title is now the third highest ranking position in the South Korean military, and North Korea had a military award named after him.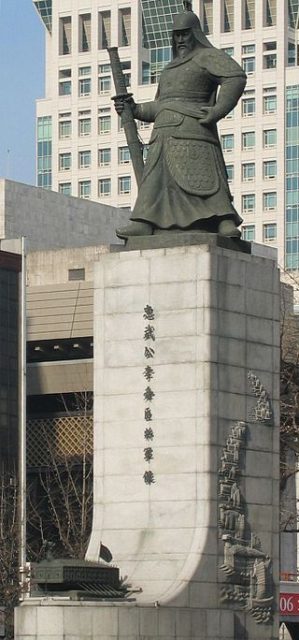 There are numerous streets named after him, many monuments to him, a destroyer class named after him, and a South Korean coin depicting him.
Read another story from us: Samurai, Ninja, Ronin, And More – Seven Different Warrior Classes Of Feudal Japan
In popular culture, he has been portrayed as the hero of one of the major campaigns in the strategy video game Empires: Dawn of the Modern World.
He was more recently portrayed in the 2014 Korean film The Admiral: Roaring Currents. However, the film was never translated into English (ironically there is a Japanese version), and his legend is still largely overlooked in the West. Hopefully, that will change as his legend continues to spread.