Part of being a good combat leader involves sending men into a possibly extremely hazardous environment – then pursuing relentless devotion to their well-being and safety. The dichotomy between mission accomplished and troop welfare has long been a challenge for leaders. Such was the case for Staff Sergeant John McGinty.
A Marine Corps Career
John James McGinty III was born on January 21, 1940, in Boston, Massachusetts just as the Marines were about to perform their greatest show of force in WWII. After attending school in Louisville, Kentucky, McGinty joined the Marine Corps Reserve in February 1957 and then enlisted for active duty in 1958.
After training, McGinty headed for the infantry. First serving as a rifleman with the Marine Corps Reserve in Kentucky he then went on to Camp Pendleton, California and the Marine Barracks at US Naval Station Kodiak, Alaska. His sojourn as a Marine continued with moves to Norfolk, Virginia and eventually as a Drill Instructor on Parris Island. By August 1962 he had been promoted to Sergeant.
When the war in Vietnam started heating up, McGinty finally found his home with the 4th Marines, 3rd Marine Division. The unit was embroiled in heavy fighting in Vietnam and a Marine like McGinty was just what the doctor ordered. The year was 1966 and any doubts the war in Vietnam would be a long affair were quickly vanishing.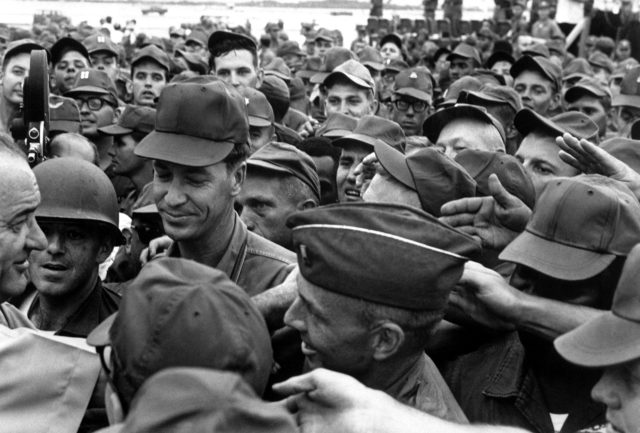 Mission Accomplished and Troop Welfare
On July 18, 1966, Staff Sergeant McGinty's thirty-two-man platoon were ordered to cover their rear while the entire battalion withdrew to a new position. The battalion had been under withering attack for three days, and the enemy showed no signs of relenting. Much was being asked of McGinty and his men in leaving them to secure the withdrawal, but the mission had to be accomplished.
Immediately the platoon came under an intense barrage of fire from mortars, heavy machine-guns, and small arms. The first of what would be many human wave attacks poured towards the platoon. Directing the gunfire, McGinty ordered the Marines to unleash their worst upon the enemy. The Marines happily obliged, cutting down one charging wave of troops after another.
After a short period of calm, another human enemy wave broke out of the jungle charging towards the Marines. Again McGinty's men fired at the approaching enemy, but due to the sheer size of the attacking force and in the chaos, two squads became cut off from the rest of the platoon. Realizing he had to take care of his Marines, McGinty managed both to accomplish his mission and protect his troops.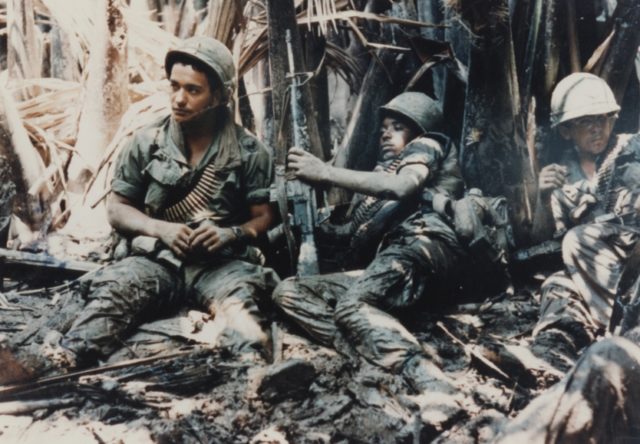 Success
Between a hailstorm of machine-gun fire and mortars, McGinty raced through the jungle to their position, dodging death at every step. The scene was harrowing. Nearly all 20 Marines were wounded and their corpsman lay dead. Immediately, McGinty jumped into action quickly reloading their weapons and directing the gunfire of the injured Marines.
As he moved among them, McGinty, now wounded himself, continued to care for the severely injured and encouraged his men and directed their firepower enabling them to repel the attack. When the enemy attempted to outflank their position, he killed five of them at point blank range with his USMC 1911 pistol. On the verge of being overrun by enemy forces, McGinty called in air strikes to accurately attack within fifty yards of their position. After four hours of intense combat, the attacking hordes finally ceased.
An estimated 500 enemy bodies lay strewn on the battlefield. For his actions that day, Staff Sergeant McGinty received the Medal of Honor and a battlefield commission to 2nd Lieutenant. His fortitude and leadership under fire warranted such a promotion. McGinty's MOH citation states his "personal heroism, indomitable leadership, selfless devotion to duty, and bold fighting spirit inspired his men to resist repeated attacks by a fanatical enemy."