Basil L. Plumley was a soldier as well as an airborne combat infantryman in the US Army. He eventually reached the rank of Command Sergeant Major, from beginning as a Private. Plumley is most well-known for his actions whilst being Sergeant Major of the United States Army's 1st battalion, the regiment of 7th Cavalry during the Battle of la Drang at Vietnam, 1965.
Lt. General Hal Moore, Plumley's commander of the battalion during this battle praised Plumley as being 'an outstanding NCO and leader' in the book published in 1992 regarding this battle. This book was named 'We Were Soldiers Once…And Young'. This book was later used to create the 2002 movie 'We Were Soldiers' where Sam Elliott played Plumley. Plumley's soldiers affectionately called him 'Old Iron Jaw'.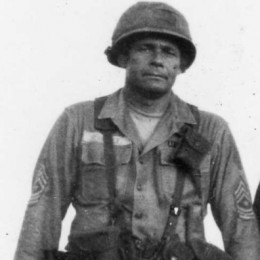 The Battle of la Drang was the very first major battle to occur between United States Army regulars and the People's Army of Vietnam of North Vietnam's regulars whilst partaking in the Vietnam War. This was a two-part battle, and it happened between the days of November 14th and November 18th, 1965. The location was two landing zones in South Vietnam, Central Highlands close to the la Drang River.
The initial battle consisted of an assault made by the North Vietnamese Army against the 1st Battalion, 7th Cavalry, as they landed at landing zone X-Ray. The Vietnamese were fought off following two full days and nights of fighting (November 14th-16th) with the United States Army inflicting great losses upon the North Vietnamese regulars, along with guerillas from the Viet Cong.
The second battle was a surprise attack from the North Vietnamese Army. On November 17th they overran the 2nd Battalion's marching column (sister unit of 1st Battalion) near landing zone Albany. This resulted in being the most successful ambush to be carried out against United States forces in the War.
Both the United States and North Vietnam suffered heavy casualties; the United States lost almost 250 troops but were said to have counted 1,000 (approximate) North Vietnamese dead on the battlefield, and guessed, even more, were fatally wounded by artillery and air strikes.
In the movie adaption (2002) Sam Elliot played Plumley and Mel Gibson played Hal Moore. Galloway, a reporter from the War, said of the film that one-liners made by Elliott were things that Plumley actually said in real-life; for example, the scene where a soldier greets him with a 'good morning' and his retort is 'who made you the (expletive) weather man.'
Galloway states 'Sam Elliott underplayed him. He was actually tougher than that. He was gruff, monosyllabic, an absolute terror when it came to enforcing standards of training.'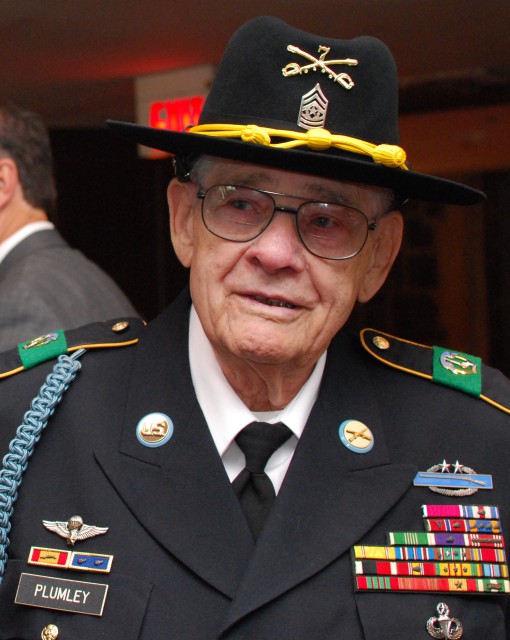 Plumley joined the United States Army on March 31st, 1942, as a private. He was part of the 82nd Airborne Division and made four combat jumps at Salerno, Sicily, Normandy (on D-Day) and the Netherlands (in Operation Market Garden). He also took part in the famed Battle of the Bulge.
He was awarded a variety of decorations and adorned Master Parachutist wings that had a gold star, this signified the five combat jumps he'd made. The fifth combat jump was one made in Korea, with the 187th Airborne Infantry Regiment.
Plumley retired from being command sergeant major on December 31st, 1974 after being awarded a further 28 awards and decorations (for the time in the unit, on campaigns and personal service). This brought his count up to 40 awards/decorations for his 33 years (or close to) of service in the military, which spanned World War 2, the Korean War and finally the Vietnam War.
Following his retirement, he opted to stay in the Army's employ as a civilian doing administration for the next 15 years at Martin Army Community Hospital and other various medical buildings in the area of Fort Benning, Georgia. He fully retired in 1990 and passed away on October 10th, 2012 at Columbus Hospice, Georgia of cancer.
Video: General Hal Moore and Sergeant Major Plumley
General Hal Moore and Sergeant Major Plumley at Westpoint on May 10, 2010. Moore then led the 1st Battalion, 7th U.S. Cavalry, in the famous battle at Ia Drang, along with Sergeant Major Basil Plumley.
Plumley Quote from We Were Soldiers