Soldiers in war are repeatedly faced with complex decision making under stressful and ambiguous circumstances – with life and death hanging in the balance. The situation is then profoundly complicated when serving and fighting amongst an active and innocent civilian population.
Captain Florent Groberg was serving as the Commander of a Personal Security Detachment tasked with protecting over 20 coalition and Afghan leaders when he faced such a decision. While escorting them to the Governor's mansion, he noticed an Afghan male walking suspiciously towards them. Rather than shoot and risk killing an innocent, he rushed toward the approaching man. As Groberg neared him, he realized it was a combatant wearing a suicide vest. With little time to think and lives at risk, Groberg tackled the man. The suicide vest exploded, throwing Groberg 20 feet away. When he awoke, he had become the nation's newest recipient of the Medal of Honor.
From France to America
Florent Groberg was born in 1983 Poissy, France to a French mother of Algerian descent. Groberg did not speak English until he was 11. Then, having gained an American stepfather, the family made their way to the US. There, he sharpened his English and grew up as a typical American boy. He went on to attend college at the University of Maryland and later joined the Army in 2008. After gaining his commission and working through subsequent training, Groberg joined the 4th Infantry Division at Fort Carson, Colorado.
He was sent to Afghanistan in 2009 where he served primarily in the Kunar Province. However, it was not that deployment where he earned his revered place in military history although he did serve with distinction. Returning home in 2010 he continued to serve with the 4th Division as a Company XO. Then in 2011, he was appointed Commander of the brigade Personal Security Detachment of the 4th Infantry Brigade Combat Team.
By February 2012, he was back in Kunar Province, Afghanistan as part of Task Force Mountain Warrior. It was there he earned his distinction with an act of inexplicable gallantry that saved the lives of countless men. A meeting had been organized between coalition and Afghan leaders at the provincial governor's compound in Asadabad. Groberg's mission was to ensure everyone arrived safely and it was obviously a mission he took seriously.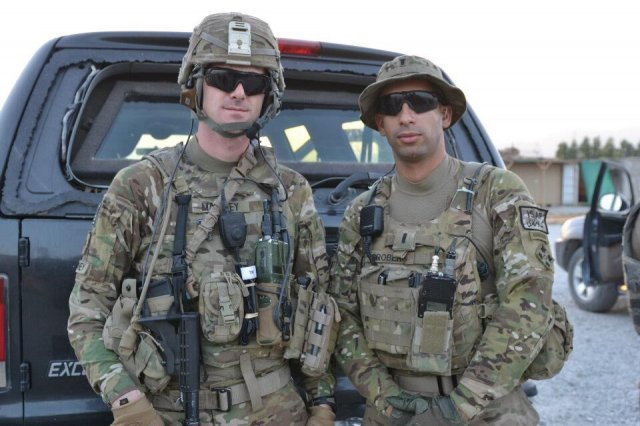 Sacrificing Everything for the Mission
On the morning of August 8, 2012, Florent Groberg was escorting 28 Afghan National Army and coalition leaders. Included were many military commanders so if the Taliban were to make a successful strike it would be a terrible blow to the coalition. Arriving at the governor's compound required a risky foot patrol from a Forward Operating Base known as FOB Fiaz.
As the patrol came upon the compound, they encountered a known choke point due to a bridge along the path. Halting and taking stock of the situation, Groberg noticed irregularities. While the presence of Afghan civilians was a normal occurrence, he saw two motorcycles approaching the bridge. Remarkably, the riders dismounted and took off running in different directions.
Alerted, Groberg observed a single individual approaching the group while walking backward. Whether it was a civilian or combatant was a decision Groberg had to make quickly. As Groberg approached him the individual turned towards Groberg and he saw a large bulge under the man's clothing. Groberg rushed toward the individual and upon reaching him, confirmed it was a suicide attack. Calling for help from another soldier, Groberg pushed the man away from the group. That is when Groberg paid a hefty price for his gallantry.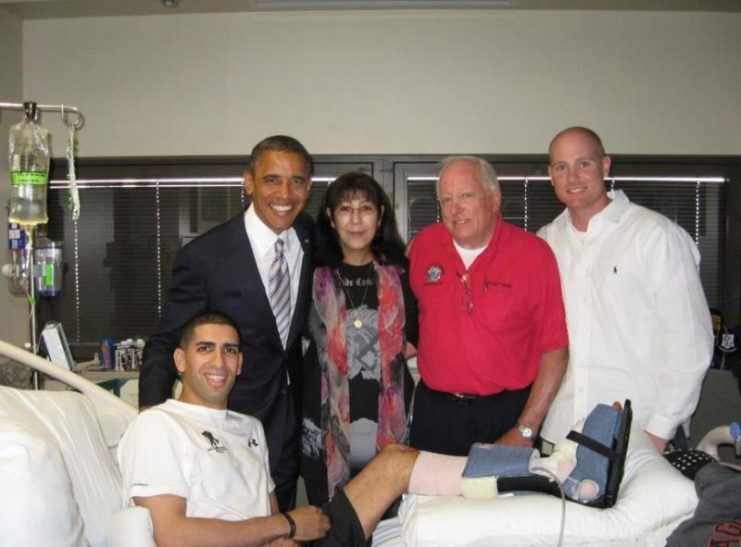 Stepping into Military History
As Groberg tackled the bomber, the suicide vest detonated throwing Grobert over 20 feet away and sending shrapnel into the closest members of the group. Unfortunately for them, there was a second suicide bomber in waiting. Fortunately, the blast caused the second suicide bomber to explode prematurely.
The blasts killed three US military personnel and a US Foreign Service Officer, but the bulk of the group of over 28 military leaders survived unscathed. Were it not for the courage and gallantry of Captain Florent Groberg it could have been a military disaster. Miraculously, Groberg survived. He suffered the loss of nearly 50 percent of his left calf muscle, nerve damage, and a traumatic brain injury.
After recovering for over two years at Walter Reed Medical Center, Groberg retired in 2015.
However, his story was not over. On November 12, 2015, Captain Florent Groberg received the nation's highest military honor from the President of the United States. America was not the country of Groberg's birth, but it was the country that he was determined to defend. In doing so, he earned a hallowed place in Military History and the eternal appreciation of 28 military leaders who entrusted their lives to him.