Kara Mustafa was the Grand Vizier of the Ottoman Empire from 1676 to 1683, and the architect behind the 1683 siege of Vienna.
It is sad that little is known about Kara Mustafa, the subject of this article and a key figure in European history. The two most prominent stories about his origin place him as either the son of a fruit peddler from a village in Asia Minor, or the son of a soldier who was raised and educated in the household of Mehmed Köprülü, the Grand Vizier of the Ottoman Empire from 1656 to 1661. His birth date is somewhere between 1620 and 1635, with the most specific source giving it as July 27, 1634.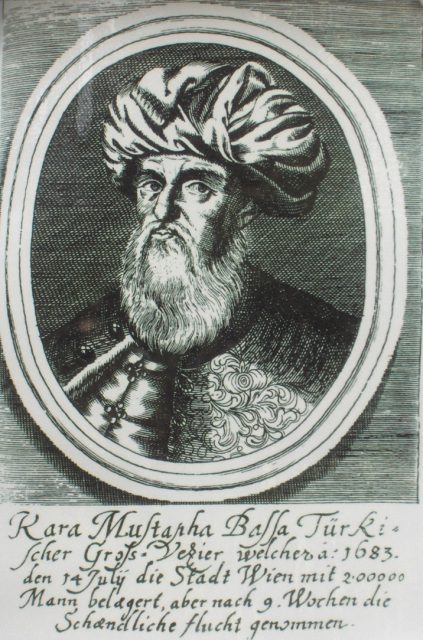 Regardless of where he was born or when, he eventually married into the powerful Köprülü family, and began a rapid ascent to power. In 1659 he was named the governor of Silistria, and "from 1660 onwards held a number of influential appointments". Among these "influential appointments," he was named Commander of the Ottoman Grand Fleet of the Aegean Sea in 1663 and led the ground forces in a war against Poland in 1672.
Mehmed Köprülü was succeeded by his son (and Kara Mustafa's brother-in-law), Fazil Ahmed, as Grand Vizier in 1661, and Kara Mustafa served as Fazil Ahmed's deputy during his reign as Grand Vizier, whenever Fazil Ahmed was absent from court. In 1675, Kara Mustafa was betrothed to one of the Sultan's daughters, and after Fazil Ahmed's death in 1676, few were surprised when he was named the new Grand Vizier.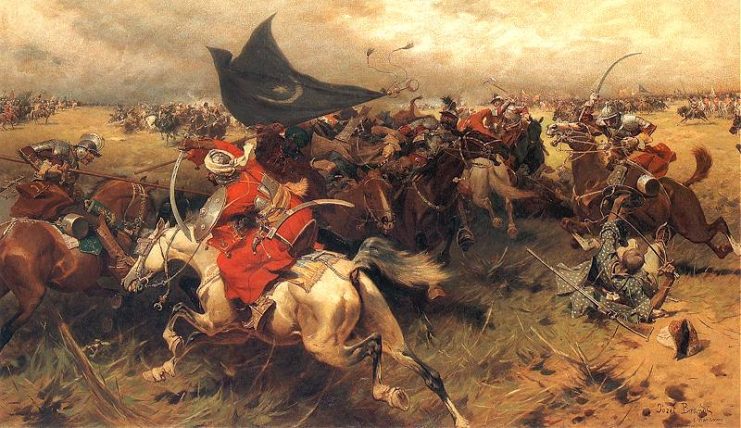 Kara Mustafa as Grand Vizier of the Ottoman Empire
Kara Mustafa's character has had many interpretations. The first thing to note here, though, is that the name he is primarily known by, "Kara Mustafa," is actually a nickname meaning "Black Mustafa". Modern historians continue to debate the exact nature of this nickname.
John Stoye in The Siege of Vienna writes that all agree that his swarthy complexion justified the nickname of Kara or black". Yet Jason Goodwin in Lords of the Horizon attributes the nickname to Kara Mustafa's face having "been disfigured in a city fire". And Thomas M. Barker writes that the name reflects his methods – "those of dissimulation and deceit" – his anger – "at the slightest opposition might cause him to burst into uncontrolled rage" – and his personal vices – "a weakness for brandy … and a phenomenal appetite for the pleasures of the harem".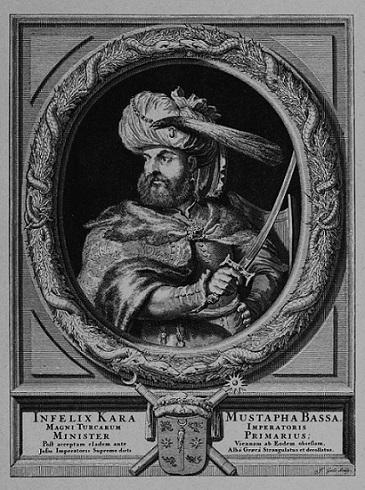 As Grand Vizier, Kara Mustafa may have spent as much as "two-thirds of his time tending to political fences," raising money and dealing with the intrigues of court. His military expeditions were of little note in these years: He first tried to put down a Cossack rebellion that had begun in 1678 but was forced to sue for peace in 1681 after Russia intervened, and then he led the catastrophic attack on Austria that culminated in the 1683 siege of Vienna.
Kara Mustafa and the 1683 Siege of Vienna
Kara Mustafa convinced Sultan Mehmed IV to grant him an army to invade Austria in 1683, which was then ruled by The Holy Roman Emperor, Leopold I. His motivations for doing so are varied and complex, but he was successful, in the end, and through the opening months of spring of that year, Kara Mustafa marched his forces through Hungary, largely ignoring Leopold's outposts and fortresses, and rushed right for the capital, Vienna, which he arrived at on July 14, 1683.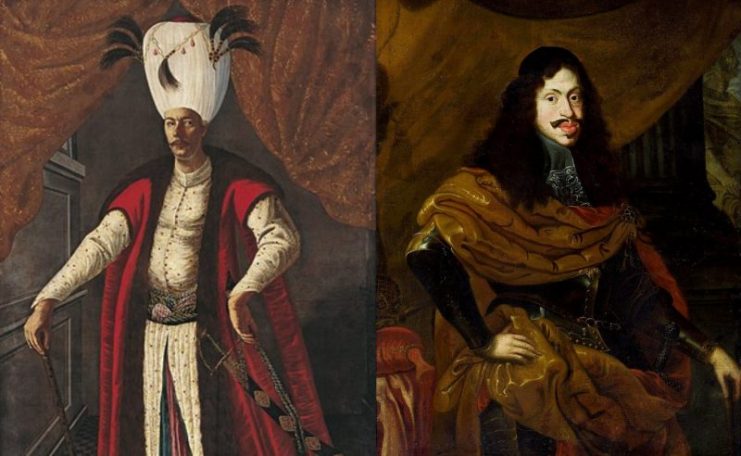 Leopold and all of his court had fled the city only a week earlier, leaving Count Ernest Rüdiger Starhemberg in charge of its defense. Seeing this, Kara Mustafa offered Starhemberg the choice to capitulate or to fight, with the understanding being that mercy would be shown if he surrendered the city.
Count Starhemberg refused to surrender, so Kara Mustafa set up the siege, and began the attack. Because he had brought no heavy artillery with him, Kara Mustafa's strategy was to dig a series of trenches toward the city and send in sappers to try to mine out and explode the walls from below.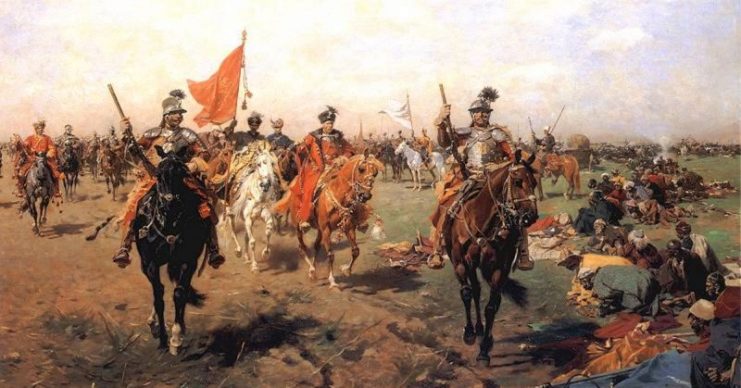 All through July and August, and into September, the Ottomans and Viennese fought bitterly, both sides suffering heavy casualties. Inside the city, dysentery and other diseases further crippled its garrison, and the walls were already on the verge of collapsing. But time had run out for Kara Mustafa.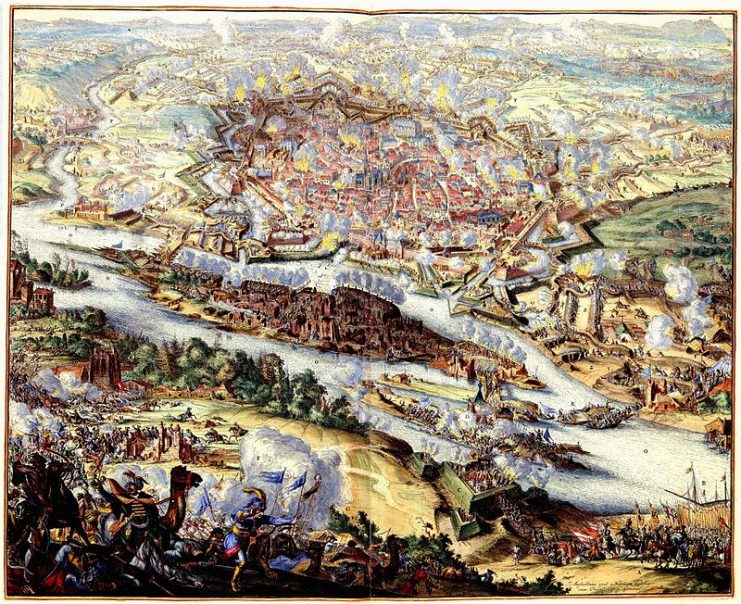 While he had been besieging Vienna, Leopold had been working to relieve it. German princes from the Holy Roman Empire united with Leopold's army led by Charles V, Duke of Lorraine. These united armies were then turned over to the command of Leopold's newest ally, Polish King John III Sobieski, and his army, which had just arrived from Poland.
This massive Christian force marched down to Vienna, where they attacked and routed Kara Mustafa and his forces on September 13, 1683, liberating the city.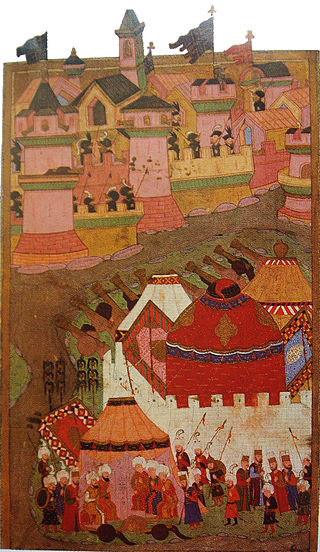 In the years after the siege, the Holy League, which included the above mentioned Christian forces with the addition of the Venetian Republic and Muscovite Russia, fought the Ottoman Empire in the Austro-Ottoman War (1683-1697), and the Turks lost much of their Eastern European territory, including Hungary, Transylvania, Slavonia, Podolia, Dalmatia, and Morea. The war saw to it that the Habsburg Monarchy became the dominant power in Central Europe.
Read another story from us: Siege of Vienna: Led by a Mercenary, This Desperate Army Turned the Tide on the Ottoman Empire
Kara Mustafa has been maligned by history since his failure at the 1683 siege of Vienna. In the months after the failed siege of Vienna, Kara Mustafa was strangled on the orders of the Sultan, ending his career and his life in Belgrade, and robbing him of any chance for redemption.
Nevertheless, he remains an important and central figure in European history and is worthy of more study.