The Saab JAS 39E is a heavily updated version of the Swedish multi-role combat aircraft Saab JAS 39 Gripen, that is capable of carrying out attack, fighter, and reconnaissance duties.
It is named after the legendary creature called the Griffin, which was half eagle, half lion and was meant to possess divine power.
Predecessors
The Gripen came from a long line of impressive and innovative home-grown Swedish fighters that dated back to the 1940's. None of the following aircraft were commercially successful due to Sweden's strict stance on neutrality.
For a relatively small country, Sweden consistently came up with world class fighter aircraft and were not afraid to be radical. In 1945 they introduced the unorthodox twin boom fighter/attack Saab 21, which had an unusual pusher configuration.
Then they produced the Saab 29 Tunnan fighter. Introduced in 1951, 671 of them were eventually built and went on to serve for 25 years. It was the second of only two aircraft in Europe to be produced with a swept wing–the other was the German Me 262.
The Tunnan was followed in 1956 by the Saab 32 Lansen. 450 were built. It was a transonic multi-role combat aircraft that was so good, it remained in service for 41 years.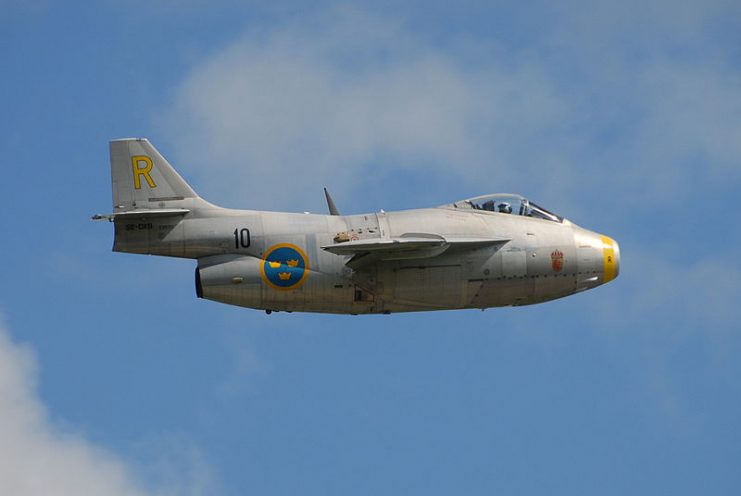 In 1960 the mighty Saab 35 Draken was introduced. 651 were built. The Draken featured double delta wings and was the first fully supersonic aircraft to be deployed in Western Europe. The Draken had some very limited export success.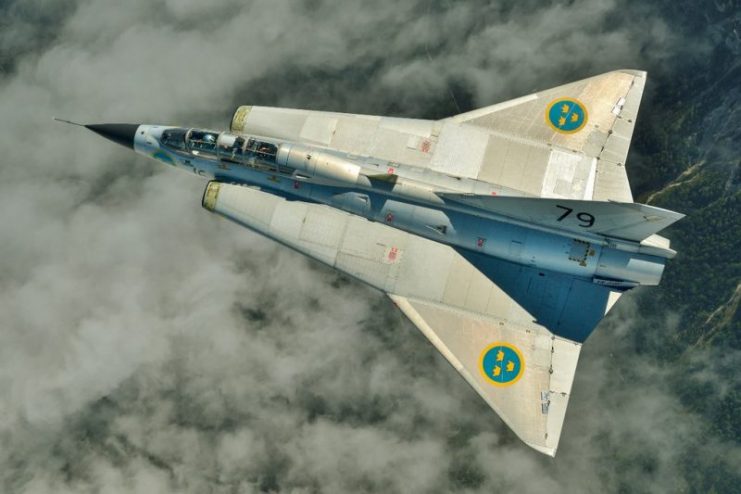 Next to follow in 1971 was the ingenious Saab 37 Viggen. When it was first introduced, it was the most advanced fighter jet in Europe. It featured a large canard at the front, a revolutionary feature at that time which gave it impressive maneuverability and an enhanced Short Take Off and Landing ability. 329 were eventually produced with several variants.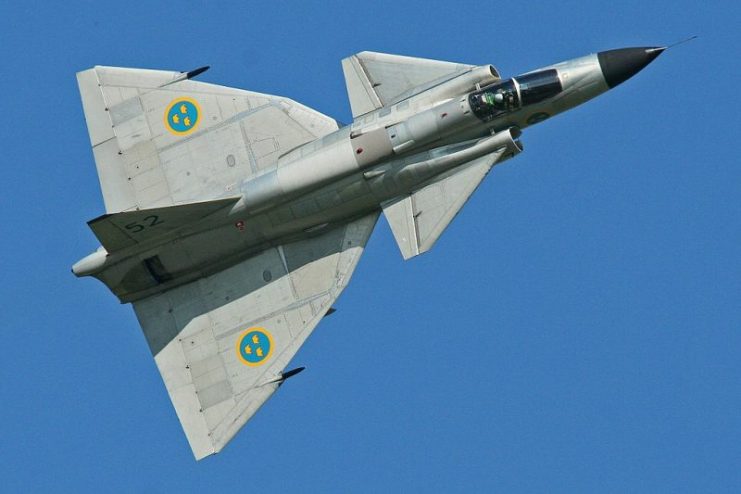 JAS 39 Gripen
The next and latest aircraft to come along was the ultra modern JAS 39 Gripen. This was introduced in 1996 and was an attempt to give Sweden a combat aircraft that could carry out all their front line missions.
Its design would be classed as a 4th generation multirole jet fighter. Its design was modern and compact, and included delta wings and a canard. It used fly-by-wire controls, could reach Mach 2, and could carry 11,700 lbs of weaponry on 8 different hard points.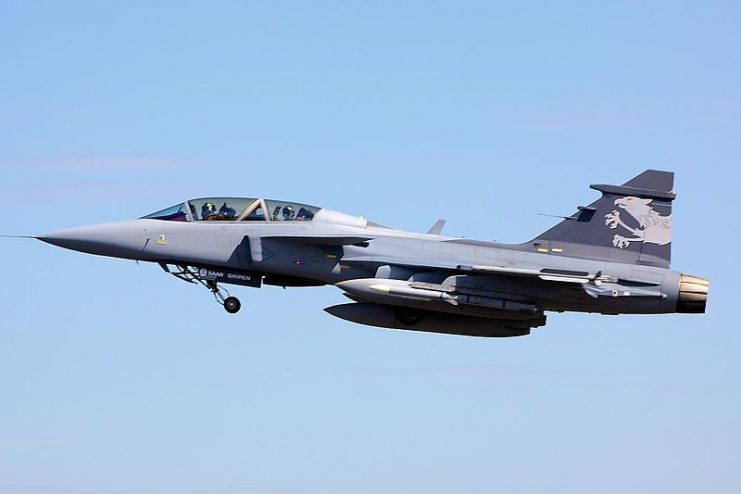 With the Gripen, Saab for the first time marketed an aircraft truly internationally, with the backing of the Swedish government. It did this through offering partnerships, collaborations, economic incentives and local production deals.
This was forced on the manufacturer due to the dramatic downsizing of the Swedish military, thus depriving them of a guaranteed home market. In addition, the market was already crowded with many proven designs and new ones due to come out in the near future.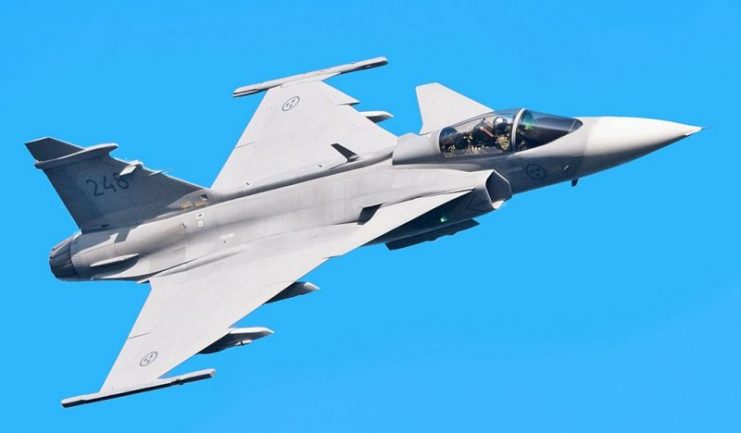 Internationally, the Gripen had to compete with aircraft like the legendary American F-16 Fighting Falcon. The Falcon had been continually upgraded since its first introduction in 1979, in order to keep it up-to-date. It also had the huge advantage of relative cheapness due to the scale of its production. By 2017, 4,588 Falcons had been produced, and they are used by 26 air forces around the world.
Was the Gripen in danger of becoming like the much delayed French Dassault Rafale? This aircraft, finally introduced in 2001, had a lot of interest, yet only 86 aircraft were sold abroad to just 3 different countries.
Competition problems were further compounded by the introduction of the Eurofighter Typhoon in 2003, a highly capable but expensive fighter that was being marketed aggressively, offering many economic offsets to its customers..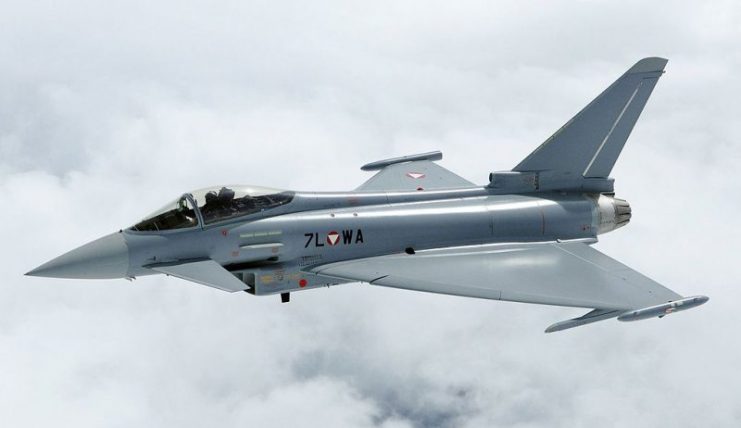 Ultimately, after 22 years sales are at best lukewarm. Just under 250 Gripens have been produced, of which only a small percentage were for export.
Gripen E
Although the Gripen was not as internationally successful as hoped, Saab still firmly believed it has potential. So they started to develop the next generation of Gripens based on the new "E" model, often called the "Super Gripen." Compared to its predecessor, it has a more powerful General Electric F414G engine and a next generation radar.
The new model has significantly higher thrust, better range and a higher service ceiling than the earlier versions of the Gripen. The E version has 2 additional hard points and can carry an extra 1,500 lb of ordinance. It can do this without any loss of performance due to having the much more powerful engines.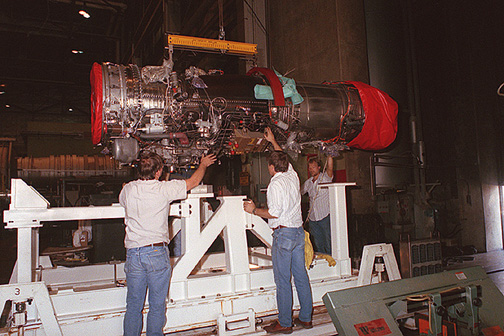 It also incorporates the Italian Skyward-G infrared search and track system, and is able to operate from much shorter runway than many of it competitors.
The Gripen E has already been ordered by Sweden and Brazil. Brazil will purchase 36 of the fighters for around $4.68 billion, to be delivered between 2019 and 2024. As for Sweden, they plan to initially order 70 Gripen Es.
Several other countries expressing an interest in this new Gripen are Argentina, Ecuador, Mexico, Peru and Uruguay. There are a lot of other potential customers out there as well which are are long overdue to replace aging warplanes. For example, Bulgaria has an urgent need to replace its MiG-29, Su-25 and Su-22 Soviet-era aircrafts.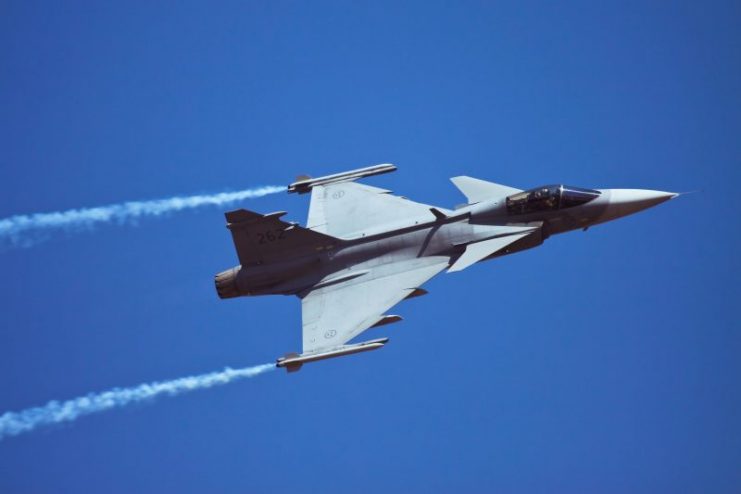 However, it must be noted that the Gripen has a long history of failed bids, losing lucrative contracts like a Polish one to the F-16 C/D and a Norwegian one to the F-35.
Often the selection process for new aircraft can drag on for years past the predicted in-service date. This is mainly due to political and budgetary constraints. And sometimes in the end, the customer ends up deciding to instead either update their aging aircraft or order far fewer new ones than originally envisaged.
Saab, realizing the market today is tougher than ever before, has been marketing the Gripen E aggressively. The present day market is as much about politics and the deal that can be made, as it is about an aircraft's capabilities.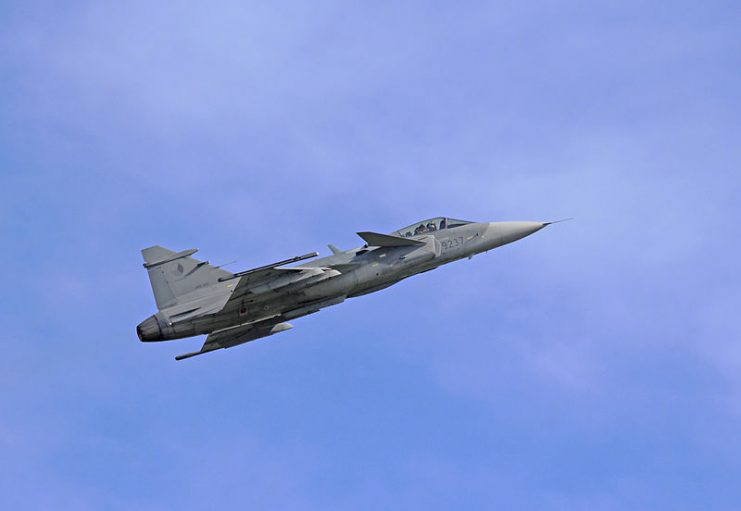 Accordingly, Saab has focused more than ever on offering partnerships, collaborations, offset agreements, economic incentives, sharing technology, lease options, and on local production deals.
Saab has emphasized the fact that the Gripen still has a lot of growth potential. They have already developed a two seater version of the E, the JAS 39F.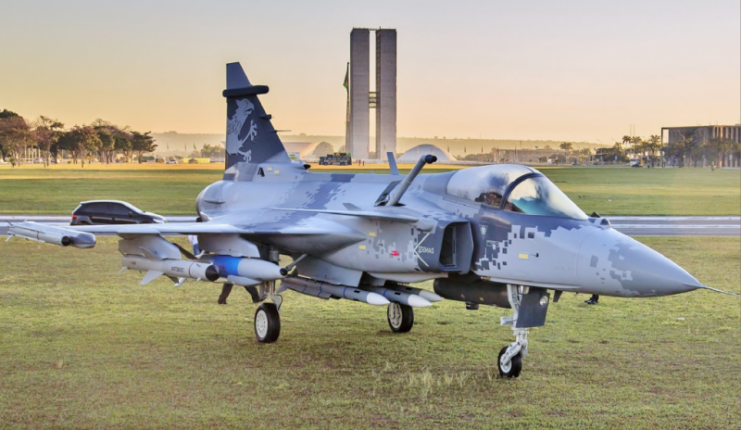 They are also proposing a carrier-based version called the JAS 39M "Sea Gripen," as well as a JAS 39 UCAV combat drone and a dedicated electronic warfare version in the form of the Gripen EW.
The major problem the Gripen E may have is that it might never reach a production run in which the scale of production drives down the cost of each unit significantly.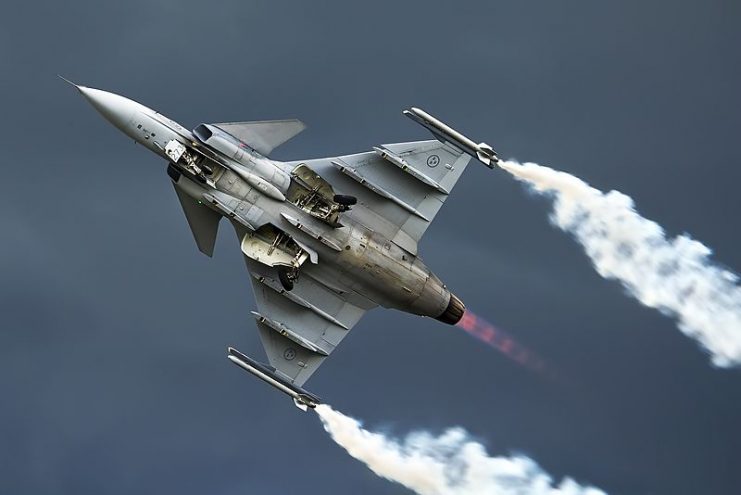 Read another story from us: Still Going Strong – The F-16 Fighting Falcon
Maybe if the Gripen E could secure just one big order as a firm basis for committing to a large and long term production run, costs would come down and make it a very attractive proposition.
Only time will tell if the Gripen will become like the F-16, which has continually been reinvented since its introduction nearly half a century ago.