Canis lupus familiaris. Among countless species on Earth, some earned a special place in human hearts. Through thousands of years, dogs accompanied us with various tasks – they protected our households, our families and us.
Their characters find a use for herding, rescuing, guarding, sledging, hunting. Now they see a job even as a therapeutic or assistance dogs. All that supported by their exceptional senses resulted in a special relationship between them and humans.
We often abused Their loyalty by using them as an entertainment…or during a war. They never cared about politics, races, economic or geographical disputes, but once called they were ready to serve, without a word of complaint.
Role of dogs in war is often forgotten, and some parts of history will leave an eternal shame on humanity for how we've repaid their services. The most extensive use of dogs occurred in XX century, mostly during World War I, II and Vietnam War, names of many will remain unknown. Below we present you some of the most recognized four-legged heroes!
Napoleonic Wars
Moustache was a French poodle, participated in French Revolution, and later in Napoleonic Wars. He was born in 1799 somewhere in Northern France and recruited by local Grenadiers Regiment. That's how his tale began.
From Caen, he and his new buddies were moved to Italy where he distinguished himself for the first time by alerting the camp about a night attack conducted by Austrians. Then, Battle of Marengo, he was a part of an army commanded by Napoleon Bonaparte himself. He lost there an ear.
His career was just at dawn, as he had his role during the Battle of Austerlitz, also known as the Battle of Three Emperors, probably the most crucial victory of the entire Napoleonic Wars. Rumors say that he discovered an enemy spy and was even able to take back his unit's banner, an act of bravery for which he lost a leg.
Presented with a medal by one of Bonaparte's most talented generals, Jean Lannes, he was "transferred" along with French dragoons to Iberia. Among other noteworthy battles, he participated in were: Battle of Aspern-Essling (1809), where he supposedly met his love, and Siege of Badajoz (1812), where he lost his life when struck by a cannonball. He was 13.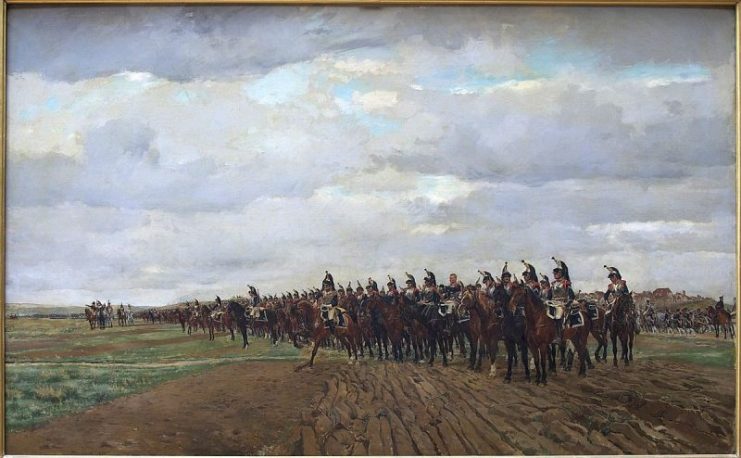 American Civil War
Sallie Ann Jarret, an English Bull Terrier, born circa 1861, was a mascot of the 11th Pennsylvania Volunteer Infantry and served through almost entire Civil War. With a very unusual name for a dog, she also had a very extraordinary life for a dog.
During marches, her favorite position was on the lead and had a chance to march in front of President Abraham Lincoln (twice!).
Among notable battles she was present were: Battle of Cedar Mountain (1862); Second Battle of Bull Run (1862); Battle of Antietam (1862); Battle of Fredericksburg (1862), Battle of Chancellorsville (1863); Battle of Gettysburg (1863); Battle of the Wilderness (1863); Siege of Petersburg (1864-65).
She wasn't very deadly foe, but she liked to bark at the Confederate forces from the front lines. Just that says a lot about her spirit.
On one occasion, at Gettysburg, her unit though she was lost or dead, she was found a few days later, still on the battlefield, guarding her dead and wounded comrades. Her life ended at the Battle of Hatcher's Run (1865), killed by a bullet.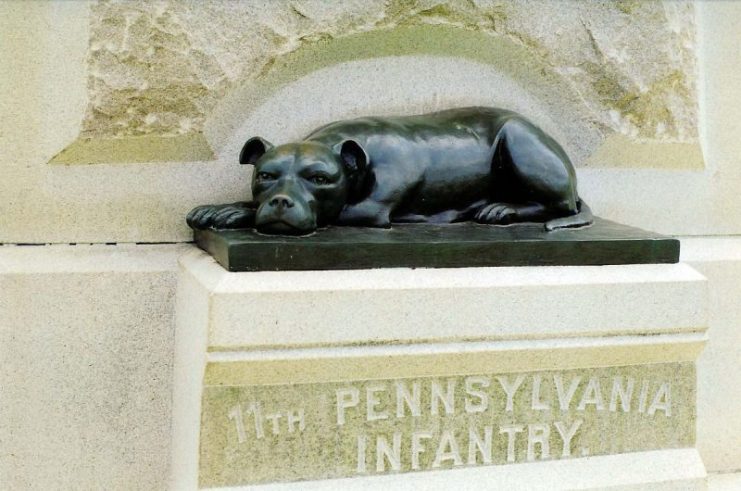 World War I
Perhaps the most famous war dog ever was Sergeant Stubby, the only canis to be promoted through combat, and the most decorated dog of the entire WW I. He was a Boston bull terrier assigned to the 26th (Yankee) Division in the Great War, served for almost two years and took part in seventeen battles in four big offensives.
Before the US entered the war, Stubby was homeless. Fate decided that in his area a local recruitment center had place in New Heaven. With his charm, he was gladly welcomed by soldiers and smuggled towards Western Front.
We all know how unique dog's nose is. He had a chance to encounter the smell of mustard gas, an encounter that he barely survived. It marked a trauma in his mind, and luckily for his comrades, he warned them every time he smells it again – and time was priceless. It wasn't his only beauty. He was able to hear artillery shell far earlier before human's ears could.
Knowing that his mates were able to duck way before the rain of shells fell on their positions. Among his others merits were: finding lost companions in no-man's-land or capturing a German spy, an action for which he was promoted to the Sergeant rank.
He survived the war and died in peace in 1926.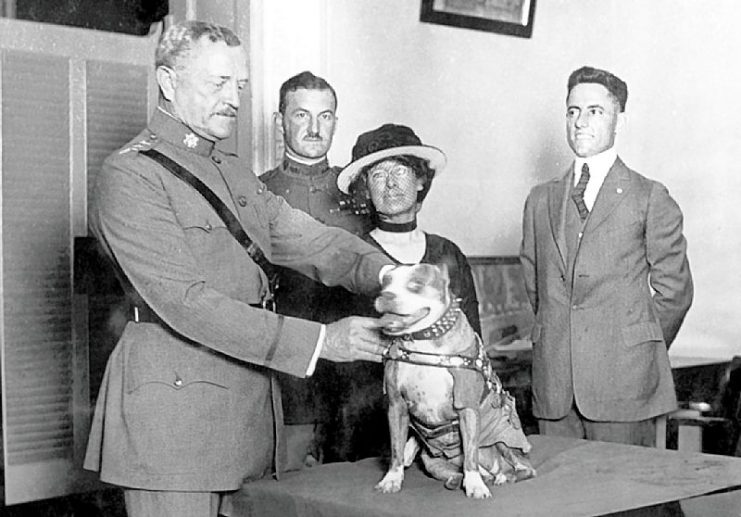 World War II
Chips was a shepherd-sled mix, born in 1940, and given to the Army in 1942. His was a sentry dog, and he was very good at it, as he became the most decorated dog of the World War II. After training in War Dog Training Center in Virginia, he was sent to North Africa with the Patton's 3rd Infantry Division.
Torch, Husky, Avalanche, Dragon, to name few significant operations he fought in. An unsung bodyguard of Roosevelt and Churchill during the Casablanca Conference in 1943.
On Sicily, 1943, he saved his handler (Pvt. Rowell) despite the heavy machine gun fire shooting from a pillbox and was able to capture four Italian soldiers – the first surrendered with Chips on his throat, the other three followed his example.
And that was just a beginning. Soon, near Licatta, Chips was wounded in the head from a close range pistol shot and suffered powder burns, but that didn't stop him to capture another ten Italians who tried to sneak into a camp at night, with a little help from his handler of course.
Lieutenant Lucian Truscott himself recommended Chips for the Purple Heart, Distinguished Service Cross, and Silver Star. That caused a ruckus back home in the United States. Some were rapturous about Chips deeds, but some were angrily protesting about presenting the Purple Heart to a non-human. Among those who honored Chips with medals was General D. Eisenhower.
No soldier could brag about nipping Supreme Commander's hand, except one dog. Chips was stripped off from his medals, but no one could strip his honor.
He probably couldn't care less anyway. He survived the war, discharged in 1945 and died less than a year later due to complications from the wounds he received in Italy.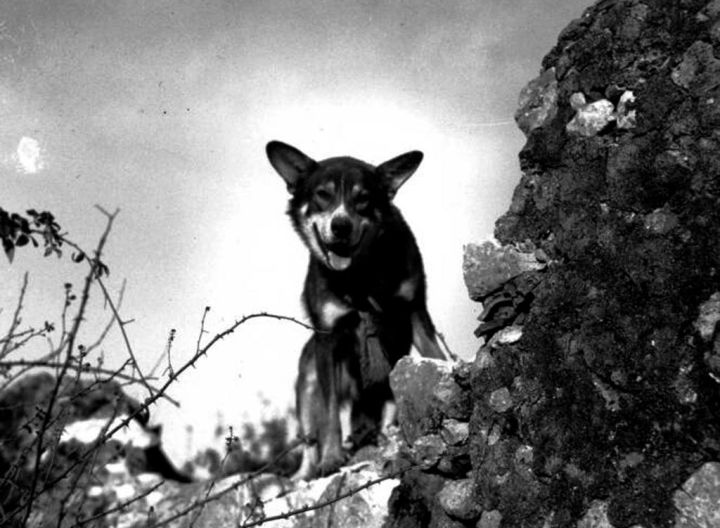 Smoky was a terrier that also served during World War II but in a different theater – Pacific. This little Yorkshire Terrier was found in 1944 in a foxhole, somewhere in the jungle of New Guinea. His date of birth is unknown as she was already an adult dog.
She wasn't either under English nor Japanese ownership earlier as she didn't know any command in those languages.
Traveling from hands to hands, Smoky was finally sold for two Australian pounds Corporal William A. Wynne, which was probably one of the best investments in his life. Smoky proved many times her worth, not in pounds or dollars, but in a priceless currency – life.
A simple service in a wartime jungle was survival in its own, constant heat and moisture was painful for every species originally outside this habitat.
Being not officially registered as a war dog left Smoky without some rights, including a veterinary service and balanced rations. Luckily, she never was ill. From a mascot, she quickly ascended to a rank of a heroine, credited with 12 combat missions and eight battle stars, and she was destined to great things.
Neither over 150 enemy air raids nor a typhoon could stop her. Corporal Wynne was continually training her with new tricks, on one occasion those turn out to be invaluable. When Americans engineers tried to revamp an ex-Japanese airfield, a maintaining safe communication became a challenge.
They had two choices – dig up a new trench to lay the wires, what would take few days of work, a lot of manpower, and all of that with a high risk of being bombed or to ask the "angel from a foxhole" for a miracle.
They tied one end of the wire to her collar and were expecting her to crawl through 21 meters long and 20cm diameter pipe (70 foot, 8 inches). And of course, she accomplished her task, despite the pipe to be half plugged by dirt. The work saved over 200 soldiers from hard work and resulted in teletype and phone lines active.
After the war, her handler smuggled her in a gas mask during Operation Magic Carpet to the United States. She survived the war and became a celebrity, also recorded as the first therapy dog. She died in 1957.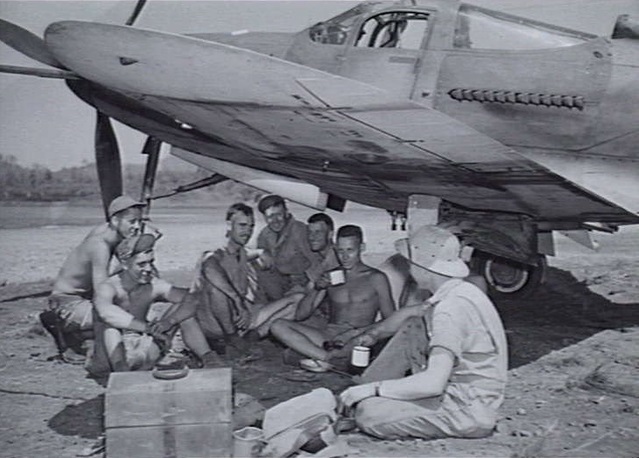 Vietnam War
Nemo A534, was a German Shepherd, who served with USAF in Vietnam. One of approximately 5,000 dogs of Vietnam War. When Tan Son Nhut Air Base was under attack by Viet Cong forces on 4 December 1966, Nemo was released to hunt attacking forces.
In the result, he was shot in the nose and losing his eye. He is credited with killing at least one enemy, saving his handler life and preventing further destruction. Nemo became the first dog retired from active service in 1967 when he returned home. He died five years later, at age 11.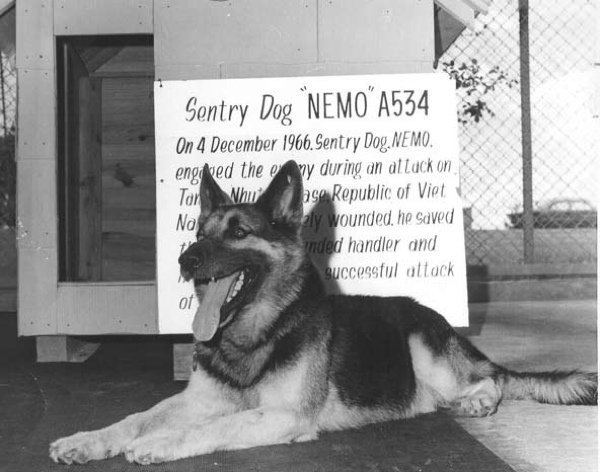 There were countless more. Over 50,000 dogs served during World War I. Even more during World War II, when their use was extended, including sledging, mine detecting, or as messengers, sentries, scouts…or even as anti-tank dogs on the Eastern Front. Approximately 5,000 war dogs served during the Vietnam War, saving at least 10,000 lives.
Only 200 survived the war, as the rest was either killed or left behind. Every country in every modern war seen dogs in service in various roles. They still serve and will remain Man's Best Friend, despite the fact we do not always deserve their affection.
More Photos