When in late 1918, the Habsburg empire was at the brink of collapse, nations of central Europe started to think about creating their own states. However, some provinces of Austro-Hungarian monarchy were populated by various nations and each of them wanted these provinces as their own.
One of these places was Lwów. Both Poles and Ukrainians viewed the city as part of their motherland. Ultimately, the fate of the city was decided on the battlefield.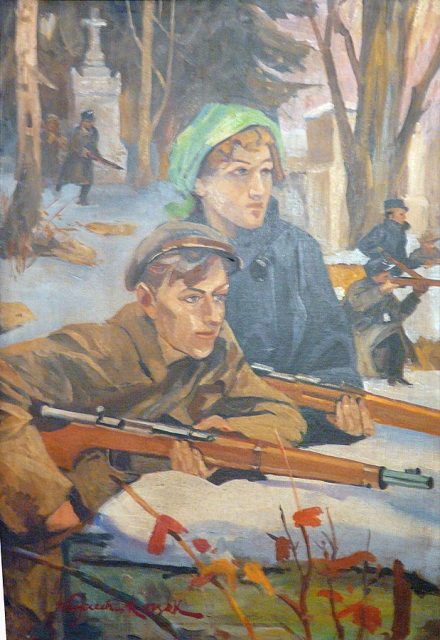 After the first partition of Poland in 1772, the city of Lwów became a part of Habsburg empire. Under Austrian rule, Lwów was the capital of The Kingdom of Galicia and Lodomeria (crowland of Habsburg monarchy, also called Galicia). The western part of this province was mainly Polish, but eastern side was Ukrainian.
In Eastern Galicia, Ukrainians made up 71% of total population. However, most of the cities and many villages in the East were Polish. Moreover, many cities of Eastern Galicia had a lot of Jewish residents. Lwów seemed like a "Polish island" in Ukrainian Eastern Galicia. In 1910, the population of Lwów was about 200 thousand (51% Polish, 28% Jewish, 19% Ukrainian and 2% others).
After 1867, Galicia was given autonomy. From then on the Polish population had a greater impact on the Austro-Hungarian Empire. The Polish language was used in schools, courts, etc. Moreover, this decision allowed Ukrainians to create their own cultural institutions. As a result, Galicia became a home of both Polish and Ukrainian independence movements.
Austrians used the demographics of Galicia for their own benefit. They tried to keep their power by playing Poles and Ukrainians against each other. This tactic was successful until late 1918. When the defeat of the Central Powers was certain.
Poles and Ukrainians started to think about creating their own states. Both of them saw Eastern Galicia as part of their motherland and both of them started to plan the takeover of its capital – Lwów.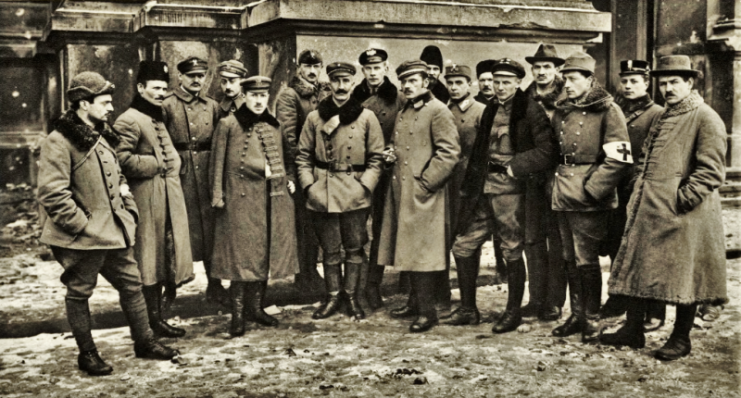 In 1918 there were 4 Polish independence organizations in Lwów – in total about 700 men. The strongest of them was the PMO (Polish Military Organization). The PMO had about 300 members (including 80 students and 30 women). PMO was the strongest but still too weak to take over the city. The also had only 30 rifles.
In late October 1918, the leader of Lwów's PMO (it was nationwide organization), Ludwik de Laveaux, discovered that the Ukrainians were planing to take control of the city. He tried to persuade other Polish conspirators to organize a preemptive strike. However, his propositions were refused as other Polish leaders disregarded Ukrainian threat.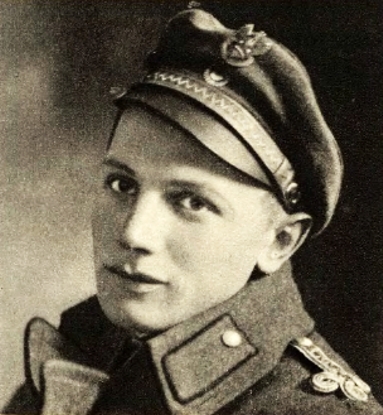 The Ukrainians were in a much better situation. Most of the Lwów's garrison consisted of Ukrainians. Moreover, the plotters could count on the help of archduke Wilhelm Habsburg who supported Ukrainian independence. The plotters hoped that they would be able to persuade Wilhelm to move the "Ukrainian Sich Riflemen" to Lwów. This Ukrainian unit had fought for Austria-Hungary during the war and was stationed in nearby Bukovina.
At 2:00 am on November the 1st, the Ukrainians started taking control of Lwów. Ukrainian forces commanded by Dmytro Vitovsky, were 1500 men strong, however only the 41st Infantry Regiment of about 350 men were trained in urban warfare. The Ukrainian action was swift and by the 5:00 am they had occupied most of the important buildings of the city. Moreover, on the same day the Ukrainians took over villages located near Lwów.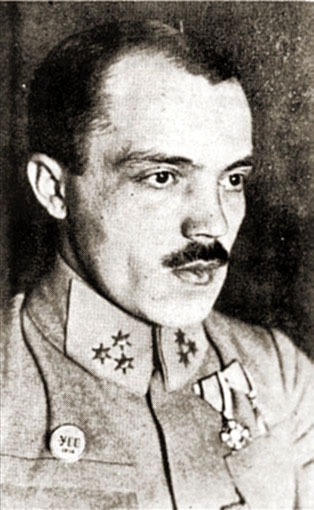 At 6:00 am that morning, many of the Polish conspirators were alarmed by the Ukrainian actions. The situation galvanized the Polish organizations to finally unite under one command. Captain Mączyński became the commander of Polish forces in the city. The situation was serious, but not tragic. Several important sites in the city weren't taken during the night including Sienkiewicz's school and the Technicians' House.
In Sienkiewicz's school there were about 150 regulars of the army who arrived in the city few days before. They were commanded by captain Trześniawski. Meanwhile, the Technicians House was occupied by PMO members.
The Ukrainians were unaware that these sites contained Polish forces and supporters. This proved to be a big mistake as later these two locations served as Polish draft stations and centers of counterattacks.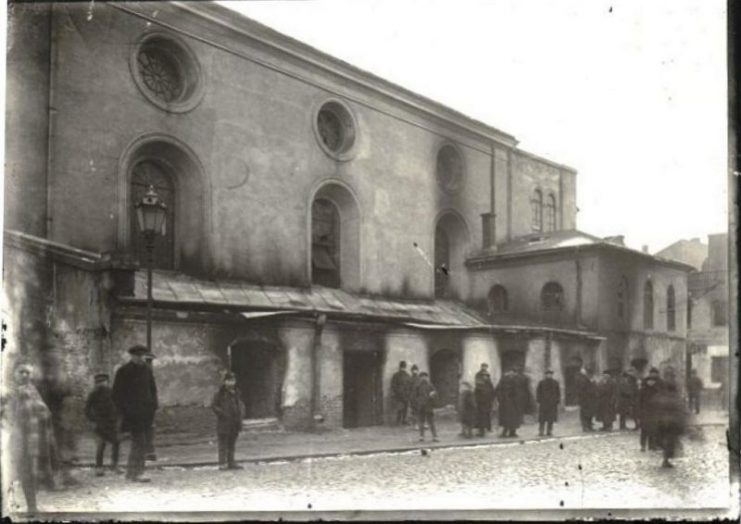 Captain Trześniawski started counterattacking in the morning following the Ukrainian actions. His men soon took control of a nearby police station and military warehouses, however they didn't know the city.
Their success was mainly due to help of young Polish boys who served as guides for Trześniawski's men. The Technician's House was also defended mainly due to help of young Polish scouts who volunteered for it's defense.
By the end of the 1st day of fighting about 1100 Poles volunteered for the defense of Lwów. Since most of the men were still in the Austro-Hungarian army all over the Habsburg empire, many of the volunteers were women and minors. According to officers, the Polish youth were a priceless asset.
The youngest ones served as messengers and guides. Older ones were given rifles and manned the battle stations. They were extremely brave and devoted, but also very undisciplined.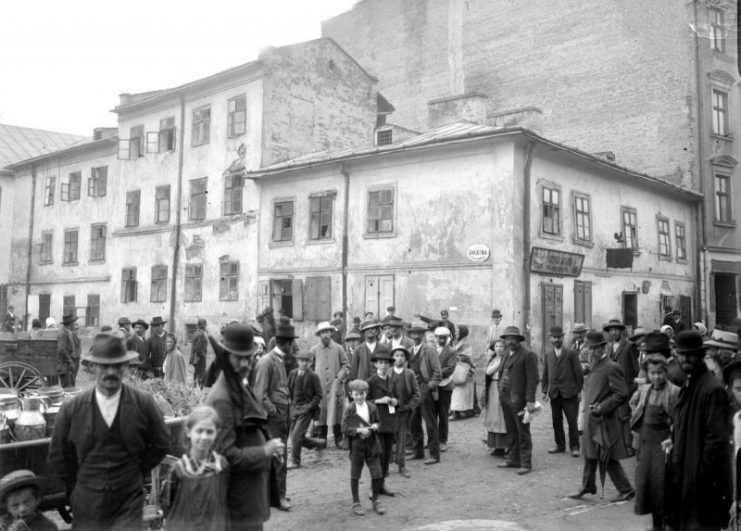 On the 2nd of November, the Poles started general counterattack. Thanks to the help of Polish railwaymen they were able to infiltrate the main train station and take control of it. This success was short lived.
On 3rd of November, 600 veterans from the Ukrainian Sich Riflemen arrived in the city and the Polish advance was halted. At this point, neither side could gain an upper hand and the fight became deadlocked.
At this point, the young people of the city began to play an even bigger role in the battle for Lwów. First Lieutenant Walerian Sikorski started to organize guerrilla forces in eastern districts of the city which were occupied by Ukrainians. Most to his guerrilla units consisted of Polish youngsters.
They attacked many Ukrainian patrols and checkpoints which caused confusion in the enemy's ranks. Moreover, the teens served as guides for residents of the eastern part of Lwów who wanted to join the Polish defenders. The youngsters provided them safe passage through streets and sewers.
By the 11th of November, Polish forces were 5000 men strong and 1200 of them were teens, but the battle remained deadlocked. Polish forces decided to hold and wait for reinforcements from Warsaw.
Meanwhile, the Ukrainians began to argue amongst themselves. They couldn't decide how to proceed and their commanders started to accuse each other of incompetence. As a result, Dmytro Vitovsky resigned and Hnat Stefaniv became the new commander of Ukrainian forces in the city.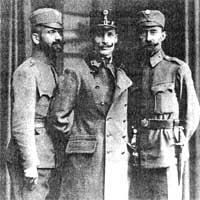 While battle for Lwów raged, Poles started to plan a relief operation. When battle for Lwów started, Polish high command had about 17,5k men under its direct control with 9,000 in Warsaw and 8500 in Kraków. However, most of these soldiers were not ready to fight.
Piłsudski started to plan an operation that would lead to capture of Lwów. On 16th of November he ordered Lt. Colonel Karaszewicz-Tokarzewski to organize a convoy that would reach besieged city and reinforce its defenders. Karaszewicz-Tokarzewski had almost 1500 men under his command. Additionally, he was given an armored train. On 18th November 1918 the relief group started moving toward Lwów.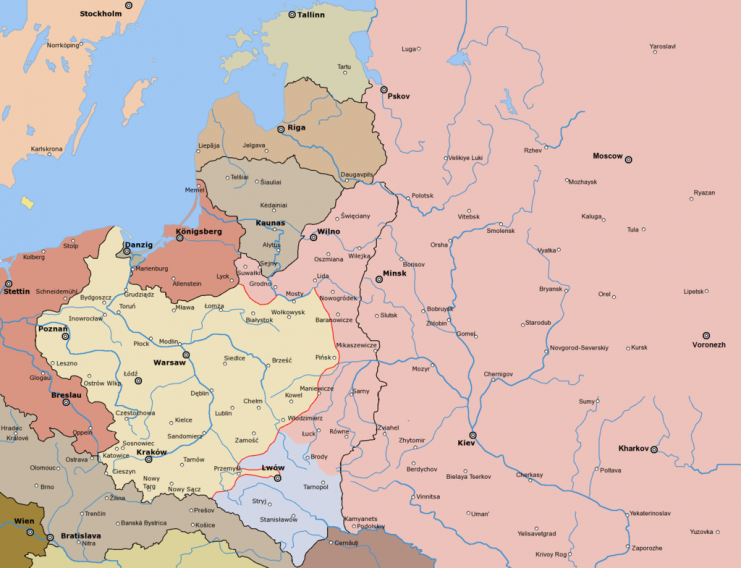 Ukrainians expected this and on 12 of November Hnat Stefaniv ordered to blow up bridges on San river to prevent Polish trains from reaching the city. However, his orders were not followed. As a result of Ukrainian insubordination, Polish forces moved swiftly. However, in some places Ukrainians tried to ambush Polish convoy, but their forces were too weak.
On 20th of November, Karaszewicz-Tokarzewski arrived at Lwów's main train station. When he arrived, defenders were in dire situation. Ukrainians didn't break their defenses, but they were running out of ammo and food. Karaszewicz-Tokarzewski and Mączyński (commander of Lwów's "garrison") decided to counterattack. Polish forces were divided into two groups which would simultaneously attack in the north and in the south of the city.
Polish counterattack started in the morning of 21st of November. Attack in the northern part of the city failed miserably. However, attack in the south broke enemy defenses and left Ukrainian flank exposed. Polish youngsters played a huge role in this success – they took and then bravely defended vital positions in southern part of the city.
Ukrainians started to panic. Stefaniv overvalued strength of Polish forces – he thought that Poles had strong number advantage, but in fact the forces were even. Moreover, Stefaniv received reports that his forces are not only being attacked by "regulars", but also by guerrillas. These guerrillas were Polish teens who took up arms when they heard of Polish counterattack. In this situation Stefaniv ordered his forces to withdraw from the city.
On 22nd of November, Polish forces took total control of Lwów. Polish flag was flown over the town hall once again. However, it wasn't the end of Polish-Ukrainian fights. Stefaniv ordered his men to encircle the city. Fights continued until May 1919 when Ukrainians were driven out of the Galicia.
Polish youth played an essential role in the battle of Lwów. Almost 1 of every 4 Polish defenders was a minor. They served as guides, medics, messengers and soldiers. The youngest defender (named Jan Dufrat) that died in this battle was only 12 years old.
If it wasn't for the Polish youth Lwów would fell to Ukrainians. To honor their brave actions they were given the name of "Lwów Eaglets". Young defenders who died during the battle were buried in Cemetery of the Defenders of Lwów. In 1921 Lwów was awarded Virturi Militari (highest Polish military decoration) – it is the only city in Polish history who received such an award.
Lwów's motto is: "Semper Fidelis" (always faithful). In early days of November 1918, Polish youth proved that this motto was given to their city for some reasons. Battle against Ukrainians was not the only fight the residents of Lwów had to take. In 1920, they fought against Soviets and in 1939 against both Soviets and Germans. Now Lwów is a Ukrainian city and nobody questions it, but it still remains a very nostalgic place for every Pole.