Jonny Bay a military archaeologist shares a story with us.
Certain items found in Germany offer a rare insight into the mind and life of a young German paratrooper named Fritz Sehr. That this story has survived so long is nothing short of a miracle.
I was able to discover the shocking and somewhat tragic truth of what his thoughts were right up until the last letter he wrote his family. Mere weeks later, he would be killed in action.
His Soldbuch (German Army identification booklet) and his matching ID tag were taken from his body as he lay on the battlefield shortly after his death. These items would later confirm to his mother what had happened to him long after the guns fell silent.
As my research took me deeper into the bundle of paperwork, an even more tragic story became clear. His parents and seven siblings were refugees in Eastern Prussia, fleeing the Soviet advance.
With my in-depth research, I have brought to light the full story of Fritz Sehr and his family.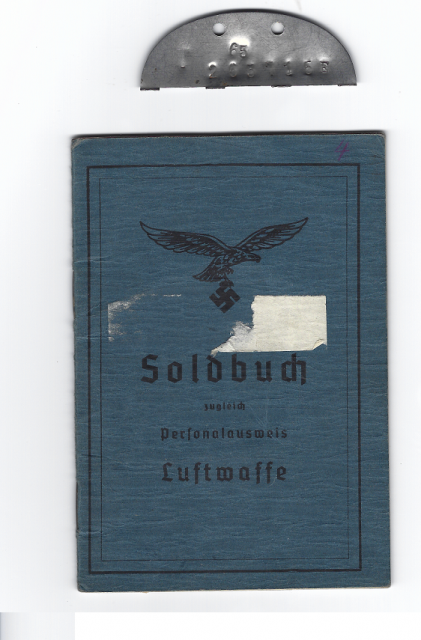 The Beginning of the End – 1945
Fritz Sehr was issued his Soldbuch on January 7, 1945, in Königgrätz (which today is Hradec in the Czech Republic). He was then sent to the main medical station for the Fallschrimjäger (German paratroops). Upon passing the medical, he was sent directly to his new training unit.
Like so many young recruits this late in the war, he had a slim chance of making it out alive. Many units would leave these inexperienced soldiers to defend areas such as bridges or crossings, usually with little or no hope of putting up any meaningful resistance.
Furthermore, without sufficient weapons, ammunition, or tank and artillery support, they stood very little chance of stopping the advance of a far superior force.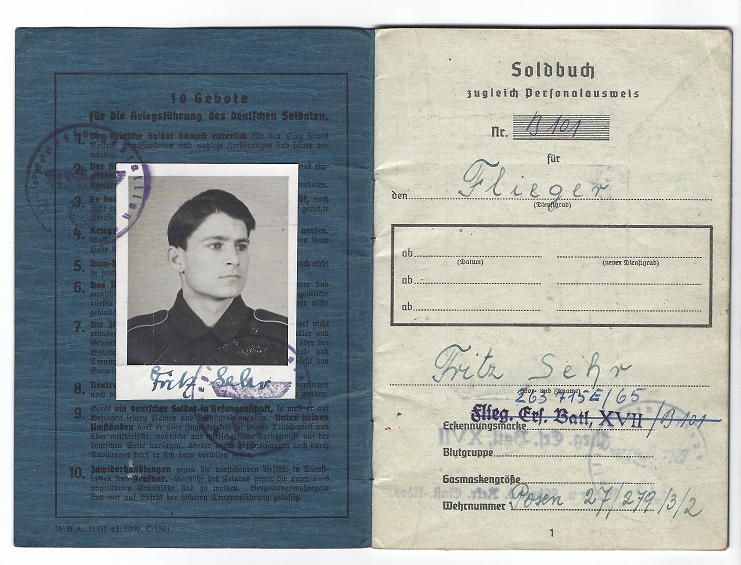 Sehr had time to write a few letters to his family in 1945. Even today, a reader can feel this young soldier's sense of élan. His description of a soldier's life is one of adventure. Many young German men had been through years of ideological indoctrination as members of the Hitler Youth, and Sehr was no exception.
What is also shockingly clear is that, even in the last stages of the war, Sehr still thought it was winnable. He quotes propaganda as well as his own opinion. He firmly believes in the inevitable victory of the Germans.
On December 14, 1944, Sehr was completing his compulsory service with the Reich Labour Service (RAD). He wrote to his sister Marianne, a nurse in Berlin-Lichterfelde German Red Cross. In his letter he said:
"Our superiors are fine, our group leader I can deal with too. Also the food is fine and plentiful, what else do I need? I did not arrive here with high hopes. What I do enjoy here is that the time goes really fast. Four weeks, nearly five I have been here already. I have not made many friends, with one from Posen I am friendly, we understand each other well. Our beds are beside each other, every night we talk, and Sundays we talk when laying in our beds we don't even want to go outside. In the evenings we light a candle, just enough to see … I am sitting here in the great town of Bisendorf, around 15-20 houses. I am thinking desperately how I can make any Christmas presents."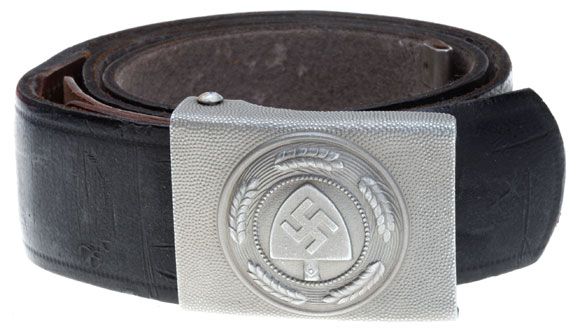 When Sehr finished his RAD service in January 1945, he arrived in occupied Czechoslovakia. He wrote again to his sister Marianne.
"We will be sent somewhere else, so don't write back! Sweet Marianne, I send you heartfelt greetings! I have been here for the last two days. We are not dressed yet so I don't feel like a soldier yet. The journey here was good, I arrived quite early in Königgrätz, and I checked the place out. I like it very much, although the majority of the population are Czech. There are a lot of German officials, nearly all the shops are Czech as well as the Hotel owner. Even the money here is half German, half Czech. I have experienced here a lot of new things. Heartfelt Greetings, Fritz."
After his medical, he was sent to his new unit (Fallschrimjäger Ersatz und Ausbildungs Regiment 3) for training on February 16, 1945. The unit was based in the Haselünne area in Germany. On the same day, he swore the oath to Adolf Hitler along with the other new recruits.
Sehr was issued his new dog tag (Erkennungsmarke) in the special coded format for paratroopers. His unique number was: 263 715/65.
Sehr wrote to his family on January 23, 1945. He told them about his journey across Europe by train and his new unit. He was clearly excited about starting his training and worried about his parents' situation in the East, although he states that he is confident in the leadership to resolve it. (Note: all comments in bold are emphasis that I have added).
"To the ones I love. The small free time [that] I have I want to use to explain to you what has happened since the last time we spoke. Königgratz is long forgotten about, we left there five days ago. Three of those days were spent laying in a train wagon with 30 men moving along the lines. During the day I am fine, but at night when you try and stretch out someone will hit your feet on the way to the door, if you step on someone's feet you will be sworn and cursed at.
I am laying, thank god, in the corner. I wanted to even though it's not so soft like the mattress on the wooden floor which is, of course, much more comfortable. It was very warm inside, so one can deal with it. But we are dirty, and you would not have recognized me when we arrived. Ohh, your asking where I am right now? I am in Gardelegen. I will only be staying here for a short time, maybe two days. Here we will change from Flieger to Jäger, of which I now and in the future call myself.
With the Luftwaffe I won't really have much more to do with, instead from now I am a Fallschrimjäger … Apart from that, with the soldiers I am fine, even when it is with you at home much nicer, I don't want to leave. I really want to experience something, and from what I am feeling now, I don't think I will be sitting around bored … How are things now with you guys? Things are not rosy, but steady and not that bad… The leadership will be sure to sort it out. In case you have to leave, go to Dehrn. There you will be well protected from the bombing raids. When I think about it, I felt a bit different. Dad is likely now in the Volkssturm or not? The best would have been I went with him together. Instead of sitting around here, but I suppose I need to be trained too."
In February 1945, Sehr showed once again that he was worried about his family as he had not heard anything from them. This time, he wrote to his sister Marianne in Berlin.
He affirmed, once again, that he believed they would win the war. This was far from reality. The Red Army had, by that stage, made significant advances and were pushing towards the Oder river, in preparation for the coup de grace on the Third Reich.
"Then you must also leave, although I am not sure how long it will go on like this. Even though it looks bad, I have never doubted victory. I have with this view a safe feeling, I mean I don't think anything other than that, even when I take the whole seriousness of the situation into account. So, we hope for the best."
By March 1945, Sehr had lost contact with his parents who were trying to flee the advancing Red Army. At that point, he writes in his letter home about the tough training he is going through. He also says that he is now excited to take part in the fighting.
"Since I have heard that the Russians are on the move, I wish to be convinced otherwise, that they have been brought to a halt … I hope to get a message from you soon, and finally an address for you guys. Something came between that, we have been moved with the train and were well fed. In our new location we will only stay two days, then we will march through the night for 35km. Our packs will be driven but marching with the MG is no small task. For nine hours I have marched, seven of which with that thing on my shoulders. But you get used to it, and it's only an exercise for the real thing, which we are all waiting for. It is not nice to sit still when you know in Germany there is a major battle."
Later, in March 1945, Sehr was deployed to a Dutch village. He writes once again to his family, this time relating how he has had one of his first experiences with alcohol. He also says that he now believes in a counterattack that will turn the tables in the war.
"Hopefully, on the eastern front something important happens. Dr. Goebbels talked a few days ago that we should expect a counterattack."
Sehr's last letter was on March 23, 1945. His unit was spread out in the civilian houses. It is obvious they have been left to feel the brunt of the Allied advance alone. He was contemplating on shooting already and described this in his letter:
"Today I find myself in an empty house, that the people have left until the Wehrmacht get everything into order again! Apart from bed covers and food, everything in the house is left [so] that I am comfortable here. I don't mind if that stays that way till the morning, or longer! I can live with this, for the nights there are enough lounge chairs to lay in. I am excited to see how it will go on here … The last eight days just blue skies, which for this area is unbelievable. But there are quite a few more aircraft in the skies, making the place rumble. But so far I cannot bless [my rifle by shooting it] yet, even though I was already close to shooting. You get used to it, being close to shoot, even though you may destroy something and start to think after about it. … It has gotten late here, I need to stop writing, there is no electric, for the civilians here there is nothing… I greet you all from my heart, your Fritz. Hopefully I will get post from you guys. That's my only wish, as well as that my post reaches you. I nearly forgot, I wish you all a nice Easter."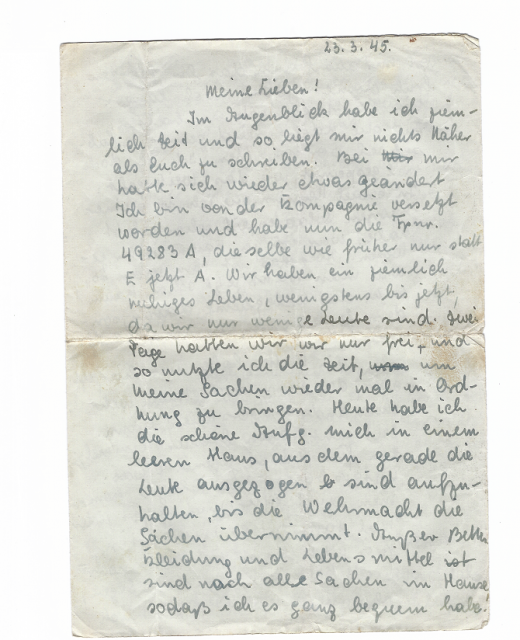 The reality of his situation only becomes clear when the letters are read in the correct historical context. Sehr may have joined an elite branch of the German Armed forces, but in 1945, the Fallschrimjäger were not paratroopers in the strictest sense.
They had not performed any large operational deployments for some time. The men of the Fallschrimjäger took a more conventional role in ground operations. Sehr had, by 1945, gone through a small amount of training. Then, not far from his training grounds on the Dutch border, he was thrown into battle.
Operation Plunder – the Advance into Germany
The objective of this operation was to strike into the heart of Germany. The English-led attack across the River Rhine was launched on March 23, 1945.
This was the same day Sehr wrote his last letter home. At that time, he was writing from a Dutch town directly on the border.
On March 24, Goebbels wrote in his diary that this Allied operation was the beginning of a deadly phase of the war.
Fritz Sehr would see action at the tail end of this operation, as the Allied forces started to push towards the river Elbe. In the town of Heek in Germany, according to his Soldbuch, he took part in close combat action.
As a result of my research, I can say that the unit he met face-to-face were members of Montgomery's Desert Rats, namely men of the 1st Royal Tank Regiment as well as the soldiers of the 5th Queen's Royal Regiment, along with some Canadian soldiers on the tanks.
These troops were on the move the day before, in the town of Stadtlohn, where they fought against members of the Panzer Grenadier Ersatz Regiment 33. From the history of the English unit, I gleaned the fact that Fritz's group put up a good fight, "despite being an 'odds and sods' unit."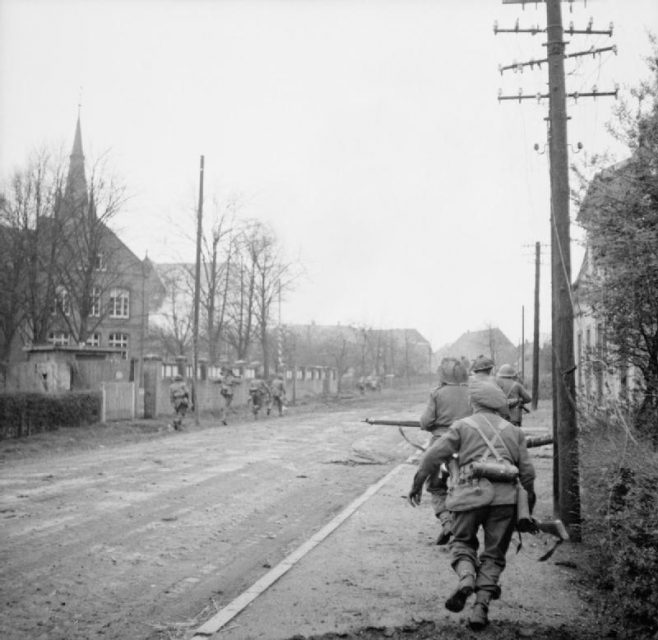 The fight was in Heek on the night of March 31, 1945. This must be the area where Sehr now found himself attached to the ad hoc unit, as his entry for close combat seems to be accredited by the same battalion.
The morning after, the Germans counterattacked at Heek near the castle with 150 men. The English soldiers were forced to leave their breakfasts and fight.
The counterattack was futile as 119 Germans were taken prisoner. A close look at the War Diaries for the Panzer Grenadier Regiment 115 show us that they were in close combat as follows: 31.3.1945 – Heek, Westfalen and 4.4.1945 – Dreierwalde.
Dreierwalde is an 8-hour walk from Heek in a northeast direction at a distance of 40 kilometers (about 25 miles). The town had been bombed on March 21, killing a total of 40 civilians and foreign workers on its airfield. It became the scene of a war crime as Allied airmen were executed there not long after.
The battle of Dreierwalde was a tough one. It involved many units, such as the infamous Grossdeutschland Regiment, and the Germans also fielded anti-tank guns manned by the SS.
The remains of the Kampfgruppe Knaust (a fighting group led by Oberstleutnant Knaust) were fighting in Dreierwalde. The fighting group led personally by Major Hans-Peter Knaust was putting up heavy resistance. Knaust knocked out two tanks when personally leading a counterattack.
Attacking the positions of the German forces were members of the Royal Scots Greys, the 155th South Scottish Brigade, and the 44th Royal Tank Regiment. According to a German historian, the battle for Dreierwalde was so tough on the Allied forces that they were given permission to plunder the town after the battle.
It was here that Fritz Sehr was killed. His body was buried in the town of Dreierwalde among his fellow soldiers.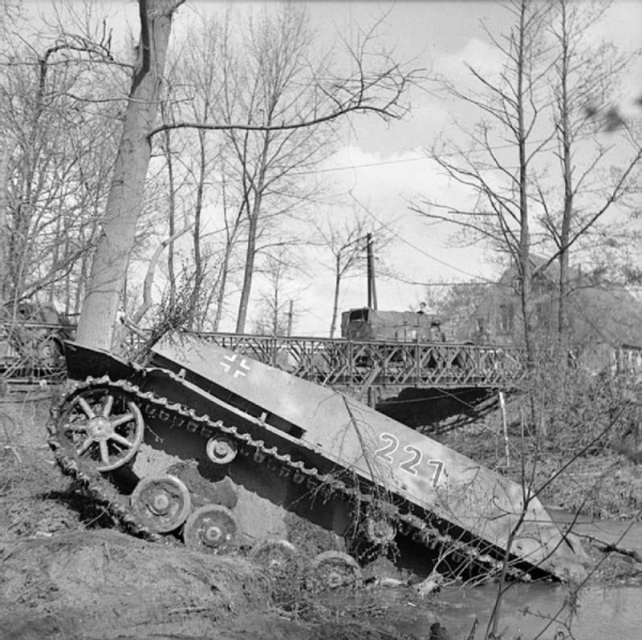 The Struggle Continues – Refugees in Berlin, 1945
While Fritz Sehr might have been killed in action, the struggle for his family was far from over at this point.
His family consisted of his parents, Jakob and Erna Sehr, and their seven children. They were fleeing the Red Army advance from the town of Oborniki (Greater Poland, Poland).
According to an appeal after the war, Jakob Sehr was taken on April 11, 1945, near the Oder River. This was the location of the 1st Belorussian Army under Marshall Schukow, which was just about to take Berlin with a planned assault over the Seelow Heights five days later.
The circumstances surrounding Jakob's disappearance were that he had gone to the Soviet Army and reported for work as a shoemaker. He was taken to Russia and his wife never received any messages from him.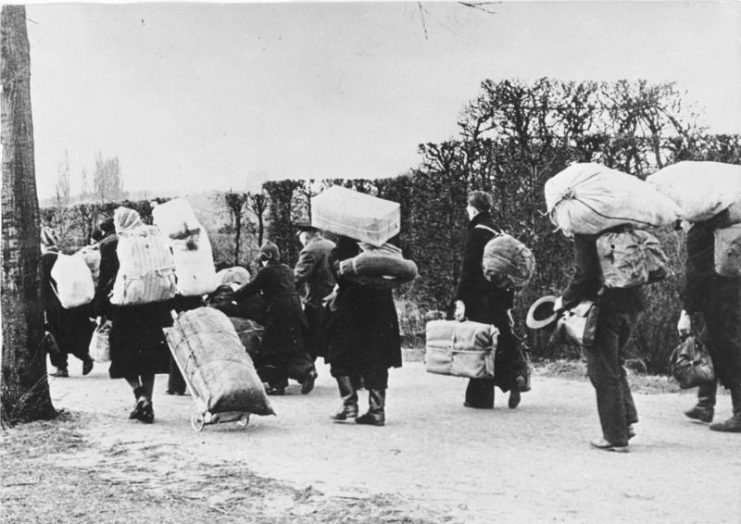 In July 1945, Erna and her seven children had reached the outskirts of the ruined city of Berlin. They were hoping to find her daughter Marianne.
They were living in a cellar in Rüdnitz, Bernau just outside the city. One of the children, Luise, was now suffering from TB. According to the original documents, they were all in a bad state and in need of adequate food. Luise was in danger of dying if they were not given proper quarter and nourishment.
The German Red Cross at Berlin Lichterfelde issued a letter in three languages ordering her to attend: the address was none other than the place of work for Marianne and the two were reunited. It is highly likely she helped to supply the papers to her mother.
By September 1945, the Red Army had told Erna that she could not stay in Berlin as no new people could be taken in the city. She was authorized to go to Deitz/Lahn by train.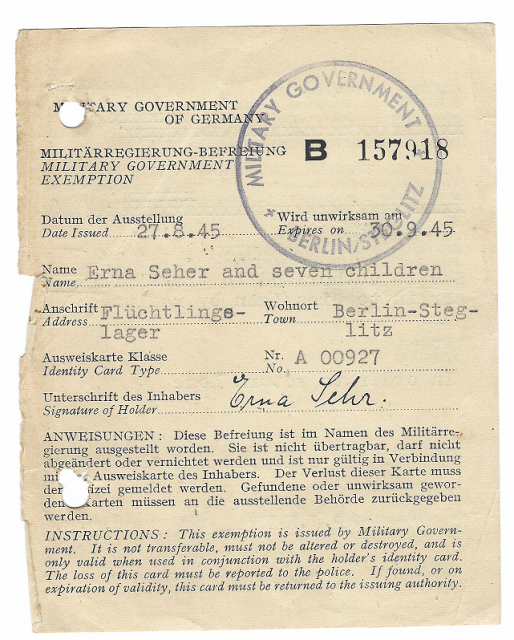 Erna would not know of Fritz's death until she wrote to the Red Cross in 1947. She likely wrote to them in the hope that her son Fritz was taken as a prisoner.
She received a letter back from the department for Prisoners of War in Geneve dated December 23, 1947, which stated:
"We are sorry to inform you that your son was killed in battle on the 3/5th of April 1945, and is buried in the cemetery at Dreierwalde. The news was given via London, that the Soldbuch No:3101 and the Dog Tag: 263715 E/65 belonging to Fritz Sehr was in the records. This news was confirmed in 1948 by the German Authorities."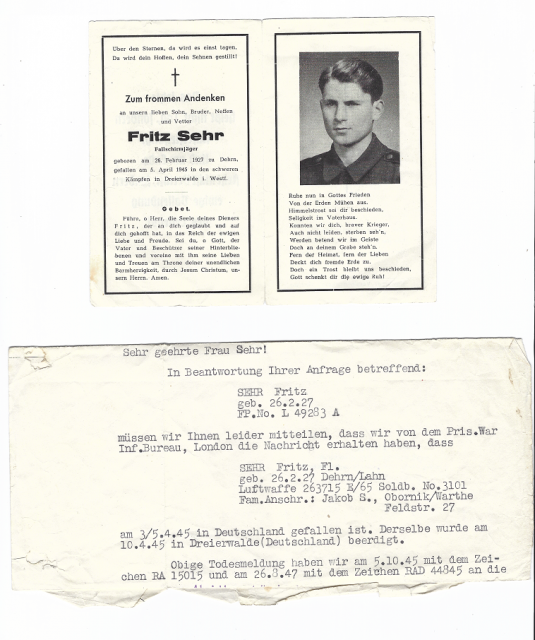 The priest who buried Fritz in April 1945 wrote to Erna in January 1948. He confirms that, yes, Fritz was one of the dead from the heavy battles in the area on April 5, 1945.
He confirms that Erna's son is buried in their cemetery and that his dog tag number was 263715. The priest goes on to say that he was buried alongside 76 others who were killed in the same battle.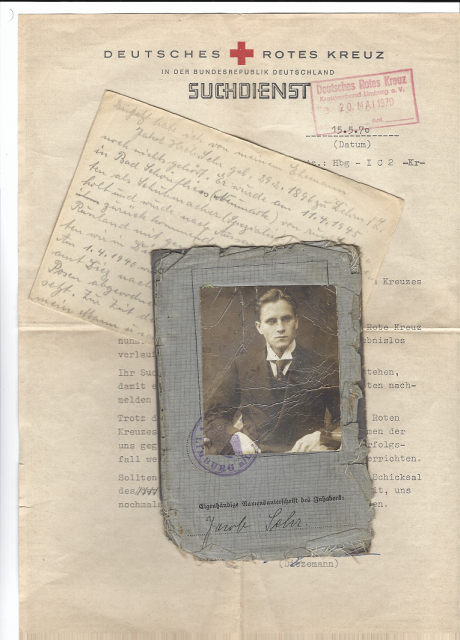 It is likely that this priest or one of the cemetery workers took the Soldbuch and the ID tag from Fritz's body before they buried him. The Soldbuch was handed back, along with the dog tag, to his mother in May 1950.
In 1970, when she was an elderly lady, Erna Sehr received a letter from the Red Cross. It informed her that her husband, Jakob Sehr, was nowhere to be found and they had no information on his whereabouts.
Jakob, like many men, would never return home from hard labor camps in the east. Erna had lost her son and husband to the war. As refugees, Erna and her seven children had managed to survive the end of the Third Reich. They later made their way out of the destroyed city of Berlin.
Facebook: Jonny Bay
Instagram: history_hunter_official
The 18-year-old Fritz Sehr's death coincided with the last desperate breaths of Nazi Germany and reflected the horrible reality of war. His fate, like many other young German soldiers, was one sealed by the evil lies and propaganda of the Third Reich.