In October of 1740, Charles VI, Holy Roman Emperor, died. Charles had spent most of his life at war, first over the succession to the Spanish throne, then over the question of religious liberty in Europe, and finally a disastrous campaign in Turkey in 1737.
The wars had left Charles' dominions deep in debt, with a weak military, and, most important to Charles himself, without a male heir.
Female inheritance was barred in the Habsburg dominions, and Charles spent much of his life trying to change that in favor of his daughters. In 1713 he issued the Pragmatic Sanction, which declared his future daughters to be his heirs in the absence of future sons.
But declaring it was not sufficient. In that environment of constant conflict he also had to acquire the recognition of other European states that they would not seek the thrones of Austria, Hungary, Croatia, Bohemia, Milan, Naples, Sicily, and the Netherlands for their own favored candidates.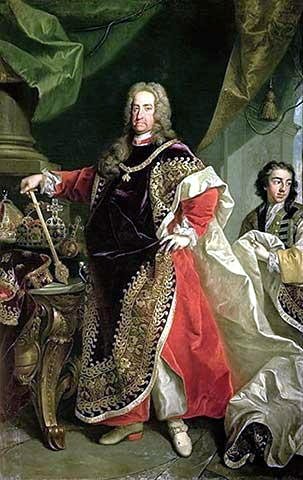 Getting the Pragmatic Sanction approved was neither fast nor cheap. To get English and Dutch approval, Emperor Charles had to give up Austria's colonial ambitions. To get Russian approval he went to war against Turkey, losing territory in Wallachia and Serbia.
To get Polish approval he went to war against Spain and France, who took Naples and Sicily from him. To end that war and get Spanish and French approval he had to recognize those losses as well as convince his son-in-law to give up the Duchy of Lorraine.
By the time all this was accomplished it was 1738, and the daughter in question, Maria Theresa, was 21 years old. Two years later, under the Pragmatic Sanction, she was to ascend to her father's thrones.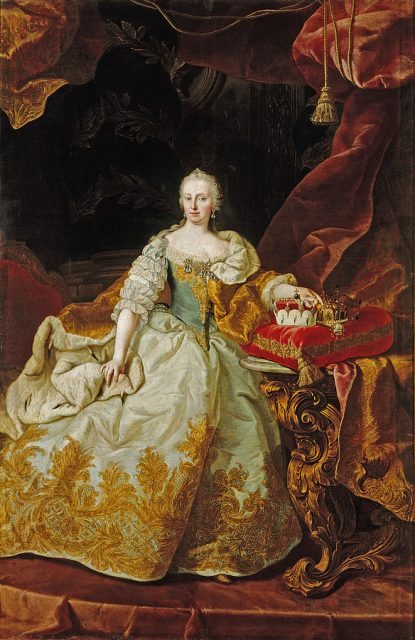 Unfortunately, Charles' scheme proved as ineffective as it had been difficult to accomplish. Spain, France, and Bavaria all refused to recognize Maria Theresa. Frederick II of Prussia, never one to miss a moment of leverage, invaded the resource-rich Austrian province of Silesia and offered to ally with Maria Theresa against her other enemies, but only if she would let him keep it.
This was a key moment for the new monarch. Her husband, Francis Stephen, was inclined to accept Frederick's offer. Maria Theresa was young, untrained by her so-often-distracted father, and entirely insecure in her rule, but she refused to bend to Prussia and determined to go to war to defend her territory.
Her father's failures had drained the power of the Austrian military, so in order to fight the war, Maria Theresa had to make another bold decision. She reinstated the disgraced and imprisoned General Wilhelm Reinhard von Neipperg, who Charles had blamed for the disasters of the war with Turkey, and made him her field commander.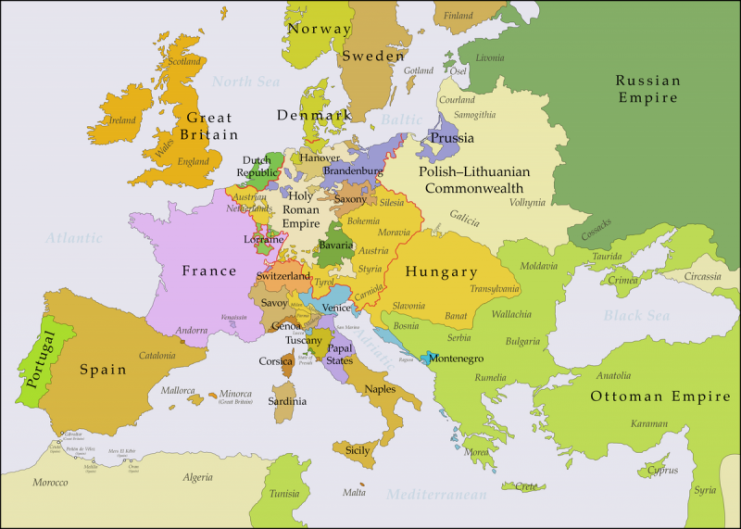 Neipperg was an effective commander, but one working at a huge disadvantage. Austria's army was undermanned, underfunded, and reeling from the two recent losses in Italy and Turkey. By contrast, Prussia had the best-trained standing army in Europe and had been able to keep it out of the previous conflicts.
Frederick's plan was to overrun Silesia and present Europe with a fait accompli where recognizing his control of the region would be easier than contesting it.
The plan was reasonable, given the condition of the Austrian forces, but only mostly successful. Neipperg was able to hold three key fortresses in southern Silesia, preventing a speedy victory for Prussia.
At Frederick's prompting, in 1741 France entered the war against Maria Theresa by invading Bohemia. They made significant gains and drew off enough Austrian forces that Frederick was able to secure Silesia. French and Bavarian troops took Prague and threatened Vienna, forcing a pregnant Maria Theresa to seek refuge in Hungary.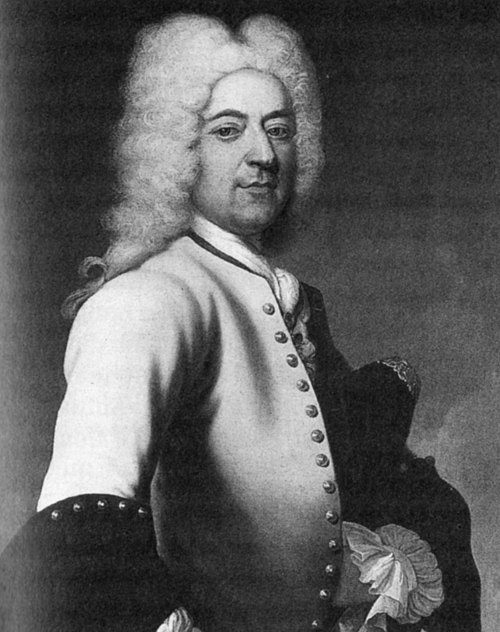 Much larger then than now, Hungary was the largest of the Habsburg dominions and in this time of need proved the most loyal. Hungary had a long tradition of electing their kings and supported Maria Theresa's ascension from the beginning.
Now the Hungarian Diet agreed to raise 60,000 new troops for the army, and with that force, Maria Theresa was able to turn the tide in her other dominions.
She made a separate peace with Frederick, who, now in complete control of Silesia, had become more concerned about French ambitions than about Austria. Recognizing his control over Silesia for the moment allowed Maria Theresa to focus her forces on retaking Bohemia.
She insisted on a winter campaign, and by December of 1741 had established a significant military presence in Bohemia, while a second army under Marshal Khevenhüller took the offensive against Bavaria.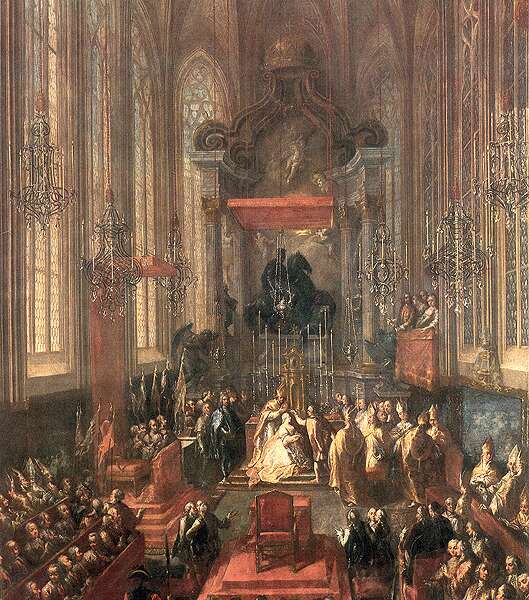 Charles Albert of Bavaria had crowned himself King of Bohemia on December 9, and with it secured the last of the Electorates of the Holy Roman Empire for Maria Theresa's enemies. As 1742 began, preparations for his election as Emperor were underway, even as Khevenhüller was pushing into Bavaria.
Charles Albert was crowned Holy Roman Emperor on January 24th, as Charles VII. On the same day, Khevenhüller captured his capital, Munich.
Charles was able to convince Frederick to return to the war briefly, but on encountering strong Austrian resistance, the Prussian leader quickly re-entered the peace in June, this time taking his Saxon allies with him, and leaving France and Bavaria to stand on their own.
They were unable to stand together. Frederick had won a key battle at Chotusitz just before leaving the alliance, which held them together through 1742. But in 1743 the French and Bavarian leaders quarreled, and it cost them. Maria Theresa now had three functional armies, and they combined to push into Bavaria along the Danube without significant opposition from their disorganized enemies.
Meanwhile, on the Rhine, King George II of England was leading an army into northern Bavaria, made up of troops from Britain, Holland, Hanover, and Hesse, who had combined to counter French and Spanish ambitions. The final time a British monarch led troops into battle led to a significant victory over the French at Dettingen, and pushed the front all the way back to France itself.
The war might have ended there, but in 1744 Frederick decided to intervene yet again, this time concerned about the balance of power in Europe swaying toward Austria. With his encouragement the French became more active, attempting to cause an insurrection in England and invading the Austrian Netherlands.
The Dutch were able to provide little resistance, so the Austrian army entered their territory to drive back the French. This left Frederick free to invade Bohemia almost unopposed. He quickly retook Prague and threatened Vienna once again. As she had before, Maria Theresa sought assistance from Hungary, and again the Hungarians responded, raising troops to halt Frederick's advance and defend Vienna.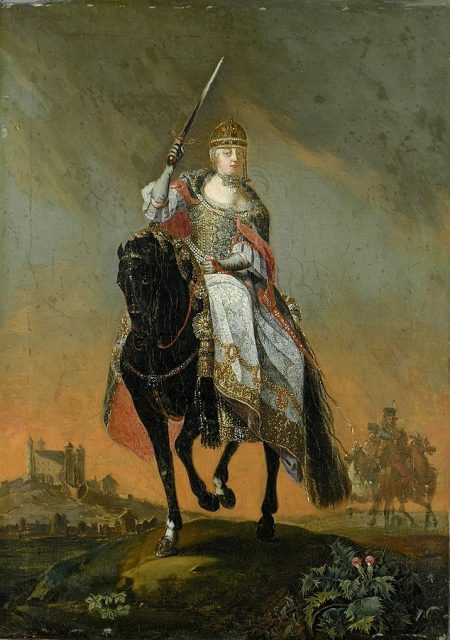 With the Prussian advance stalled and the French army in confusion due to Louis XV contracting smallpox, the main Austrian army was able to march across Germany and threaten Frederick's flank, retaking Prague and driving him back into Silesia.
In January of 1745, Charles VII died, and continued Austrian campaigns in Bavaria convinced his son Maximilian to make peace with Austria, securing his right to his hereditary territory with a promise to vote for Maria Theresa's husband, Francis Albert, in the new Imperial election.
In September he was elected Francis I. With this, the French appetite for war in the German states waned, though they still fought for control of the Netherlands, and eventually gained it.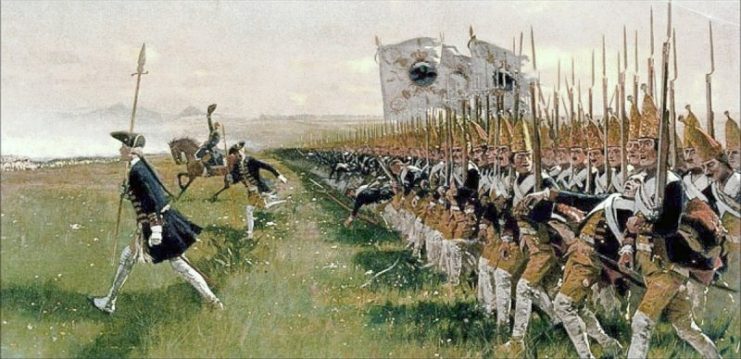 Maria Theresa still sought to retake Silesia with the full force of the Austrian armies, but a series of underdog victories allowed Frederick to maintain it through 1745 even though his forces' effectiveness was quickly declining. At the end of the year, the two powers made peace, with Frederick retaining Silesia but recognizing Francis.
The war with France and Spain dragged on, but in 1748 Maria Theresa was able to achieve a peace that left her with all of her other prewar possessions except the Duchy of Parma in Northern Italy.
No woman could hold the office of Holy Roman Emperor, but Maria Theresa reigned in all but name until 1780, with first Francis serving as the figurehead, and after his death in 1765, their son, born during the war, Joseph II.