Hazel Ying Lee remains a rather obscure figure in the history of the United States Air Force, but her role and that of her fellow women-pilots are certainly worth commemorating. She was born into a Chinese-American family in 1912 in Portland, Oregon. Hazel nurtured dreams of flying from her early childhood, even though all the odds were against her.
First, and foremost, she was a woman. Women were not considered suitable to fly before the war, by both the government and the general public. Secondly, her Chinese ancestry also made it difficult to dream big.
Nevertheless, following her graduation in 1929, Hazel worked as an elevator operator in a department store in her hometown. At the time it was one of the few jobs a Chinese-American woman could attain, as it was highly untypical for Asian women to work at all. In the meantime, she joined the Chinese Flying Club of Portland, where she took flying lessons from the famed aviator, Al Greenwood. Soon she had her pilot license.
In 1932, less than 1% of pilots in the US were women, and Hazel could proudly say she was one of them. During that year, the Empire of Japan invaded Manchuria. Despite calls from the League of Nations to cease their military operations in what was perceived as an illegitimate occupation, the Japanese continued to penetrate deeper into Chinese territory, occupying the province of Jehol the following year.
Like many of her fellow countrymen who resided in the USA, Hazel felt the commitment to hurry to her ancestral land's assistance. She tried to join the Chinese Air Force in 1933, despite it being in a shambles at the time. However, the Chinese were not inclined towards the idea of a woman pilot. Hazel ended up working in the administration of the Chinese military while occasionally flying for a commercial airline in Nanjing.
In 1937, Hazel was living in Canton, when the Japanese started their massive air campaign targeting Chinese civilians. During these raids the infamous Nanjing Massacre took place. After witnessing the horrors of the Japanese invasion first hand, Hazel decided to return to America. There she worked for the Chinese government, buying war materials for her war-torn homeland as it attempted to push back the invaders.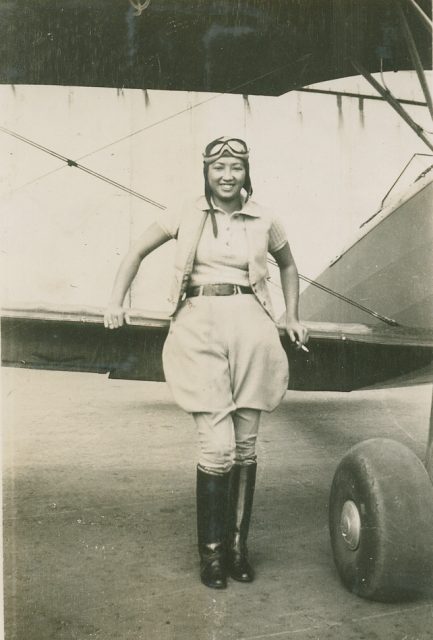 Eventually, the war reached America. In 1941, after the bombing of Pearl Harbor, the US Army Air Forces (the predecessor of The United States Air Force), realized they were going to need every able-bodied pilot for the upcoming fight. The demand for combat pilots left a space for women to participate.
The Women's Auxiliary Ferrying Squadron (WFTD for short) was formed in the fall of 1942. Hazel immediately applied and finished training, becoming one of only two Chinese-American women (the other one being Maggie Gee) in the organization which numbered 1074 pilots.
After her training, WFTD was transformed into WASP – Women Airforce Service Pilots. The members of WASP delivered aircraft to locations from which they were transported into combat. They were also trusted with towing aerial targets and drones used for practice by both the AA defense crews and combat pilots.
Even though these women were piloting military aircraft, they were considered civilian pilots as the civil service paid them. Also, they were denied any military benefits; had to pay for their own accommodation, food, and uniforms; and they were paid less than their male counterparts. Despite the women having undergone the same training as their male counterparts, they were untrusted by their superiors and had to prove their worth. They were sent on the so-called "Remaining Overnight" missions and winter trips in open cockpit airplanes.
Their hours were exhausting with a seven-day working week, but their role was critical for keeping the engines of the Allied war machine running. Hazel was transferred to the third Ferrying Group at Romulus, Michigan. There she delivered aircraft manufactured in converted automobile factories to various embarkation points from which they were shipped out to the European and Pacific theatres of war.
In the little free time Hazel had, she often cracked jokes and introduced her fellow-pilots to Chinese culture and cuisine.
During her service, Hazel had two forced landings, one of which ended in a comic misunderstanding. The Chinese-American pilot landed in a wheat field in Kansas when her plane malfunctioned. She was welcomed by an enraged farmer armed with a pitchfork. The farmer was convinced Hazel was part of the Japanese invasion, due to her Asian appearance. He chased her around the damaged aircraft until she managed to persuade him of her role with the US Air Force.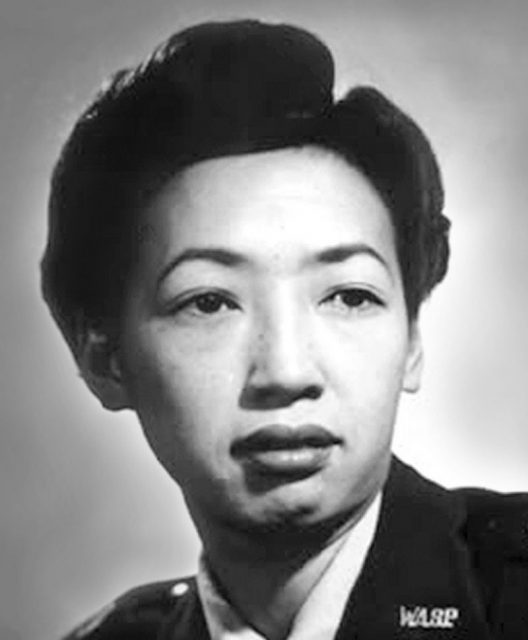 By September 1944, Hazel was an experienced pilot. She was trustworthy and devoted, not to mention highly skilled. Due to her developed flying abilities, she was sent to Pursuit School at Brownsville, Texas. There she trained on flying faster, high-powered fighters, such as the P-63 Kingcobra, P-51 Mustang, and P-39 Airacobra.
Unfortunately, that same year, she met her untimely death. On November 10 Hazel received the orders that became her last mission. She was to fly a P-63 from the Bell Aircraft factory at Niagara Falls, New York and deliver it to Great Falls, Montana. Great Falls was the linking point from which designated aircraft were sent to the Soviet Union via Alaska, as part of the Lend and Lease program.
As a hint or bad omen, the mission was delayed at Fargo, North Dacota, due to turbulent weather. On Thanksgiving morning the weather cleared, and Hazel received the green light to continue with her delivery.
Due to the weather delays and bad timing, Great Falls airport received a large number of P-63s, all at the same time. Confusion and panic struck the control tower, as pilots waited for clearance to land. As a result of the lack of organization, Hazel collided with another aircraft while attempting to land. Her plane caught fire, and although she was evacuated, there was nothing the doctors could do to save her.
She succumbed to her injuries two days later. In a string of unfortunate events, her brother Victor, who was serving as a tankmen in France, lost his life only three days after the Lee family were informed of Hazel's death.
There were issues concerning the burial of the siblings, as their plot had been purchased in the so-called "White Section" of the cemetery. After a lengthy battle with the officials, her family prevailed, and Hazel Ying Lee was buried without military honors, alongside her brother, in the River View Cemetery in Portland, Oregon. She was the last of 38 WASP pilots who died in the line of duty.
For 30 years, Hazel and the other female pilots of WASP were denied any recognition for their contribution to the cause. In 1974, all members of WASP were granted military status, making them the first official female pilots in the history of the United States Armed Forces.