By Guest Blogger Helen Fraser For War History Online
It cannot be denied that war is responsible for huge numbers of deaths, and an awful lot of horrific injuries. Historically, the only thing which has eliminated more people in a shorter amount of time than war is the plague. And it's a close-run thing. So it's understandable that people don't tend to associate war with the preservation of life.
However, necessity being the mother of invention, warfare has, perhaps paradoxically, led to some of the greatest advances in medicine that the world has ever seen. Thus, while wars have taken millions upon millions of human lives throughout history, and consigned even more to a lifetime of pain and suffering, it has also (though perhaps indirectly) saved a great many lives and healed a great many people. Here is a brief exploration of the strangely intertwined doctrines of warfare and medicine.
'Fighting Fit'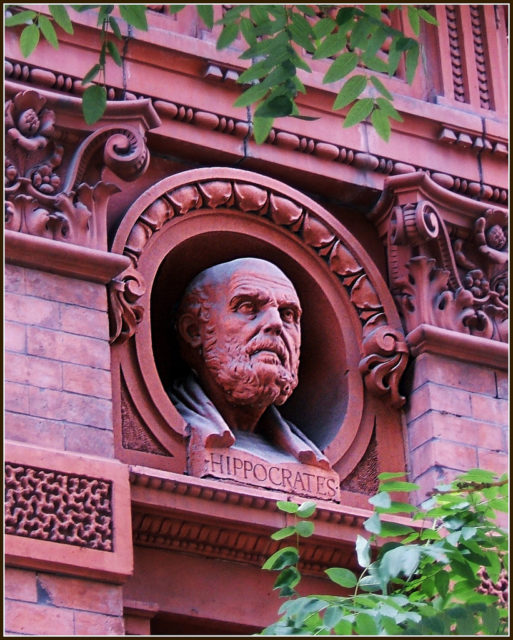 The Ancient Greek Hippocrates – still revered today as the 'father of medicine' said that "He who desires to practice surgery must go to war." He had a good reason for these words.
Since the beginning of organized warfare, the world's most astute military leaders knew that they would win more battles with fitter troops. The best military commanders thus employed skilled doctors to ensure that their troops were free from sickness and recovered quickly from their wounds. This was one of the reasons why otherwise peaceable young men were eager to join fighting forces. In an era before things like universal healthcare and medical insurance, civilian doctors were expensive (and their methods were often worse for you than the disease!).
When life was dangerous and disease was rife, the healthy regime and (relatively) skilled healthcare available with a military unit actually gave many a far better chance of survival than they may have had as civilians. And the doctors themselves? Well, ancient doctors were universally acknowledged to be far more skilled than civilian doctors. Why? Partly because the military nature of their employment meant that they could not attempt to make money out of quackeries – if a patient died the doctor frequently would not get paid – and partly because the swift and concentrated level of injury incurred by battles gave them a lot of experience in what worked and what did not, at least where wound care was concerned. Furthermore, exposure to the carnage of battle allowed a good deal of gruesomely obtained expertise regarding human anatomy.
Emergency Advances
Historically, the most significant advances in trauma and emergency medicine have been born of combat situations. These include:
The tourniquet – which limits blood flow to wounded limbs. This was almost certainly invented by Roman army doctors, who wished to perform amputations without risking their patients bleeding to death.
The ligature – a method of tying the ends of sliced arteries to prevent patients from bleeding to death. Discovered by Ambroise Pare at the Siege of Turin in 1537.
The ambulance – invented during the Napoleonic Wars, and advanced during the American Civil War and the First World War.
The principles of germ control, hospital sanitation, and modern nursing – laid down by Florence Nightingale during the Crimean War.
Triage – a method of swift assessment by which emergency patients are prioritized according to the urgency of their need. This was formalized by the French army during WW1.
Penicillin – while this vital infection-control drug was discovered by Alexander Fleming in peacetime, it was only during WW2 that it was brought out of obscurity to treat sickly soldiers and control infections in the barracks.
Modern Medical Triumphs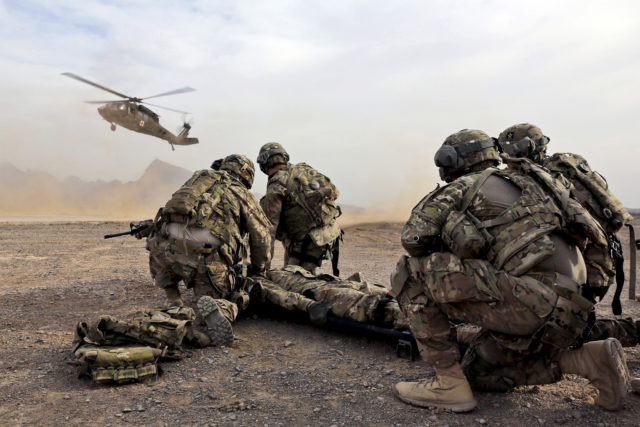 Even today, the necessity of warfare continues to drive medical technology forward. Surgeons working today in combat zones are far, far more able to save lives through surgery than they were even five years ago, despite the injuries with which they are presented being no less severe.
Their methods are growing far swifter, safer, and more effective all the time. Notably, most modern militaries make efficient use of full-body scans and handheld ultrasounds, allowing them to locate internal problems extremely quickly and make informed surgical decisions within moments. Handheld ultrasound scanners also allow surgeons to pinpoint and individually anesthetize pain-transmitting nerves, something which has big implications for the treatment of chronic pain in all fields. Without a doubt, the urgency and great need for healing within combat situations will continue to drive our medical technologies for as long as there are casualties of war.
Without a doubt, the urgency and great need for healing within combat situations will continue to drive our medical technologies for as long as there are casualties of war.
By Helen Fraser