By Jeremy P. Amick
At only 19 years of age, James Shipley had little life experience to his credit when he made the decision to visit his local recruiting station with the intent of serving his country during a time of war.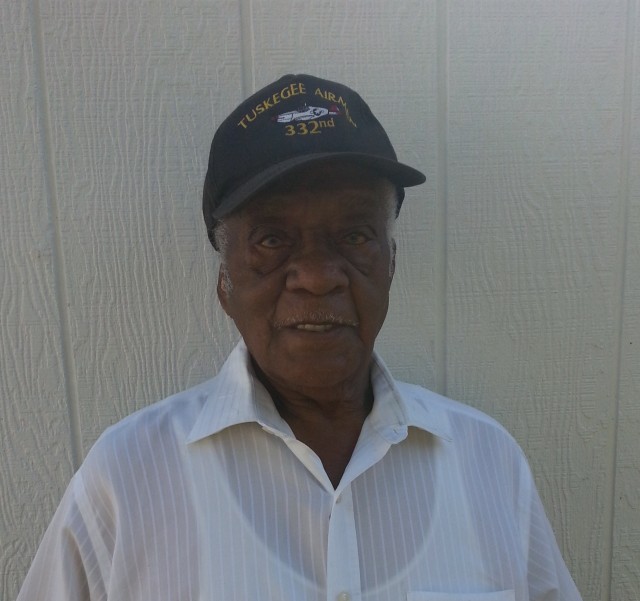 "I just wanted to enlist and do my part, if I was eligible," said Shipley, 90, Tipton, Mo.
Little did he realize that the subsequent years would place him in one of the most respected military organizations from World War II and help pave the way for African Americans serving in the armed forces.
"The recruiter told me that they were organizing an all black unit," Shipley explained, "and they needed mechanics, cooks, nurses … everything."
Enlisting in the U.S. Army Air Forces in November 1942, the young recruit completed his basic training at the Tuskegee Institute (now Tuskegee University) in Alabama—the site selected to train the black squadrons that would be later recognized as the Tuskegee Airmen.
Since Shipley had worked as a vehicle mechanic prior to his enlistment, he was selected to serve as an aircraft mechanic and sent to Lincoln Neb., following his basic training to learn the basics of working on fighter planes.
"It was an army post," Shipley said, "and they segregated us during our training—whites on one side of the post and blacks on the other."
He then traveled to Detroit, Mich., where he and his fellow airmen applied their training on an actual flight line. As Shipley explained, while the pilots where learning to fly their planes under combat conditions, the mechanics were working to keep the planes in operable condition.
"The planes would come in popping and missing, and we'd have to find the problem to get them fixed and (the pilots) back in the air."
His preparatory training completed, the young mechanic traveled to the East Coast and boarded a troop ship bound for overseas service.
With a smile, Shipley asserts, "I told them I was going to go over there, get that war over with and then come home."
Arriving in Italy in late January 1944, Shipley was assigned to the 332nd Fighter Group, whose pilots later painted the tails of their planes red thereby earning the famed nickname "Red Tails."
For the next 21 months, Shipley and his fellow mechanics kept the P-39s (Aircobra), P-40s (Warhawk), P-47s (Thunderbirds) and P-51s (Mustangs) in top condition, which allowed the squadron to prove their mettle in a combat environment.
Initially, Shipley said, the group was given the lackluster assignment of flying harbor patrols to watch for enemy ships and submarines; but later received newer fighter planes and given the opportunity to escort bombers while defending them against attacks from German planes.
Shipley states that although the Tuskegee pilots often flew nearly twice as many missions than their white counterparts because of the shortage of pilots within the 332nd, the dedication and desire to serve the country allowed he and his fellow airmen to demonstrate their value in combat.
The group escorted over 200 bombing missions without losing a single bomber and logged 15,533 sorties during which 409 enemy aircraft and numerous fuel and ammunition dumps were destroyed.
In May 1945, Germany surrendered and Shipley remained in Italy with the 332nd for several months preparing aircraft and equipment for shipment back to the United States.
He and his fellow airmen returned aboard a troopship to New York on October 17, 1945. When disembarking the ship, Shipley recalls being instructed, "White soldiers to the right, and (racial slur) to the left."
"You can imagine how that made us feel," Shipley said, "especially after how hard we worked during the war."
Following his discharge just days later, Shipley returned to Tipton, spent the next several years working in various mechanic jobs, and briefly operated his own garage and gas station.
Years later, he was hired as a mechanic a local electric cooperative and retired in 1985 after 29 years of employment as the company's only mechanic.
Discussing the consequences of his World War II service, the married father of two has found a sense of fulfillment knowing he and his fellow Tuskegee Airmen were able to rise above the yoke of racial prejudice and let their sacrifice serve as an example of the benefits of working together as a nation.
"They had set us up as an experiment … they said we'd never make the grade," Shipley said. "They thought we'd get scared in combat and just take off.
"But I've always believed in the motto 'United we stand, divided we fall,' and if we hadn't eventually joined together as a country and learned to work together as one, we may not have been able to win the war."
Jeremy P. Ämick writes on behalf of the Silver Star Families of America.
Silver Star Families of America
www.silverstarfamilies.org
Cell: (573) 230-7456