Lydia Litvyak was a Soviet flight instructor who had trained 45 pilots by the time the Germans invaded the Soviet Union. She began flying when she was 14 and performed her first solo flight at 15. Of course when Barbarossa broke out and the massive Wehrmacht was making its way into the interior of the country, she tried to fly for the Soviet Air Force.
After being turned down several times she eventually was allowed into the 586th Fighter Regiment, the famed Soviet all-female regiment formed by Marina Raskova. She began training on the Yak-1, the Soviet's scrappy but reliable small single seat fighter.
She was called the "the White Rose of Stalingrad", or the White Lily.
During her combat dories, she claimed 14 kills give or take a few that may be in dispute. It is not in dispute that she was an aggressive and highly skilled aviator who was obsessed with flying and fighting the invading Nazis. She claimed several Me-109s and Focke Wolfe 190s and Junkers 87 Dive Bombers.
Litvyak flew her first combat flights in the summer of 1942 over Saratov. In September, she was assigned to the 437 IAP, a men's regiment fighting over Stalingrad. In the 437th Fighter Regiment, Litvyak scored her first two kills on 13 September, three days after her arrival and on her third mission to cover Stalingrad, becoming the first woman fighter pilot to shoot down an enemy aircraft.
She shot down Staff Sergeant Erwin Maier, another German ace. He parachuted down and was taken prisoner. He asked to see if it was true that he was shot down by a woman and he was allowed to meet her. He could not believe he was shot down by a female pilot and only when she accurately described all the maneuvers in the flight and knew it was true.
Twice she crash landed and once she was hit and wounded in her plane and lost a lot of blood on the way down.
On August 1, 1943, Lydia did not come back to her base of Krasnyy Luch, in the Donbass, Ukraine, from an escort to a flight of Ilyushin Il-2 Shturmoviks. It was her fourth sortie of the day. As the Soviets were returning to base near Orel, a pair of Bf 109 fighters dived on Lydia while she was attacking a large group of German bombers.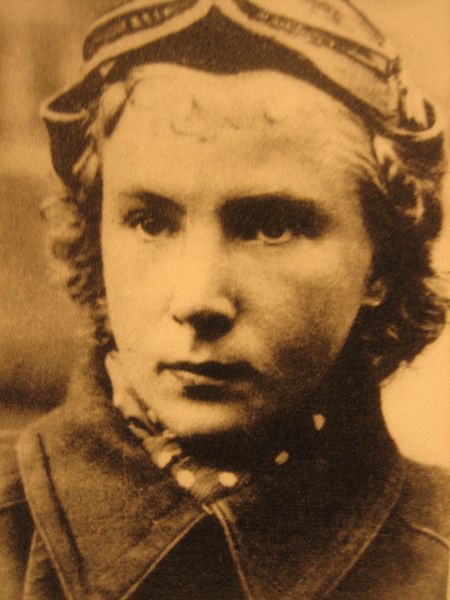 Soviet pilot Ivan Borisenko recalled: "Lily just didn't see the Messerschmitt 109s flying cover for the German bombers. A pair of them dived on her and when she did see them she turned to meet them. Then they all disappeared behind a cloud."
Borisenko, involved in the dogfight, saw her a last time, through a gap in the clouds, her Yak-1 pouring smoke and pursued by as many as eight Bf 109s. Borisenko descended to see if he could find her. No parachute was seen, and no explosion, yet she never returned from the mission. Litvyak was 21 years old.
Soviet authorities suspected that she might have been captured, a possibility that prevented them from awarding her the title of Hero of the Soviet Union.
Two German pilots are believed to have shot down Litvyak: Feldwebel Hans-Jörg Merkle of 1./JG.52 and Leutnant Hans Schleef, of 7./JG 3. Merkle is the only pilot that claimed a Yak-1 on Dmitryevka (where she was last seen and was – reportedly – buried), on 1 August 1943, while Schleef claimed a LaGG-3 (often confused in combat with Yak-1s by German pilots) on the same day, in the South-Ukraine area where Litvyak's aircraft was at last found.
In an attempt to prove that Litvyak had not been taken captive, Pasportnikova embarked on a 36-year search for the Yakovlev Yak-1 crash site assisted by the public and the media. For three years she was joined by relatives who together combed the most likely areas with a metal detector.
In 1979, after uncovering more than 90 other crash sites, 30 aircraft and many lost pilots killed in action, "the searchers discovered that an unidentified woman pilot had been buried in the village of Dmitrievka… in Shakhterski district."
It was then assumed that it was Litvyak and that she had been killed in action after sustaining a mortal head wound. Pasportnikova said that a specialist commission was formed to inspect the exhumed body and it concluded the remains were those of Litvyak.
On May 6, 1990, USSR President Mikhail Gorbachev posthumously awarded Litvyak Hero of the Soviet Union