War History online proudly presents this Guest Piece from Jeremy P. Ämick, who is a military historian and writes on behalf of the Silver Star Families of America.
Cartoon boosted morale for troops fighting in Europe during WWII
During his 1,200-mile trek across Europe as a gunner on an M-18 Hellcat Tank Destroyer, World War II veteran Norbert Gerling experienced his share of stress under combat conditions.
He was not alone in his journey, Henley, Mo., veteran recalls, since a beloved military cartoon character kept him and his fellow soldiers company, providing laughs and a little relief from the hardships surrounding them.
"(The) Sad Sack was a typical GI—just like Beetle Bailey," Gerling beamed. "There always seemed to be one or two guys just like him in every unit in the Army," he added.
"The Sad Sack" comic strip made its debut in Yank, The Army Weekly—a magazine published by the United States military during World War II—with its first issue on June 17, 1942, according to an article found on the U.S. Army's website.
The cartoon was the creation of Sgt. George Baker, a native of Massachusetts who grew up in Illinois and was later hired by Walt Disney Studios in 1937, assisting with the production of animated films such as Pinocchio, Dumbo and Bambi.
Drafted by the U.S. Army in June 1941, five months prior to the attacks on Pearl Harbor, Baker was assigned to the Signal Corps to produce animation for military training films. He grew appalled by the cheerful and tailored manner in which the average soldier was portrayed to the public, and embarked upon a campaign to depict soldiers in a more authentic manner, resulting in the birth of The Sad Sack.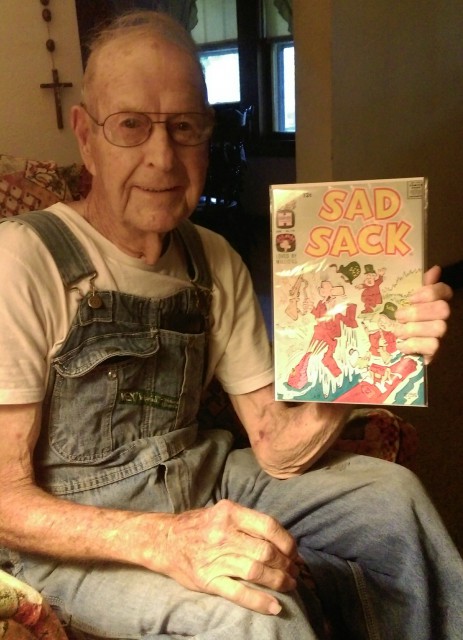 The fictional comic featured the antics of a clumsy and oftentimes inept soldier of the U.S. Army, who was usually involved in absurd and outrageous situations, inadvertently distressing sergeants and officers within his unit. As Gerling noted, although he enjoyed the photographs and articles in Yank, The Sad Sack strip served as the magazine's focal point.
"Whenever mail call would come, the magazine often came with it," Gerling explained, recalling his enjoyment of the publication while in Europe more than seven decades ago. "Sometimes GI's would pass them along to each other, and whenever you found one, you read it and then gave it to someone else to enjoy."
Gerling added, "(The Sad Sack) was a typical, run-down soldier who seemed to stumble his way into trouble. The humor was great and everybody got a kick out of it … it was something that took our minds off the combat and gave us a little relief."
Jefferson City, Mo., veteran Raymond Herigon, who landed on the beaches of Normandy, France, on June 9, 1944 and fought his way across Europe with the 4th Infantry Division, also recalls the iconic comic strip, and serving with those who reminded him of the amusing character.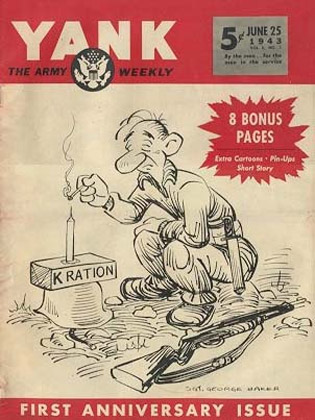 "We all read (The) Sad Sack; we'd get copies of (Yank) every so often," Herigon said. "There was a guy in our unit who reminded us of him—he was always playing tricks on the officers. The guy could whistle like a German shell coming in and he would hide behind tents and scare the heck out of the officers," he grinned.
But as the 93-year-old veteran explained, comics—and the antics they inspired—were integral in helping everyone forget the horrors of combat, if only for a little while.
"We were always playing tricks on each other … we had to," Herigon said. "Otherwise we would go nuts."
In the years following the war, Sgt. Baker's creation continued through a briefly lived daily comic strip in newspapers, became a comic book series published by Harvey Publications and inspired a motion picture starring Jerry Lewis in 1957.
The memory of The Sad Sack may have become a near-forgotten phenomenon, yet the soldiers who fought their way across the frontiers of Western Europe remain grateful for the chuckles provided through the blundering frolics of a cartoon character with whom they often felt personally connected.
"(The) Sad Sack was put out for a reason," Gerling paused, "it was meant to give us a lift … and sometimes we'd only have one magazine for two or three tank crews, but we'd share them among us.
"But he truly was a very funny character that provided us with a little entertainment and a few smiles in very difficult times."