War History Online Presents This Guest Blog By Gjorgji Stankovski
Тhe Ilinden Uprising of August 1903 in the region of Macedonia was an Uprising of the Macedonian people against the Ottoman Rule, which was prepared and carried out by the Internal Macedonian-Adrianople Revolutionary Organization.
The rebellion in the region of Macedonia affected most of the central and southwestern parts of the Monastir Vilayet receiving the support mainly of the local Macedonian peasants and to some extent of the Aromanian population of the region.
A provisional government was established in the town of Kruševo (to the west of Prilep), where the insurgents proclaimed the Kruševo Republic under the presidency of the school teacher Nikola Karev, which was overrun after just ten days, on August 12.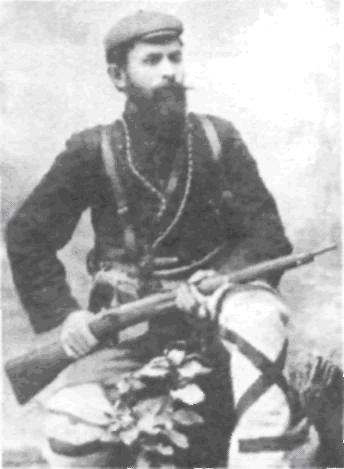 The cherry cannon was artillery whose body is entirely made of acacia or cherry wood. It has no significant combat value because the wood swells under the effect of the explosion after only a few shots.
These cannons were produced just before the Ilinden Uprising. Cherry was important in encouraging and raising the morale of the rebels, and today is a legendary symbol of the determination of poorly armed rebels to oppose the far more powerful enemy for freedom of their country.
Cherry cannons were usually made of wild almond and wild cherry wood which were very solid, especially when dry.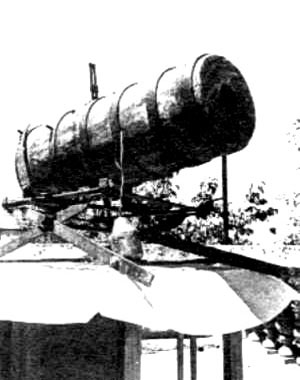 There are different ways of making the tree or the barrel of the cannon and mainly applied when there was not enough time. For the preparation of cannon were taken the straightest tree logs. Stump is etched to form a tube. To intensify the outside with metal rings.
One reason that burst the wooden cannon is that after the cannon shot, it was not was cleaned and then in the next firing was coming to the inevitable bursting of the cannon.
The range of these guns was generally 400 to 500 meters. Position setting and hardening of the cannon are mainly targeted the prominent, lofty places that gave good visibility to the object of the attack.
The only cherry cannon, which survived the uprising is what in 1903 the Turkish army had captured in battle with insurgents in the locality Plum, Krushevo after all rebel regiment died defending the population in town.
It was taken by the Turks and then transported to the Military Museum in Istanbul.