War History online proudly presents this Guest Piece from Jeremy P. Ämick, who is a military historian and writes on behalf of the Silver Star Families of America.
Raised by a father who was a career Navy officer who traveled the globe, the transition from high school student to United States Army officer seemed to be a natural progression for former Jefferson City resident Stephen Tharp. It is a journey, he notes, that not only carried him far from his Mid-Missouri home, but has unexpectedly led him to become an expert on relations between two nations.
Born on Kindley Air Base on Bermuda Island in 1955, Tharp went through several moves as his father continued in his naval career. After his father retired in early 1965, the Tharp family moved to Jefferson City.
"I graduated from Jefferson High School in 1973," said Tharp. "After that, I attended MU for three years on a Navy ROTC (Reserve Officers Training Corps) scholarship and was a walk-on for the wrestling team."
Grinning, he added, "It wasn't that I was that good, they just had a weakness in my weight class but I was still in very good physical condition."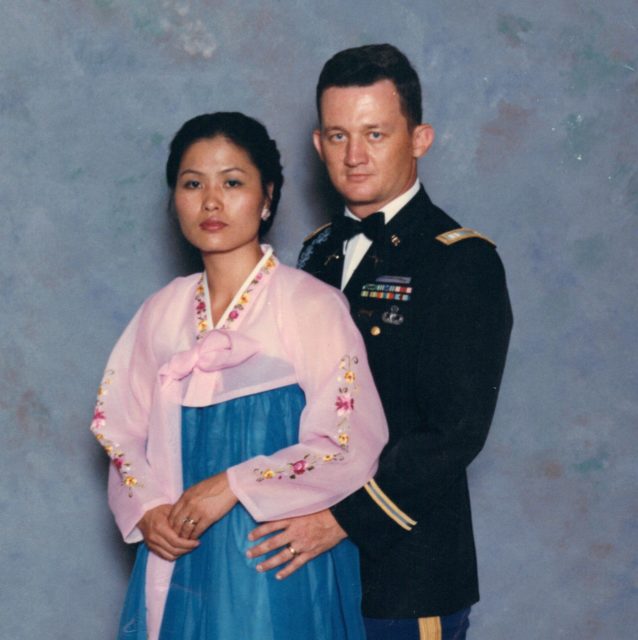 During his sophomore year, Tharp attended the U.S. Army Airborne School at Ft. Benning, Ga. The following year, while in his third year of college, he made the decision to leave school and enlist in the Navy; however, when he saw a poster in the recruiting office depicting a paratrooper coming down under a parachute, he was inspired to become a soldier in the U.S. Army.
The aspiring soldier attended his basic training at Ft. Leonard Wood in 1976 followed by his return to Ft. Benning for advanced training as an infantryman.
"After spending a few years in the 82nd Airborne Division, I requested an overseas reassignment just to see a little bit of the world before I got out of the Army," Tharp explained. "I wound up in Korea and found myself intrigued by the place." He added, "I was introduced to my wife by her aunt and we just seemed to hit it off and were married a year later in 1980."
Though he contemplated leaving the Army, Tharp decided to remain in the service and went on to attend Officer Candidate School in 1982. Spending several months back in the United States, he returned to Korea and was assigned to the same light infantry battalion with whom he had previously served, except this time as an officer.
While only a young, untested officer, Tharp led a number of combat ambush and reconnaissance patrols within the DMZ (demilitarized zone).Although he  enjoyed serving as an infantry officer, he admits that the realities of age and injuries soon necessitated that he pursue a different direction in his military career.
"I had injured one of my knees while serving in a Ranger battalion in the mid-1980s and knew that my infantry career would be somewhat limited since I was five years older than my peers and dragging around a bad leg," he said. "The Army then offered me the opportunity to become an Army Foreign Area Officer in 1990 and it seemed like too good an opportunity to pass up."
The next 4-1/2 years of his military career were spent primarily in school, where he learned the Korean and Chinese languages and earned a master's degree in Asian studies. He then became an exchange officer at the Republic of Korea Army Staff College.
The Army officer further built his résumé as an expert on Korean affairs when he was appointed as a negotiator with the North Koreans in Panmunjom—a village north of the demarcation line between North and South Korea where the 1953 armistice was signed.
"I had more than 150 meetings with the North Koreans during that time and probably another 15 meetings with the Chinese in 1994, he said, adding, "and I was the last US officer to meet with them before they withdrew from Panmunjom in December 1994. I was the only U.S. officer with that job that spoke both Korean and Chinese, so it worked out well."
His responsibilities continued to introduce him to many interesting experiences and altercations, some of which, he admits, were tense and considered quite dangerous.
"The North Koreans threatened to break the Armistice agreement in June 1995 and I was sent off to sleep in the Joint Officer building across the line to see if they were going to shoot a rocket through the window," he said. "Neither my boss nor I were concerned and nothing happened, but my wife thought it was a bad idea."
He continued: "On another occasion, I made a $2 million payment in May 1996 for the return of U.S. Korean War remains. The North Koreans accused me of slipping bogus $100 bills into the payment and demanded the payment of a couple thousand dollars worth of real money a few weeks later." Pausing, he added, "We didn't."
Tharp retired from the Army as a lieutenant colonel in 2004, remaining in Korea to serve as a civilian employee with the Department of the Army. He is now the chief of the Strategic Outreach Division in the Public Affairs Office of the United States Forces Korea, continuing to use his more than 40 years of governmental experience to represent the U.S.'s interests abroad.
"It was never my intent to become an expert on Korean affairs," he said. "In fact, it was probably more of a Yogism—whenever I came to a fork in a road, I took it," he mirthfully affirmed.
Drawing from his overseas experiences, Tharp has published two books about the Korean War and believes that by sharing such information it will help others to understand the ramifications of a war that has not officially ended.
"Although there was a ceasefire, the Korean War isn't over and we're still in a state of war," Tharp said. "But it was our support during the Korean War that prevented North Korea and China from defeating the South Koreans and has allowed South Korea to move from being an aid recipient to an aid donor."
Sagely, he concluded, "Today, North Korea represents the largest threat to peace in the world with its ICBM and nuclear weapons development, and it is the ROK-US alliance that maintains the security and stability not only on the Korean Peninsula, but also for Northeast Asia."