War History online proudly presents this Guest Piece from Tammy Watson
According to my parents and to the history books that proved to be the proverbial Achilles Heel of my tenth-grade education, I learned that there are Seven Wonders of the World. Based upon the newly gathered evidence I believe I can provide proof that there are actually eight! This eight wonder is located in a little town known as Zephyrhills in Pasco County, commonly known for its refreshing water and the springs it is gathered from. This little town is where I encountered the Eight Wonder that I speak of, who is none other than ninety-three years young WWII Veteran, Master Gunnery Sergeant, Paul Crook. The story that follows is evidence of that proof……
After completing what seemed like an endless, twelve-hour shift in the ICU at Florida Hospital in Zephyrhills, I was in need of my own refreshing, to say the least. I entered the elevator that routinely took me down three floors to the lobby of the hospital at the end of each day. This particular afternoon would prove to be anything but routine as I shared an elevator ride with an elderly gentleman whose ball cap read WWII/ Korea Veteran. I thanked him for his service and inquired as to which theaters (places of combat) he had served in. I discovered that he had seen many places, as he was a United States Marine that served our country over 27 years.
In those brief moments of that elevator ride I realized, that right there in the flesh, was a well of historical greatness Realizing there was far too much history here to simply let this man disappear, and more information than I could gather in a less than a three minute elevator ride, I decided to take a chance. I asked Mr. Crook if he would be willing to sit down with me and let me interview him about his service as a Marine. After a bit of humble protest, he relented and said yes. I later phoned him and he, along with his sweet wife, Vi, afforded me what would turn out to be the interview of a lifetime!
Attempting to narrow the details……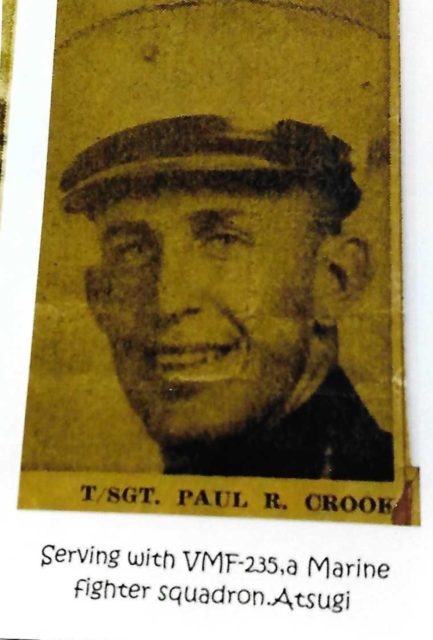 For several days prior to the interview, I began the arduous task of trying to narrow down questions about a military career that spanned twenty seven years, so on the afternoon of the interview I could include the basics and move on to the really good stuff. After recording the name of his unit, Marine Air Group VMF-221, his last rank of Master Gunnery Sergeant and a few details of the beginning of his career, I finally reached the question that many want to ask these WWII veterans.
"What made you want to join the Military?" The eyes that saw much combat, leading many times to tears of great sadness, on this day many years later, twinkled at the question. As a broad smile along with what appeared to be a tinge of embarrassment, made their way across his seasoned face, I braced myself for the answer. I surmised his answer would have something to do with a valiant statement about his "love for patriotism" that would cause me to mentally hear that famous stanza recalling "the bombs bursting in air" and visions of the waging "perilous fight" as the song played in the recesses of my mind….
What would prove to be the first great surprise, of the many that Mr. Crook's recollections would bring that afternoon and I laughed as he told me his answer to the question. As fate would have it, Mr. Crook was an avid outdoors person like myself and our shared love for fishing and hunting would lead to the unfolding of a humorous story that proved to be the catalyst to his twenty-seven-year career. He described to me, through his laughter, a time at only sixteen growing up in North Carolina, when he got into trouble and placed on probation for hunting (otherwise known as poaching by game wardens) at the Biltmore Estate! Yes, readers, THAT Biltmore Estate. This event, combined with his "not liking school much" made him realize that he was headed down the wrong road. He decided that the best way to change his life for the better was to join the Marines.
Mr. Crook discovered that the Marines wouldn't take him as long he was on probation. It was explained to him that the Judge presiding over his case would have to rescind the probation in order for him to enlist. One would think that simply speaking to the judge back then was easy enough, especially given a young man's newfound desire to serve his country. The Judge did agree to wave probation, however, not without a strong warning to this young man. He told Mr. Crook, "I will let you off probation if you promise you will join the service, but if I let you off probation and you do not join you will be "splitting rocks, doing hard labor at Craggy Pinnacle!"
The splitting of Craggy Pinnacle's rocks in Ashville North Carolina has long since ceased, and thankfully, Mr. Crook had no part of that, as he took the Judge's words very serious that afternoon. With that, this young teenager left the world of hunting, fishing and working in the family dry cleaning business he had become accustomed to. He left it all behind to take on the sometimes humorous, but most of the time hard days of Basic Training at Paris Island in 1940.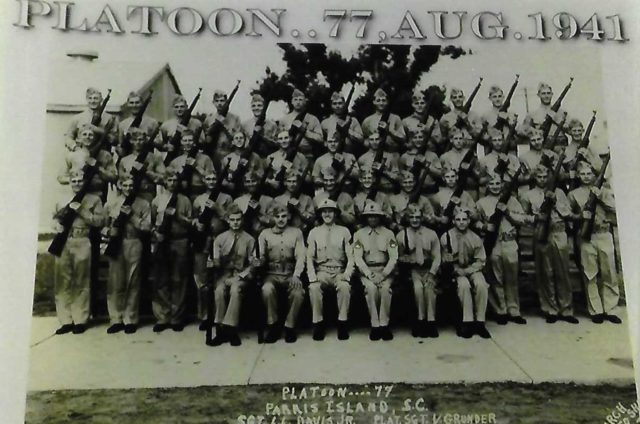 His first assignment took him to Pearl Harbor in 1942, where he would board the U.S.S. Saratoga to join with Marine Air Group 21, bound for Wake Island. While in route the fleet was informed of the taking of Wake Island by the Japanese, redirecting the Saratoga to Midway, physically stationing the squadrons on Eastern Island. Once set up, PFC Crook's duty was to refuel the squadron's F2A Brewster Buffalo Fighters. The Battle of Midway would conclude with a sixty-two percent casualty rate for his squadron, and earned him a letter of commendation for conspicuous courage and heroic service from Frank Knox, Secretary of the Navy under Franklin D. Roosevelt.
His last tour of duty, began in 1966, when he voluntarily came out of retirement to serve not one, but two tours in Vietnam with the First Marine ­­­­­­Aircraft Wing, under President Lyndon Johnson.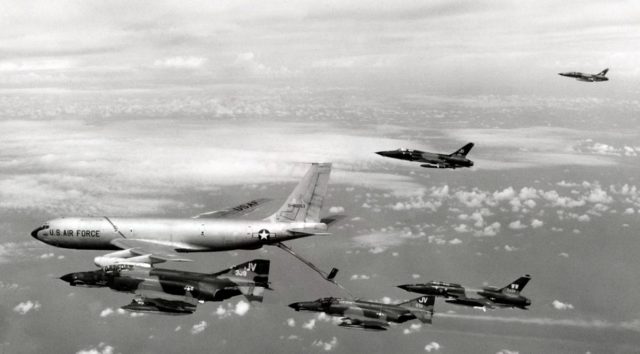 Along with his accounts of battles, fought alongside his many brothers, some still living but many who have since passed on, this witty Marine had his share of funny, personal stories as well. Like his account of his time at in 1945, while still stateside, of Bob Keeshan who was briefly his bunk mate, long before he was Captain Kangeroo and his "admitted" but "void of detailed account" of "going on liberty" with Shirley Temple's brother! He went on to tell me about a particular afternoon in Vietnam in 1966.
While busy at his desk one afternoon he looked up to see none other than John Wayne, who had quickly made his way into the tac office in an attempt to hold a conversation with Mr.Crook. Before he was gruffly ordered back to the set by the director of his latest film, he was heard saying, in that infamous John Wayne drawl, "I don't want to talk to actors and people who just know highlights, I want to talk to real Marines that have done it!"
My favorite story told that afternoon was one from way back in 1943.
On a quiet afternoon while serving as Squadron Chief of the F 4 U, Corsair Fighting Training Unit, at El Toro California, Mr. Crook was summoned his Commander's office to be briefed and introduced to a man by the name of Colonel Charles Lindbergh! Mr. Crook was told that he would be readying planes for Colonel Lindbergh as needed, as Colonel Lindbergh was there to try to make sense of the reason behind the loss of eight pilots over the last few weeks due to the continual crashing of the F 4 U, Corsair, aka, Whistling Death. The pilots in charge of test flights would perform maneuvers that required them to take the aircraft up into a loop.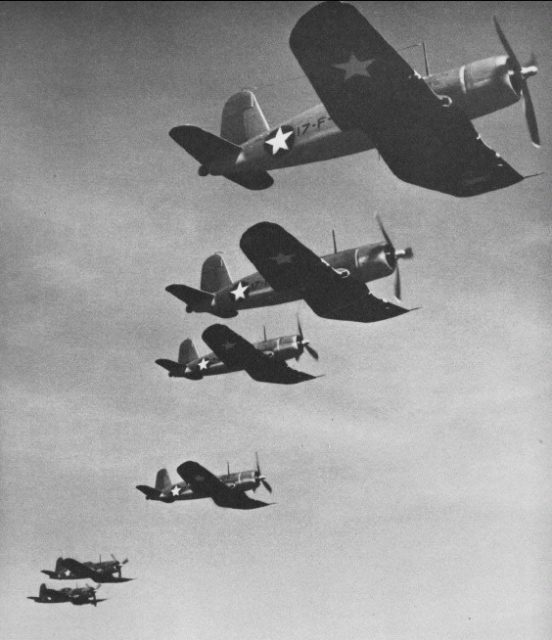 When they would cut the engine at the top of the loop the plane would fall from the sky. One afternoon Mr. Crook, approached the Corsair that Lindbergh had just landed in order to help him from the plane. As Mr. Crook loosened the harness he noticed that Lindbergh seemed confused and appeared quite pale. Upon the second question of "Colonel Lindbergh, Sir, are you sure you are feeling okay?" Colonel Lindbergh assured Mr. Crook that he was, in fact, feeling very okay, as he had discovered the reason the pilots had crashed the Corsair.
He explained the Corsair had unparalleled power and performance due to the "inverted gull wing," as it reduced drag and weight, so combined with the aircraft's center of lift that lowers relative to the center of gravity, the Corsair had the ability to simply pull through the loop, restabilize and continue in flight, provided the pilots did not cut the engine while taking the aircraft up into the loop portion of the maneuver. Colonel Lindbergh's discovery during the test flight that day prevented any further pilot death as the result of this type of maneuver. Mr. Crook went on to tell me that several years passed after this encounter with Lindbergh, and he wanted so badly to visit Lindbergh's gravesite.
On a much-anticipated trip to Hawaii he and his wife, VI, weren't having much success locating the grave site, as at that time the location of the grave was kept a bit secret. Mr. Crook saw a park ranger and inquired if he might know where Colonel Lindbergh's grave was located. A park ranger agreed to help Mr. Crook locate the grave site and instructed him to "go a few miles back" to the Palapala Ho'omau Church that sits on the island Hana Maui. This gravesite today is one of the most visited sights by tourists, however, on that day in the quiet sanctuary of those beautiful gardens, Mr. Crook and his wife had a cherished few moments of privacy at the grave of the man that greatly impacted his life.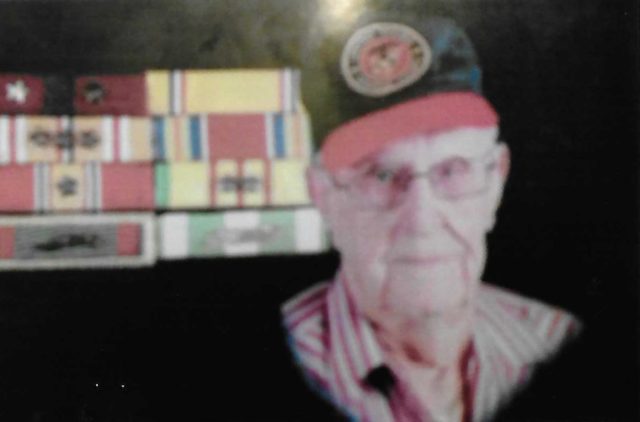 Prior to arriving at the Crook's home that afternoon, I explained to my husband that we would probably be finished with the interview and back on the road within 45 minutes to an hour. It was with great sadness of heart, three hours after the interview began, my husband and I knew that it was time to depart, as Mr. Crook seemed to be tiring a bit.
Mr. Crook and his wife told us that we are always welcome to visit as he walked us to the door. As I hugged this great man whose body began to show signs of brief periods of weakness as the afternoon drew to a close, one thing remained very apparent. Somewhere inside this great man, that incidentally, shares the same birth month and day as my daughter, and whom we all remain forever indebted to, still resides the sharpness and quick wit of that sixteen-year-old young man who relished those secret hunts on the grounds of the Biltmore Estate so many years ago.
By Tammy Watson
All photos of Mr. Crook provided by the author.