War History online proudly presents this Guest Piece from Jeremy P. Ämick, who is a military historian and writes on behalf of the Silver Star Families of America.
In his days of youth growing up on a small farm between the rural communities of Latham and Fortuna, Mo., Kay Hofstetter remembers his older brother Gilbert leaving home to help his grandparents on their nearby farm. During WWII, his brother would again leave, this time to serve his nation. This departure, Hofstetter said, resulted in his brother laying down his life in service to his country, leaving behind grieving parents and eleven siblings to carry on his memory.
"He was the second oldest of twelve kids," said Kay Hofstetter, describing his family. "Everybody liked Gilbert; he had coonhounds and he and his buddies enjoyed going coon hunting when they had the opportunity," he added.
While working on his grandparent's farm, the 21-year-old Gilbert Hofstetter was inducted into the U.S. Army at Jefferson Barracks, Mo., on October 14, 1941. From there, he traveled to Ft. Riley, Kan., and completed boot camp and went through cavalry training.
Weeks later, the young farm worker from Mid-Missouri was sent to Ft. Bliss, Texas, where he and his fellow soldiers were assigned to the 7th Cavalry Regiment and continued to train as horse cavalry. This would become, however, the last time many of these soldiers were to serve on horseback during the war.
A website dedicated to the history of the 1st Cavalry Division and its subordinate units explains that in February 1943, "the entire 1st Cavalry Division was alerted for an overseas assignment as a dismounted unit (foot soldiers)."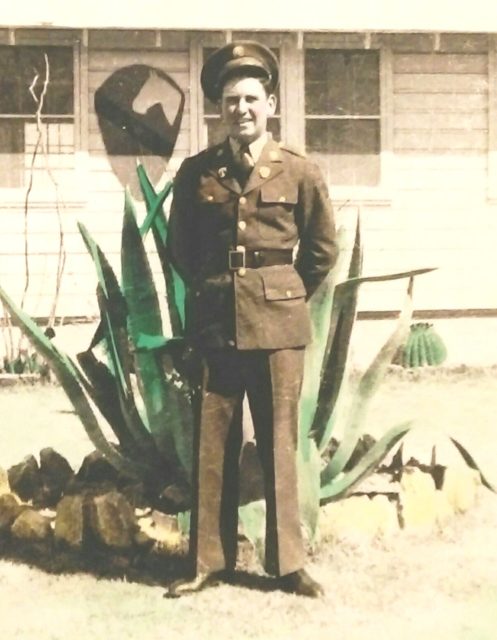 Several months later, in June 1943, Hofstetter and the soldiers of the division traveled to California and boarded troop ships. A few weeks later, they arrived in Australia and completed several months of amphibious and jungle warfare training. In January 1944, they left for New Guinea and, weeks later, sailed for islands to the north, where they would soon acquire their first taste of combat against Japanese forces.
"The next important step in General MacArthur's plans was a proposed landing in the Admiralty Islands, lying west of New Britain," wrote Trevor Dupuy in his book "Asiatic Land Battles: Japanese Ambitions in the Pacific." He added, "The Admiralties were important because of their airfields and harbors …"
The 7th Cavalry Regiment exemplified the stalwart courage of the American soldier during the Admiralty Campaign, performing assault maneuvers and later conducting "mop up operations … all over the northern half of Los Negros Island," the previously mentioned 1st Cavalry website explained. This was followed by the invasion of Manus Island, all of which resulted in 43 dead and 17 wounded for the regiment by the time the campaign ended on May 18, 1944.
Hofstetter had received his baptism of fire and for the next five months, conducted extensive training in preparation for yet another major combat operation of the war—the Battle of Leyte in the Philippines.
Operating under the 6th U.S. Army, Hofstetter and the men of the 7th Cavalry Regiment were part of a force totaling nearly 100,000 combat troops that on October 20, 1944, following naval bombardment of the eastern coast of the Philippine island, began to "sweep toward the beaches of a front eighteen miles long," wrote Dupuy.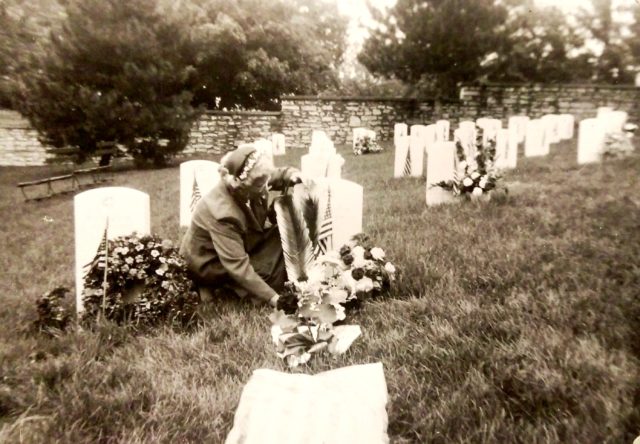 "Gilbert was killed on October 21 (1944)," said Kay Hofstetter, when describing his older brother's overseas service. "According to one of the soldiers that served with him, he was shot by a sniper."
Shortly thereafter, back home in Missouri, Hofstetter's family would discover the callous manner in which families were at one time informed of the death of a loved one serving in the military.
"When he was killed, I can remember seeing my mother walk down to get the mail and then going to sit down on the steps," said Kay Hofstetter. "I could tell that something was wrong and I went and got my dad." With a somber pause, he lowered his head and added, "It was the telegram from the Army saying that Gilbert had been killed. I don't know how my mom stood it."
The recipient of a Bronze Star and Purple Heart, Corporal Hofstetter was first laid to rest in the Philippines inside the Leyte Military Cemetery. However, in February 1949, his remains were returned to the United States and buried with full military honors in the Jefferson City National Cemetery following a service held in California, Mo.
While recounting details of the funeral ceremony held decades ago, Kay Hofstetter noted, "I just remember seeing both the flags—the U.S. and the Army flag—on each side of his casket. He also had two Army guards standing by his casket and it was a very impressive site for a young boy."
In the years following Gilbert Hofstetter's burial in Jefferson City, Kay Hofstetter explained, his mother never missed an opportunity to visit her son's grave every Memorial Day until her passing in 1993—a tradition that the late soldier's younger brother strives to carry on.
"He gave his life in service to his country and for me. On Memorial Day, it's not a sacrifice to go to Jefferson City to honor his memory," said Hofstetter. "I have always gone and will continue to do so as long as I can."