By Jeremy P. Amick
According to the website of the Tipton (Mo.) Chamber of Commerce, the community of Tipton retains a rich military legacy. During the War of 1812, William Tipton Seeley enlisted in the the Virginia Volunteers and years later received land grants for payment of his military service, which he then used to establish a settlement in the area of central Missouri now known as Tipton.
Throughout her past, the community has grown to become home to veterans representing many backgrounds and unique experiences. This impressive list includes black soldiers who served with the United States Colored Infantry Regiments during the Civil War in addition to scores of residents who represented the country in the Spanish-American War, both World Wars, Korea, Vietnam, Cold War … and even those who continue to serve to this day.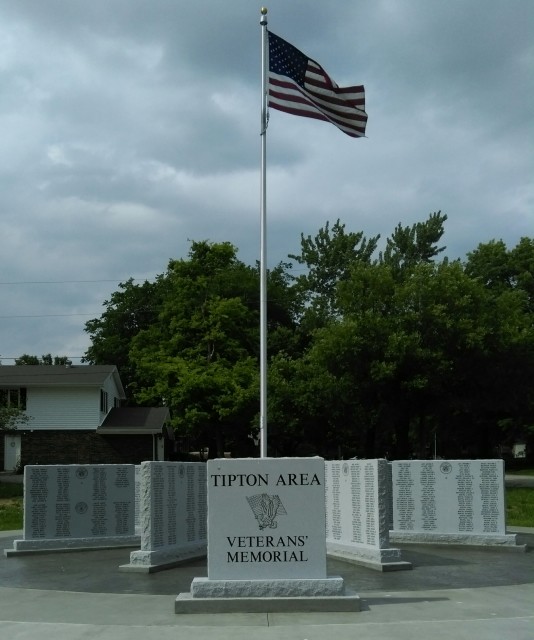 A veteran of the Army National Guard, Tipton resident Benny Hainen noted it was his father's service in World War II, combined with visits to veterans' memorials throughout the United States, which has inspired him and his wife to identify a way to honor the veterans of the community they call home.
"We'd stop around little towns and see the monuments they had dedicated for their local veterans," Hainen said. "I can remember seeing the one in St. Elizabeth and saying to myself, 'I would really like to see something like this here in Tipton,'" he added.
"At first, our intent was to create a smaller memorial, but then we started visiting other memorials (in other states) to try and get ideas for ours, it eventually reached the point where we decided we wanted this feature and that feature and it quickly turned into a monument with several upgrades," he smiled.
With the support of his wife, Glenda, the Hainens eventually began to search for locations throughout Tipton that would serve as an ideal site to host the monument. Hainen explained that is when they approached the city council to inform them of their plans for such a monument, they immediately received an affirmation of support from the city.
"After we got the plans for the monument together and shared them with the city council, they gave us the perfect location inside the current city park," Hainen recalled.
Designed by an architect from Columbia, Mo., Hainen noted that the layout of the monument is such that it can be expanded in later years to accommodate the addition of names of any local men and women who continue to volunteer their services in the armed forces.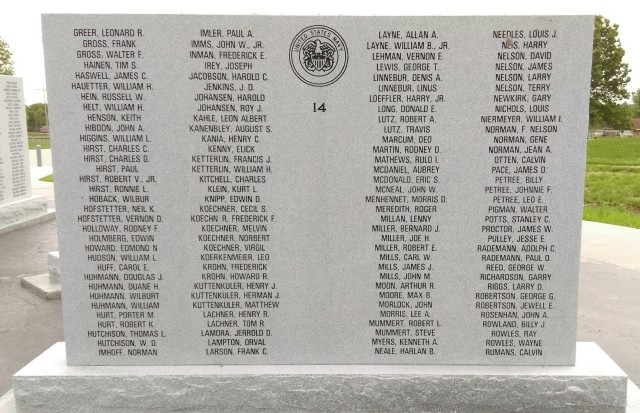 With eight granite markers spaced evenly in a circular pattern, each marker in the monument is dedicated to a specific branch of the military and includes the inscribed names of men and women from the Tipton area who served in that particular branch.
"The monument has been designed so that there is room to add another ring (of granite markers) if necessary," said Hainen. "This is not only a monument for those who have served, but those who are now serving and those that will serve in the future. It was designed so that we have room to grow."
Local historians James Albin and Gloria Knipp worked diligently for more than a year to compile a list of local veterans whose names were then engraved on the monument. With the help of Perry Luetkemeyer—a business partner and friend of Hainen—and other members of the community, the construction of the monument was completed in 2015 and dedicated during a special ceremony held on July 4 the same year.
Though funded by the Hainen family, when looking back on the time, work and expense involved in bringing to reality their vision of this tribute to local veterans, Hainen affirms that the money donated for the monument was never a consideration. Instead, he and his wife view it as an opportunity to demonstrate "the community's great respect and support for those who have served."
Hainen noted, "There are people who come by to thank us for the monument but that isn't the reason we did it; but it's nice to know that others appreciate it as much as we do and I think that our town is as proud of it as we are. Families that go there enjoy seeing the names of their loved ones listed—it give them a sense of pride to see them recognized."
Glenda Hainen concluded, "We are so appreciative that we can live in a country where we can enjoy our freedoms. It is because of the love and dedication of our veterans," she paused, "they are the reason that we can even have this park to enjoy.
"Let's just say that this was something that we feel so thankful that we were able to do."
Jeremy P. Ämick writes on behalf of the Silver Star Families of America.