American heavy metal band promotes resources to assist veterans
By Jeremy P. Amick
Five Finger Death Punch (5FDP)—an American heavy metal band from Las Vegas—has partnered with the Silver Star Families of America (SSFOA) and other military charities to honor the nation's veterans by promoting resources to assist those dealing with post-traumatic stress disorder.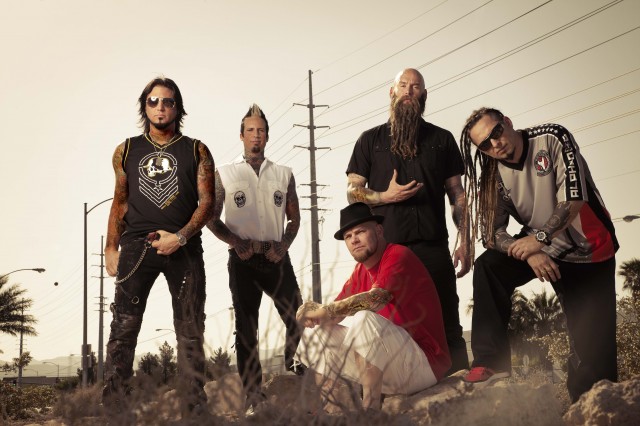 A non-profit based out of Clever, Mo., the SSFOA's primary mission is to recognize and support veterans who are wounded, injured, or have acquired an illness related to their service in a combat zone.
"I've always kind of been a military enthusiast," said Jason Hook, lead guitarist for the 5FDP. "I have shelves and shelves of military documentaries covering just about every conflict," adding, "and seeing the living conditions (the veterans) had to endure, the situations … it is really hard for the public to comprehend."
Though 5FDP has enjoyed a colossal level of support from the military community over the past several years, Hook notes that the two trips he has made to the Middle East to perform for the troops are an experience forever embedded in his memory.
"We played some shows for the troops … and it was awesome!" he exclaimed. "While we were there, the guys told us (the USO) always sent country music acts and such, but we were told that they had specifically asked for us to come."
In 2010, the band released their own cover of the Bad Company hit "Bad Company," using footage they had recorded while performing for U.S. servicemembers serving in the Middle East.
"Everyone was so into our visit and our peformances, that we decided to use the footage from our interactions with the soldiers in the video," Hook said. "We (the band) all agreed that it would be more compelling if we treated it as a military documentary and used it as a salute to their service."
In their recent release of the video "Wrong Side of Heaven," 5FDP shares several alarming statistics related to the consequences of PTSD—a condition that can develop after exposure to a traumatic event. The video cites the high rates of homelessness, divorce and suicide among the nation's wounded warriors.
"We've always kind of kept our subject matter focused on real things for real people," Hook explained. "The issues we address in the new video are things that we want to expose, to help these brave men and women find assistance in coping with."
In addition to the recent video release of "Wrong Side of Heaven," Hook said that the band will soon launch the website www.5fdp4Vets.com to promote a range of resources for veterans and their families and to solicit donations to support these causes as well.
In closing, Hook noted that although the band's music and video work could take many forms and artistic directions, they choose to focus their efforts on providing something of value to the military fans that have supported them throughout the years.
"We could easily shoot a music video on stage in front of a bunch of screaming fans and smoke," Hook said, "but we really aren't contributing anything when we do that.
"This gives us a way to honor and give something back to those in the military (and veterans) who have sacrificed so much for us and then end up needing a little assistance once they have completed their service."
For more information on Five Finger Death Punch, please visit www.fivefingerdeathpunch.com.
Jeremy P. Ämick writes on behalf of the Silver Star Families of America.
Jeremy P. Ämick
Public Affairs Officer
Silver Star Families of America
www.silverstarfamilies.org
Cell: (573) 230-7456