War History online proudly presents this Guest Piece from Jeremy P. Ämick, who is a military historian and writes on behalf of the Silver Star Families of America.
Since 2001, Operation Bugle Boy (OBB) in Jefferson City has striven to honor veterans through a range of programs, the highlight of which is a dinner held the week before Veterans' Day with a program that includes guest speakers from fascinating backgrounds and with inspirational stories to share.
This year, as part of an effort to recognize veterans who embarked upon secondary careers as first responders, firefighters or those in law enforcement, OBB welcomes an out-of-state guest who rose to the national stage through heroic efforts that helped lead to the capture of criminals responsible for the Boston Marathon bombings in April 2013.
Sergeant Jeffrey Pugliese of the Watertown (Massachusetts) Police Department, who has been recognized through national accolades and has had much of his personal history shared in the recent movie "Patriot Day," acknowledges his Cold War service in the Army for providing him with the initial footing to achieve his goal of becoming a police officer.
"There were 11 of us children growing up and my father was a police officer, so he wasn't making a lot of money," said Pugliese during a recent phone interview. "My parents were always able to make ends meet but there wasn't any extra money to send us to college," he added.
As Pugliese explained, he enlisted in the Army a couple of months prior to his graduation from Watertown High School in 1974 with hopes of acquiring G.I. Bill benefits that would allow him to later attend college while also gaining a military police (MP) background that might benefit him in the years to come.
"I enlisted after the Vietnam draft had ended and the Army recruiters said if I enlisted for two years, I could choose either the career field I wanted to serve in or my duty location," he said. "But if you enlisted for three years, you had choice of both the job you wanted and duty location."
Making the decision to enlist for three years through the encouragement of his recruiter, who had served as an MP in Germany, Pugliese received the guarantee of training as a military policeman in addition to an assignment in Germany once he completed his initial training.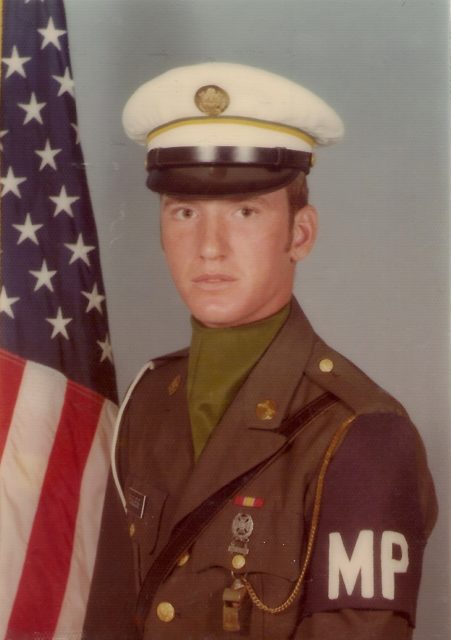 The 18-year-old enlistee traveled to Ft. Jackson, South Carolina, in July 1974, where he spent several weeks undergoing basic military training. From there, he reported to the military police school at Ft. Gordon, Georgia, for eight weeks of military law enforcement training.
"The MP training introduced us to several fundamental law enforcement procedures—patrolling, crowd control and rights of arrest," he said. "They also reiterated some military maneuvers that might be used in crowd control situations such as pincer movements and flanking maneuvers."
When his initial training was finished in late November 1974, Pugliese returned home for a brief period of leave before reporting to his new duty assignment with the 287th Military Police Company in Berlin, which, the veteran explained, was housed in Hitler's former SS Barracks.
"At that time, East Berlin was still under Soviet Control and the Berlin Wall was the dividing line," Pugliese said. "West Berlin was divided into sectors patrolled by Americans, French and British troops," he added. "I worked to patrol the American sector, responded to calls or incidents that involved American soldiers and worked checkpoints between East and West Berlin."
In early January 1975, Pugliese transferred to a support detachment situated near Helmstedt, Germany, where he continued to work alongside French and British troops at a border checkpoint designated as "Checkpoint Alpha."
"I spent most of my career with the detachment in Helmstedt," said the veteran. "My primary duty there was to help process American military members, their dependents and employees of the United States government entering West Germany," he said. "The French and British processed personnel from their respective countries."
Pugliese further explained that their duty location was a mere "25 yards or so" from the view of well-known, iconic example of Cold War history."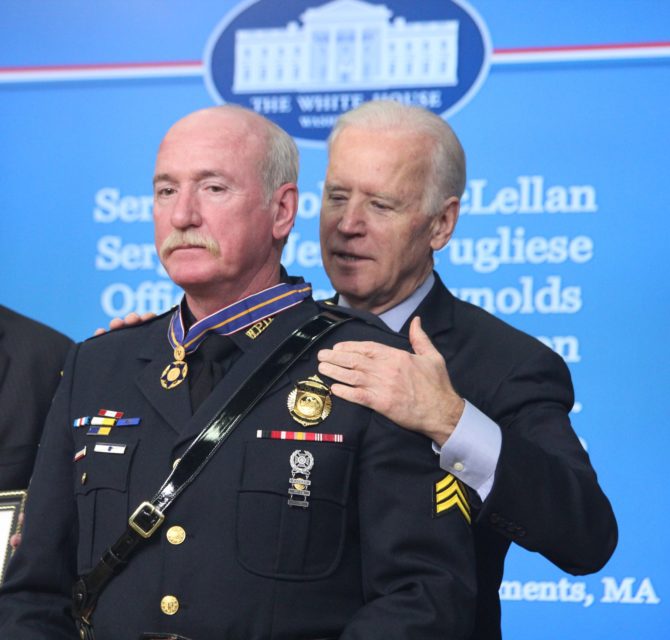 "We worked along the border between East and West Germany and we could look over and see the East German guards in their watch towers looking down on us with their AK-47s," he said.
While living and working in the country, Pugliese met Conny—a German citizen whom he married 1977. Months later, in February 1978, the Army MP completed his tour of duty (after having extended his 3-year enlistment by 8 months) and returned to Massachusetts with his new wife.
In the years that followed, Pugliese used his GI Bill benefits to earn an associate's degree in business management, and has gone on to earn both bachelors and masters degrees in criminal justice. He was hired by the Watertown Police Department in 1980 and continues to serve as one of three night shift patrol supervisors.
Circumstances unfolding in 2013 during the Boston Marathon bombings may have skyrocketed Pugliese into the national spotlight, but as the former military policeman confirmed, were it not for the training and resources acquired during his service with the U.S. Army decades ago, he may never have achieved the early goals he established for himself.
"Serving as a military policeman in the Army was part of my anticipated career path and all part of my plan," he explained. "I went in the military to acquire the GI Bill to attend college while also receiving the training to become a military policeman, which I thought would build my resume and help me get on the (police) force someday."
He concluded, "When I had my police interview back in 1980, the interviewing board asked me why I thought I had the abilities to be a police officer. When I explained to them all of the work that I did as an MP in Germany, I had the feeling that they felt that even though I was only 23 years old at the time, they were already getting an experienced police officer."