War History online proudly presents this Guest Piece from Jeremy P. Ämick, who is a military historian and writes on behalf of the Silver Star Families of America.
World War II history contains many heroic endeavors such as B-17 Flying Fortresses lumbering through dangerous skies filled with German fighters to bomb targets in distant lands. These missions would go to great lengths in bringing the war to an end but not without significant cost in both aircraft and the lives of scores of young aviators.
The Eighth Air Force, as explained in "World War 2 in Review: American Airpower (Issue 3)," would incur casualties amounting to more than 47,000, with 26,000 of these being men who were killed. This staggering loss accounted for more than "(h)alf of the U.S. Army's Air Force casualties" of the war.
What these numbers fail to reveal are the individual sacrifices involved in combat—people such as the late Carl Landwehr, who, shortly after the attack on Pearl Harbor, left his job and said goodbye to his girlfriend to enlist in the military. This dedication, noted his nephew, Joe Landwehr, is worthy of remembrance and has become a focus of his efforts to preserve the memory of his uncle.
"Carl was the youngest of ten children and grew up on the Landwehr dairy farm along Boggs Creek near Jefferson City," said Joe Landwehr. "He had many friends and loved taking trips to neighboring states for fishing and sightseeing."
As a retired engineer, Joe Landwehr has dedicated countless hours to researching his uncle's background. His inquiries reveal that Carl moved to Tennessee in 1939 to accept a sales position with H.J. Heinz Company and later went to work for the Lipton Tea Company. While living there, he began dating an attractive young woman named Mary Agnes Carrigan.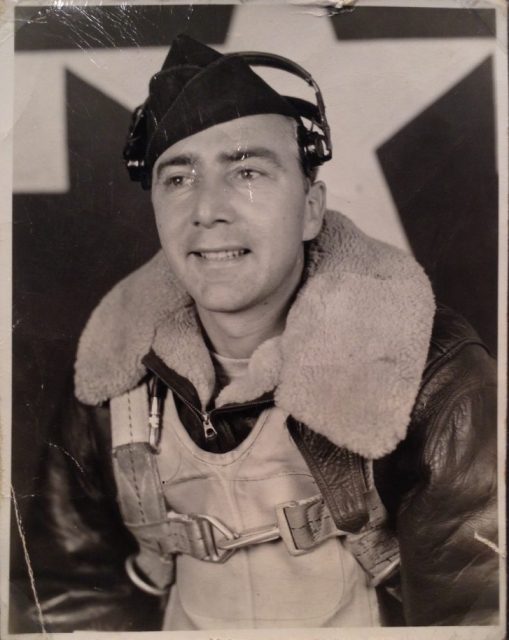 Carl Landwehr's military journey commenced with his enlistment in the U.S. Army Air Forces (which became the Air Force in 1947) on January 2, 1942. He then traveled to Ft. Oglethorpe, Georgia, for induction and from there "was assigned to various Army forts for aircraft and mechanical training," explained his nephew.
Interviews with family and examination of mounds of military reports and documents have provided Landwehr with much information on his uncle, including his attendance at aircrew basic training at Miami Beach, Florida.
"By early 1943, he and Mary Agnes decided they would marry the next time Carl was on leave but a big church wedding was not possible due to the uncertainty of his training schedule," said Landwehr. "So, they married at a church in Arkansas on March 16, 1943 and, after the honeymoon, Carl went back to training and his wife stayed with her mother in Memphis."
The young aviator completed training as a tail gunner for a B-17 Flying Fortress—a four-engine heavy bomber built by Boeing—in locations including MacDill Field, Florida, and Hunter Field, Georgia. He was eventually assigned to the crew of 1st Lt. Harry Silverstein, after which the crew sailed for Scotland in late spring 1944.
On July 31, 1944, as members of the 614th Squadron of the Eighth Air Force, they flew their first mission in their B-17G named "Cover Girl" and bombed a German aircraft assembly plant in Munich. Although Landwehr served as a tail gunner during their first six missions, he soon received promotion to a new position.
"Carl was promoted to togglier and sat in the front of the aircraft in the Plexiglas nose in the bombardier's seat behind where a Norden bombsight was installed," Landwehr said. "At this point in the war, only the lead ship and a couple of deputy leads were equipped with the Norden sights and Carl, as togglier, would release his bombs when saw the lead ship release theirs."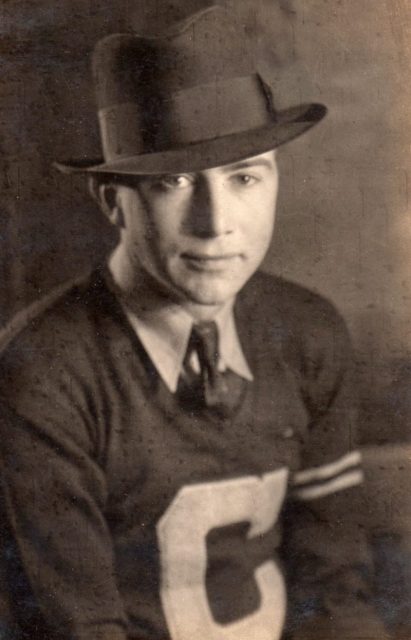 In his book "Blown to Bits: 20,000 Feet over Ploetsi," Leon Cooper stated the Norden bombsight was "very high tech for its day and was so secret that bombsights were kept locked in secured vaults with military guards present." He added, "On the day of the mission, the bombardier was escorted to the site by military police, the vault was opened, and the Norden bombsight was removed and transferred to the bombardier."
The crew with whom the aviator served would complete 18 missions by the end of September, explained Joe Landwehr. During several of these missions, he added, other aircraft in their flight groups were attacked by the German Luftwaffe (Air Force) fighters, resulting in the loss of both life and aircraft.
Though they had avoided serious damage up to this point, it was during a mission on October 7, 1944 when their B-17 was struck by anti-aircraft fire while on their way to bomb a synthetic oil plant in what is now western Poland. The resulting explosion caused their right wing to catch fire and separate from the fuselage of the aircraft.
"This caused the aircraft to slip into an uncontrollable dive and explode," said Landwehr. "Three airmen, including Carl, were able to get out of the plane and pull their parachute ripcords. Carl and a fellow aviator landed in the bay and drowned," he solemnly added.
He and his fellow aviator, Francis Meyers Jr., were initially interred by the Germans at a military cemetery near Lübzin, Germany; in 1949, their remains were moved to the Ardennes American Cemetery at Neuville-en-Condroz, Belgium. In the years after Carl's death, his widow remarried and went on to raise four daughters and a son in Memphis prior to her passing in 1995.
Carl Landwehr's siblings and widow are all now deceased; however, Joe Landwehr says it is his intent to collect all available information on his uncle's life and military service to ensure the memory of the commitment he made to his country does not fade with the passage of years.
"People were so brave back in WWII to sign up to go to war against Germany," said Landwehr. "And for anyone who dies for their country, I think we should have a little more of their story to share than a simple, five-inch obituary," he added.
Joe Landwehr has created the following website to perpetuate the memory of his uncle, Carl Landwehr: https://carlwlandwehrww2kia.wordpress.com.