By Jeremy P. Ämick
Prior to December 7, 1941, World War II had not fully awakened America since the unexpected devastation from the bombing of Pearl Harbor was yet to occur, thus thrusting the nation into a major mobilization of her resources.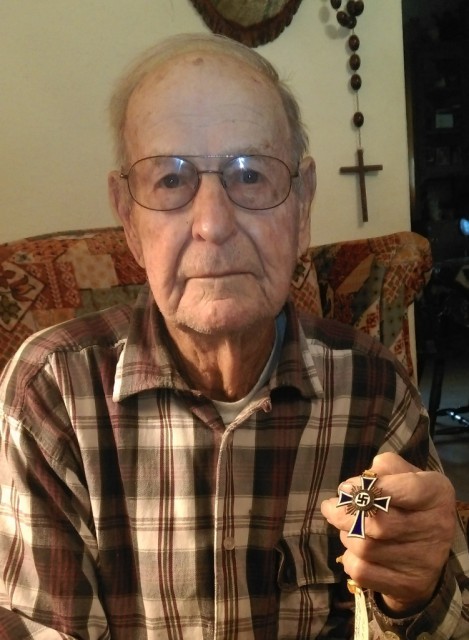 For that reason, when Henley, Mo., resident Norbert Gerling received his draft notice on November 7, 1941, he was rather surprised.
"I remember being one of the first—if not the first—from the area to be drafted," said Gerling, 95. "They really made a big deal of it around here because the war really hadn't started yet."
Gerling would go on to train with the U.S. Army's newly formed 609th Tank Destroyer Battalion, serving as a gunner on an M-18 Hellcat— minimally armored tanks with a top speed of 60 mph and armed with a 76 mm cannon.
"The German tanks had the best gun—that 88 mm was a mean cat," he grinned. "But our tanks were faster and more accurate."
As a young tanker, Gerling arrived on Utah Beach in France in late August 1944 and traveled more than 1,200 miles across Europe, eventually entering the Battle of the Bulge on Christmas Eve the same year.
Engaged in what he modestly described as "a battle here … a battle there," the veteran's service brought him to Nuremberg, Germany, following the end of hostilities in Europe, where he and his fellow tankers began transporting their tanks to a depot in preparation for battles they believed yet to come.
"They were going to ship our tanks to Japan for the invasion of the Japanese mainland," Gerling said. "But (President) Truman dropped the bomb and the Japanese surrendered. Luckily, we didn't have to go."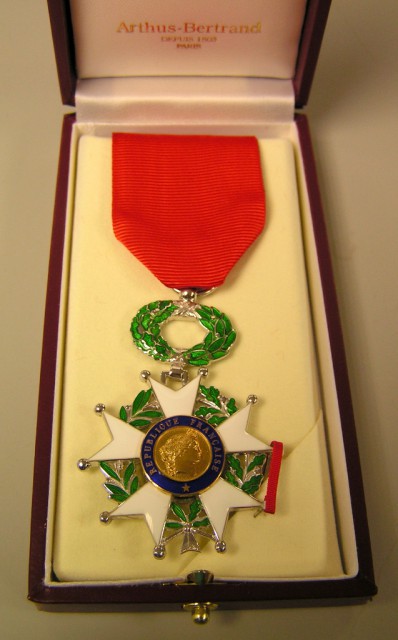 While on a break between tank drop-offs in Germany, Gerling recalls "nosing around" through a bombed-out industrial building, at which point he made an interesting discovery.
"I found a German Cross on the ground inside this building and picked it up and brought it home with me," he said. "We (soldiers) were always finding trinkets and trading stuff with each other to bring back with us," he added.
The "Mother's Cross" was instituted in 1938 by Adolph Hitler, according to an article on the History Channel website. It was awarded as encouragement for German women to have more children, and the type of medal varied according to the number of children a mother had.
The cross Gerling discovered was bronze; therefore, it had been presented to a mother with five children. (The silver crosses recognized mothers with six children and gold crosses for those with seven or more children.)
More than seventy years after retrieving the German decoration from the wreckage in Nuremburg, Gerling wishes to share the history of his now-historic discovery by donating it to the Cole County Historical Society for display and educational purposes.
However, just when the former soldier's collection of medals appears to have decreased, a venerated French medal with roots dating back to 1802 and Napoleon Bonaparte will soon replace it.
"It is a great honor and privilege to present you with the Knight of the Legion of Honor medal," said Vincent Floreani, Consul General of France in Chicago, in a letter advising Gerling of his most recent award.
"To show our eternal gratitude, the government of the French Republic has decided to award you the Legion of Honor," he added. "Created by Napoleon, it is the highest honor that France can bestow upon those who have achieved remarkable deeds for France."
The medal was previously issued to American veterans of World War I, but in 2004, eligibility was extended to veterans of the Second World War.
To be considered, veterans must have fought in one of the three main campaigns in the liberation of France and submit an application through their nearest French consulate with copies of all citations already received from France or the U.S. for meritorious actions during wartime.
The medal is not awarded posthumously.
Missouri Gov. Jay Nixon recently presented the medal to Gerling in a private ceremony in his Capitol office.
No stranger to accolades, Gerling was the recipient of a Bronze Star Medal for "heroic achievement in connection with military operations against an enemy of the United States at Trier, Germany on 7 March 1945," his citation reads.
Several decades ago, when he was a young boy crossing the river on a small skiff to attend Catholic school in St. Thomas, Mo. (and later a rural school outside of Henley), Gerling never expected to become a repository of historic events—nor were such things of interest to him.
"I really didn't like history in school," Gerling smiled, "but for some reason I remember all of the dates of things that happened."
He added: "I remember clearly in my mind what took place during the war … all of the place's I've been."
Jeremy P. Ämick writes on behalf of the Silver Star Families of America.
Jeremy P. Ämick
Public Affairs Officer
Silver Star Families of America
www.silverstarfamilies.org
Cell: (573) 230-7456