War History online proudly presents this Guest Piece from Jeremy P. Ämick, who is a military historian and writes on behalf of the Silver Star Families of America.
When visiting with veterans from any era, it is easy to discern the camaraderie that exists amongst those who shared a history of grueling experiences. For those who have served overseas during a period of war, being away from loved ones seems to help cement the bond that exists between those in uniform and highlights the reality that veterans oftentimes choose only to share their stories with fellow veterans.
When returning from their service, these individuals focused on the civilian endeavors they previously left behind. Although they went on to marry, grow their families and build respectable careers, many passed away years later, leaving behind few insights into their military experiences, as was the case with the late August Rockelman.
Born on a farm near Russellville, Missouri, on August 19, 1916, Rockelman was within the age range that mandated his registration for the military draft in late 1941. In the next few weeks, the United States was drawn into World War II and began the largest mobilization of troops in the nation's history.
"He belonged to the VFW in California and the American Legion post in Russellville after war, but he never talked to me much about his service," said his wife, the late Dorothy Rockelman. "Since he was really active with those groups, I'm sure they shared their stories with each other."
According to Rockelman's military discharge papers, the ubiquitious draft finally snatched the young farmer only a few months after the declaration of war, necessitating his induction into the Army at Jefferson Barracks in St. Louis on April 30, 1942.
The recruit was later assigned to the 13th Chemical Maintenance Company (CMC), which, according to the Center of Military History for the United States Army, was activated at Camp Rucker, Alabama, on June 1, 1942. While there, Rockelman underwent the training to become a munitions handler, learning to safely handle different types of ammunition and explosives.
Rockelman's company remained at Camp Rucker through February 1943, at which time they traveled to Camp Young, California, for training to prepare them for overseas service in the coming months.
As explained by the U.S Army's Center of Military History in the book "The Chemical Warfare Service: Organizing for War," training was a key reality for these soldiers since "units had to know how to live in the field as well as how to perform their technical functions in the field. They had to be able to pack and transport their equipment—whether a chemical laboratory or a smoke generator—and to set up and begin operations where needed in the combat zone."
This book goes on to explain that the 13th CMC to which Rockelman was assigned, was considered a ground service unit "intended to perform technical or service functions of noncombatant nature with the field force" and with the focus of limiting "the effectiveness of hostile gas attacks…"
In the fall of 1943, with their training complete, Rockelman and his fellow soldiers departed their training site in California and went on to serve nearly two years in Europe. The veteran would earn five bronze campaign stars in support of operations including the Ardennes, Normandy, Rhineland, Central Europe and Northern France.
Although the 13th CMC was not a frontline combat unit such as those glamorized and glorified through scores of Hollywood blockbuster war films, the company's efforts were recognized by the military leadership as having played an essential role in averting a potentially deadly threat.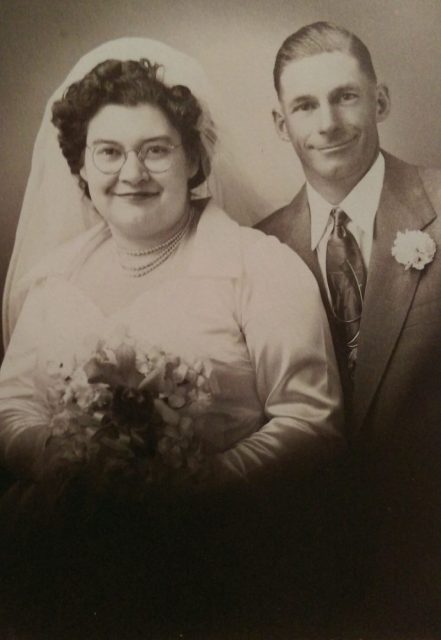 In postwar reflection, the U.S. Army Center of Military History acknowledged that one might question whether so many chemical units were necessary since the outcome for which they trained never surfaced. However, the center noted, a delay in the "activation of chemical troops would have been dangerous in that it could easily have encouraged the Axis powers, especially Germany, to initiate gas warfare."
The war ended in Europe with the surrender of Germany on May 8, 1945, but the 13th CMC remained in Germany as part of the occupational forces. Rockelman returned to the United States and received his discharge from the Army on October 16, 1945.
The veteran soon shifted his focus back to raising cattle, crop farming and earned an Institutional On-Farm Training Certificate through night courses offered by the Department of Education at Russellville High School in 1951. The following year, he married Dorothy Hiemeyer, with whom he raised two children.
In the years after the war, Rockelman continued to pursue available educational opportunities and put into practice many of the lessons learned on his farm. In addition to his agricultural endeavors, he remained actively involved with Trinity Lutheran Church in Russellville; however, provided little reflection into the details of his overseas service in World War II.
"He always remained very active and dedicated to the VFW and the American Legion and even served as the flag bearer in several parades," explained Rockelman's wife. "But even through all of that involvement, he never talked much about the war and he certainly never wanted to travel to Europe again."
Gently, she added, "Regardless, he was always very loyal to his country, church and community."
August "Augie" Rockelman passed away on May 13, 2006 and was laid to rest with military honors in Trinity Lutheran Cemetery near Russellville. Dorothy passed away August 14, 2017 and was laid to rest alongside her husband.