War History online proudly presents this Guest Piece from Jeremy P. Ämick, who is a military historian and writes on behalf of the Silver Star Families of America.
 At 93 years of age, Gail Farrell has maintained much of his youthful enthusiasm by continuing to enjoy a single Guinness beer a day while sharing stories of his service during World War II. The war, he recalled, was a brief period of his distant past, yet has imbued him with many fond memories that became his introduction into a lengthy involvement with the United States Air Force.
"I grew up during the Great Depression and my mom moved all five of us kids from Colorado to our grandmother's home in Manhattan, Kansas," Farrell said. "I spent my growing-up years there—from about four or five years old through high school."
As Farrell explained, he made the decision to help do his part for the war effort by enlisting in the Army Air Forces as an aviation cadet prior to leaving high school in 1943. In the weeks after his graduation, he was on his way to Ft. Leavenworth, Kansas, for induction into the service.
"They sent me down to Miami Beach in the middle of August for boot camp," Farrell recalled. "It sure was a hot summer and it really stunk like hell down there because there were drainage channels that had dried up and smelled like rotten eggs," he chuckled.
After several weeks of initial training, the young aviation cadet received orders to report to St. Vincent's College at Latrobe, Pennsylvania—one of educational institutions with whom the government contracted during the war to provide introductory aviation training.
"All of us aviation cadets were hoping to be pilots and while we were there, I remember doing some flying in a little one-wing aircraft," Farrell said.
When the training was completed in February 1944, he was sent to Nashville along with scores of other aviation cadets. It was during his brief time in Tennessee that he was selected to become a gunner, rather than a pilot, because of the needs of the service.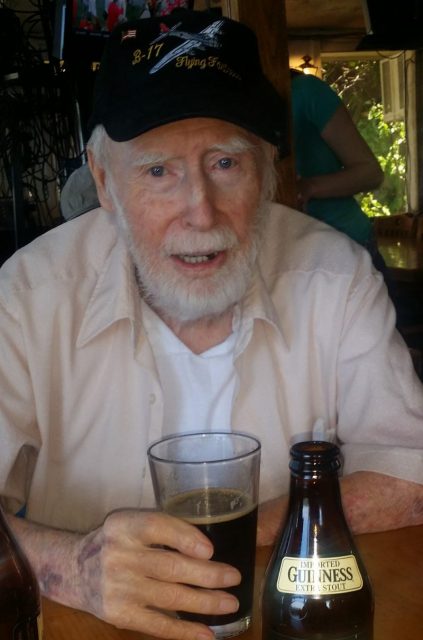 The next stop in his military training found him at Buckley Field, Colorado, which the veteran described as a "very primitive base at the time." He underwent several weeks of armament school during which he learned to operate and work on the .50 caliber machine guns.
"I then got orders for gunnery school in Las Vegas," said Farrell. "That training lasted several months and that's where I really learned all the details associated with being a tail gunner on a B-17 bomber," he added.
The veteran was then transferred to Tampa, Florida, to await his next assignment. Within a few weeks, he was sent to Keesler Field to form as part of a crew for a B-17, to include pilot, co-pilot and navigator. They would train as a team for the next six months while flying training missions over the Gulf of Mexico.
The newly trained crew then traveled to Savannah, Georgia, to pick up a new B-17 and in February 1945, departed for Europe with brief stops made in Labrador, Greenland and Iceland. Upon arrival in England, they were assigned to Kimbolten Field, from where they began making bombing missions as part of the 379th Bomb Wing.
"The original crews over there had to survive 25 missions before going home—and that was tough because of all of the losses they endured," Farrell said. "Then they raised it to 35 missions but fortunate for us the war ended by the time we had completed 21 missions."
During their time in Europe, Farrell noted, the crews would fly in formations occasionally consisting of hundreds of planes destined to drop bombs on important Axis targets, which German cities such as Scheweinfurt and Berlin. When the war in Europe ended in May 1945, he was soon sent back to the states to prepare for service aboard B-29s in the Pacific in support of the war against Japan.
"When I was back home, they dropped the atomic bombs and the war with Japan ended," he said. "That's when they sent me on to Childress, Texas, and from there to Lincoln, Nebraska, where I received my discharge from the service," he added.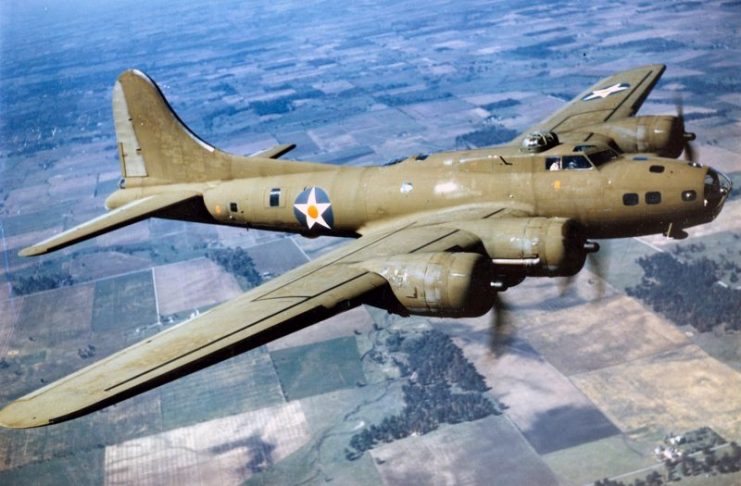 In the years after the war, he used his GI Bill benefits to earn a degree in journalism from Kansas State University in 1950 while at the same time receiving his commission as a second lieutenant in the Air Force due to his participation in the school's ROTC program.
During the Korean War, he was recalled to active duty and became a public information officer at Biggs Air Force Base in Texas followed by studies at Georgetown University and Ft. Riley, Kansas, for a new Air Force psychological warfare program.
"I left the service as a first lieutenant in 1953," said Farrell. "I then worked a year or so as a border agent in Texas and then briefly as a civilian in the Air Force Public Affairs Office at Topeka Air Force Depot and also Brookley Air Force Base."
His association with the Air Force continued, again as a civilian, when he went to work McConnell Air Force Base editing training manuals for the B-47—a position, he explained, that would offer him the opportunity to better utilize his journalism skills.
"I was hired as associate editor for Combat Crew—a publication of the Strategic Air Command," said Farrell. "It was the best job that I ever had and I remained there for 22 years, through 200 editions, when I decided to retire in 1982."
The father of three children, Farrell noted that his oldest son went on to retire from the Air Force as a master sergeant. Additionally, he affirms, although he has been given the opportunity to serve the country is several diverse capacities, his experiences in World War II remain some of his most poignant memories.
"World War II was a dangerous proposition and it's pure luck that it worked out as it did and we made it home without a scratch," Farrell said. "It was a very formative period for me and was the beginning of a decade's long association with the Air Force."
In conclusion, he added, "Each job I had throughout the years provided me with the background and connections, it seems, for every job that came later. It has all become part of one splendid experience."