War History online proudly presents this Guest Piece from Jeremy P. Ämick, who is a military historian and writes on behalf of the Silver Star Families of America.
While growing up, many have been influenced by someone they held in high regard—perhaps an individual that seemed to be larger than life, has traveled to exotic locations or has participated in remarkable events of which only others have dreamed.
In the late 1930s in a suburb of St. Louis, a youthful Walter McHugh recalls listening to the tales shared by a next-door neighbor, thus inspiring the young boy to embrace a "fib" with hopes of fulfilling a dream.
"The man living next door was a retired Marine—a big, strapping guy that really impressed me as a young boy," said McHugh, Jefferson City, Mo. "No one in my family had served in the Marines and I really enjoyed visiting with him; I admired him so much I decided to join," he added.
Aided by his neighbor, McHugh was able to disguise the fact that he was only fourteen and enlisted in the Marine Corps Reserve.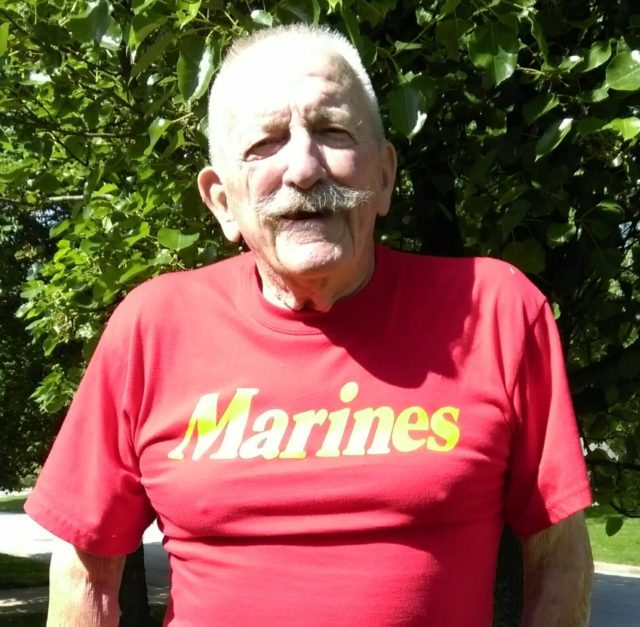 "To be honest with you, the recruiter didn't give a damn about my age … they were just happy to have someone that was interested," the veteran laughed. "But my dad found out about it six months later and blew his top. Then he went down to the Marine Corps recruiter and got me out of it."
As the years passed and McHugh finally came of legal age, he took a "500-question exam" administered by the Navy for the Marine Corps. After missing only two questions on the entire exam, McHugh said, he enlisted in the Navy in 1944 since he was promised assignment to a Marine Corps Air Squadron.
"They sent about 180 recruits down to Jacksonville, Fla., and hammered us pretty good for about six weeks. They made us physically fit there," he grinned.
The young sailors were then sent to schools in different locations throughout the country while McHugh received assignment to the Naval Air Technical Training Center in Norman, Okla. It was here that he underwent training in aviation ordnance; however, he soon discovered the course of instruction would be used to conceal an assignment of a covert nature.
"Although I learned some about ordnance, they taught us to carry coded messages—that's what the guys who scored high on the (Navy entrance) test were selected to do," he affirmed.
The messages, McHugh recalled, were transmitted verbally and often sounded like oddly structured sentences but the intended recipient understood the meaning of the communication.
"For the next couple of years, I carried messages to ships around the South Pacific," he said. "Once I got aboard, they knew I was coming and took me right to the person I was supposed to deliver it to. When I was convinced it was the right person, I gave him the message and then went to work as an ordnance man on the ship." Pausing, he added, "I never spent more than two weeks in one location and then I was off delivering another message."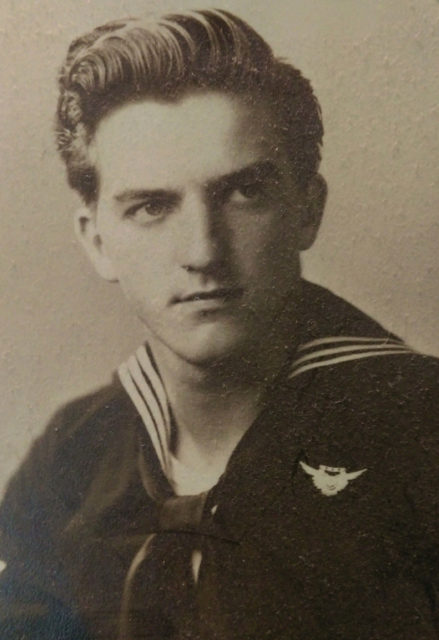 After the war ended and the need for coded messages was no longer critical, McHugh returned to the states and finished out the last six months of his enlistment on military police duty in San Francisco, until receiving his discharge in 1946.
While still the Navy, McHugh married his childhood sweetheart, Frances Gretchen Schirr, with whom he was reunited upon his return from the war. He soon went to work for the Pittsburgh Plate Glass Company (PPG) as a salesperson for the paintbrush division until a relative's "suggestion" fulfilled his desire to serve with the Marines, although with unexpected consequences.
"My sister had married a Marine captain and he had something to do with the Marine squadron at Lambert Field in St. Louis. He talked me into enlisting in the Marines (in August 1950) and six weeks later I was in Korea, which was one hell of a big mistake!," he grinned.
In September 1950, his squadron boarded a troopship in California that carried them to Japan, where they were then loaded on landing ship tanks (LSTs) operated by Japanese civilians. McHugh and his fellow Marines were then sent to the Korean mainland and became part of the Battle of Inchon—an amphibious invasion involving an estimated 75,000 United Nations troops.
McHugh fought inland with the 1st Marine Division and helped establish an airfield a few miles northeast of Inchon, from where they launched aerial attacks against enemy forces. However, weeks later, he and scores of other Marines were sent to the Chosin Reservoir to help rescue an estimated 30,000 American troops surrounded by 120,000 Chinese soldiers.
"We were using whatever type of equipment we could to get the wounded out of there," he said. "There were cart paths we used for roads and you could only fit one piece of equipment down it at a time. Also," he continued, "the paths were surrounded by steep mountains on either side and the Chinese would shoot at us and our equipment as we passed."
Though he hesitated in providing much detail regarding certain combat activities, the eleven months McHugh spent in Korea earned him seven Purple Heart medals from shrapnel and bullet wounds.
"None of them (the wounds) were very serious," he humbly submitted. "I was lucky … others weren't."
Returning to St. Louis in August 1951, he and his wife in later years raised four children. The veteran returned to his employment at PPG and eventually relocated to Jefferson City where he became the owner of Brady's Glass and Paint, which he operated until his retirement.
His life, McHugh admits, has been full of many unexpected twists and turns, but he often enjoys reflecting on the years he spent in uniform and the man, who so many years ago, first inspired his decision to become a Marine.
"After the war, I never saw my neighbor again and I have no idea whatever happened to him," McHugh said. "But I really enjoyed those days when I could listen to him tell his stories about serving in the Marine Corps … everything he said just awed me," he added.
"And after I went on to serve with the Navy in the Pacific and the Marines in Korea, it really helped give me an appreciation for everything that he had talked about. I understood what he had been through."