War History online proudly presents this Guest Piece from Jeremy P. Ämick, who is a military historian and writes on behalf of the Silver Star Families of America and is the author of five military history books. You can visit his website at www.missouriatwar.com.
Ernest "Pat" Zimmerman is a colorful individual who, despite witnessing some of the worst episodes of war while serving on Iwo Jima during World War II, effuses a joviality that is infectious to those around him. As the Moniteau County native explained, he has chosen to disregard many of the bloody moments from his military past and instead focuses on the good memories and friendships fostered during his time in combat.
Born in 1925 a few miles north of California, Mo., Zimmerman said that after finishing the eighth grade "at a little country school," he did what many young men of the period did—he went to work on the family farm.
For the next few years, he continued working on the farm while also dabbling in work as a machinist. In July 1943, he chose to enlist in the U.S. Navy since World War II was well underway and three of his brothers were already in the service in addition to a sister who went on to serve with the Women Accepted for Voluntary Enlisted Service (WAVES).
"I jokingly tell everybody that I was a half-breed," Zimmerman grinned. "I went in the Navy and ended up being assigned to the Marines."
Completing his basic training at the Farragut Naval Training Station in Idaho, Zimmerman was asked what naval career field interested him. When he replied that he would like to be a machinist based upon his farm experience, he was told that he needed to identify another career choice.
"I said that I could be a medic, too," he said. "So after boot camp they sent me to the Navy (Hospital Corps School) at Balboa Park in San Diego. I spent several weeks there and was trained as a combat medic." Pausing, he added, "During part of our training, we even had to give each other shots (injections) while blindfolded."
His introduction to the medical field was followed by practical application when he was assigned for the next few weeks to the nearby naval hospital. Little did he realize at the time that the training he received would prepare him for the approaching baptism of fire.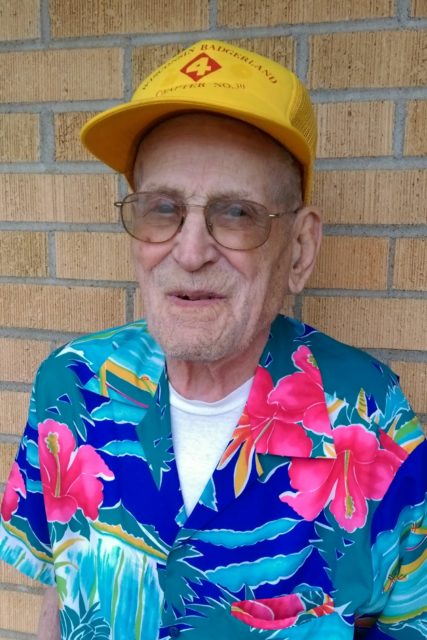 "They wrote on a board (in our training area) that they were looking for medical personnel to serve with the Marines … so I signed up," he recalled. "That's when they sent me to Camp Pendleton (Calif.) to train with the Marines."
As Zimmerman explained, he was aboard a Dutch freighter bound for Hawaii on his 19th birthday. After arriving at Pearl Harbor in mid-July 1944, he was assigned to 4th Marine Division, underwent several months of combat training and then boarded a transport ship bound for the embattled island of Iwo Jima.
"When we landed on Iwo Jima," said Zimmerman, "we climbed down nets attached to the side of our transport and onto landing craft, and then they took us to shore." With a heavy pause, he added, "That's when all hell broke loose."
In the book "Asiatic Land Battles: Japanese Ambitions in the Pacific," author Trevor Dupuy wrote, "On November 24, 1944, the B-29 squadrons made their first attack on Tokyo." He added, "This was a round-trip flight of three thousand miles; most of the load carried by the great planes was gasoline, so that they could not carry many bombs."
Dupuy further explained that Iwo Jima lay almost "midway between Tokyo and the Marianas bases," the latter of which is from where the United States launched many of the aerial attacks in the region. Iwo Jima was the only island considered suitable for airfields and the American Joint Chiefs of Staff wanted it wrenched from Japanese control.
With their arrival on the island on February 19, 1945, the V Marine Amphibious Corps—comprised of the 3rd, 4th and 5th Marine Divisions—began their assault. Although the island had endured heavy bombardment from Navy ships, the Japanese sought refuge in underground shelters from which they emerged to defend the island.
"After we got to shore," Zimmerman said, "we kind of remained in groups as we moved toward the front lines (of combat). A mortar exploded behind us and killed a guy standing there." Softly, he explained, "We didn't even know that he had been killed at the time because they kept telling us to look forward, not back."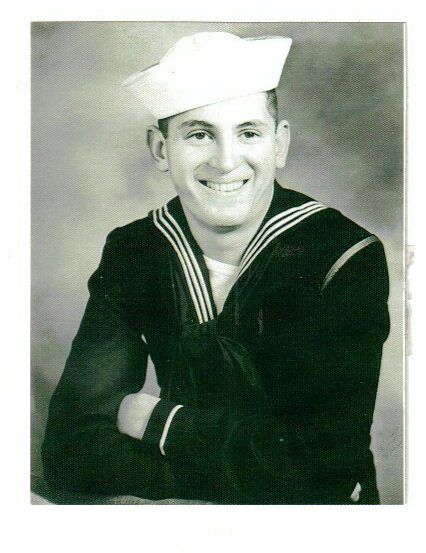 As casualties mounted, Zimmerman treated the wounded Marines for a variety of injuries to include shrapnel and gunshot wounds. Though he admits much of what happened on the island has since "slipped my mind," certain sounds seemed to rise above the cacophony of explosions, remaining forever etched in his memory.
"The Japanese were able to capture some of our wounded guys and take them prisoner," he said. "They would drag them into their underground tunnels and we could hear them screaming because they were being tortured." Lowering his head, he solemnly stated, "It was tough … because there was nothing we could do to help them."
By the time the island was "officially" declared secure nearly a month later, an estimated 21,000 Japanese had been killed in addition to the loss of nearly 7,000 American lives.
Zimmerman served briefly aboard the USS Ticonderoga after the war and received his discharge in April 1946. He was engaged to Bernice, whom had served in the WAVES with his sister, and he moved to her home state of Wisconsin to be married. The couple raised three children while living in Wisconsin, where Zimmerman retired after working as a machinist for several decades.
The combat veteran humbly affirmed that when contemplating the days he spent in uniform, the more pleasant memories seem to emerge despite the many harrowing circumstances he encountered during his service on Iwo Jima.
"We were there to take care of the wounded—and that's what we did," he said. "I've got a lot of good memories and bad memories as well, but as the years passed, you tried to forget all of the bad parts and instead remember all of the good times."
He continued, 'Some of the best memories are of all of the good friends that I made in the service and up until about two or three years ago, we would meet for reunions to sit around and talk about all of the good times," he grinned. "I really enjoyed that."