Checking into a 400 plus room hotel what are the chances of getting the same room without you asking for a particular one? Most would say well 400 to 1 but when you keep getting the same room or even just the next time it's around 160,000 to 1!
However every time you stay and it's the very same room, the odds are more like winning a lottery every time!
This very same situation started to dawn on visitors to Tallinn's Viru Hotel in the Baltic State of Estonia back in the Soviet times of the 1970's and 80's.
Suspicion by guests was that, something very strange was going on there and indeed they were right! As Estonia broke away from Soviet rule the security services, the KGB realised that they too would have to check out and they did leave very quickly, so quickly in fact that they left behind a tell tail clue as to just what had been happening on the Hotel Viru's 23rd floor? By August 1991 Estonia had established its independence for the second time in the 20th century and the former Russian backed 'Intourist' hotel was vacated, it was then taken into private ownership in 1994 and it was only then that the secret of its 60 bugged bedrooms was uncovered!
However on its 23rd floor, a floor by the way that never existed according to hotel officials of that time so when tourists asked what was there? "Just technical things and hotel services", were often the answer. Although bearing in mind there was a restaurant on its 22nd floor and it was pretty obvious to diners that there was some thing there. Tucked away in two very anonymous looking offices was in fact and for it's time a very sophisticated electronic control room to listen in on conversations and even with tiny pre-drilled holes in bedroom walls allow spy cameras to take pictures of occupants of the rooms.
This whole idea was planned by the KGB and once the hotel was built and completed to their specification by a Finnish building company the spies got to work in secrecy wiring up the massive amount of rooms so that they could monitor at their leisure. When it was finally opened in 1972 the spies had their secret offices already to monitor its first western hotel guests.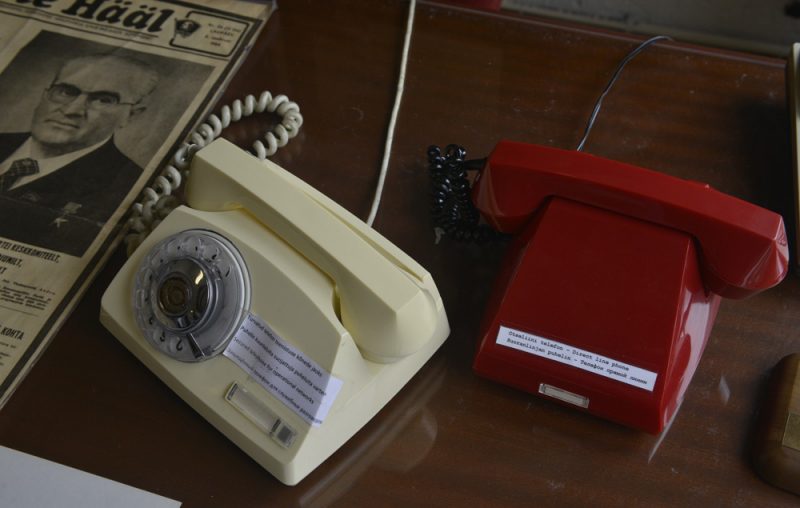 The USSR at that time was suspicious of all westerners and staff at the hotel were told not to speak with guests and there were harsh punishments if they did!
The staff themselves were also open for KGB inspired traps. Like dummy purses wired with explosive dye pouches left in rooms that would stain a worker if they opened them. The KGB could then use staff caught out by this sort of ploy to carry out special tasks for them like maybe entrap or befriend the guests so the KGB could put pressure on the guests for information or money. The use of prostitutes was widespread in the hotel and it is thought many guests were caught and compromised thus allowing the KGB to gather valuable technical details, military spying material or even hard currency by blackmailing western guests photographed whilst engaged in bedroom activities with the mainly specially KGB authorised girls.
Bugging was not just in the hotel rooms but there were cases of plates and ashtrays in the restaurant having tiny microphone transmitters fitted in them but technology at the time often needed a receiver aerial close by and some were found in the ceiling above certain tables. After some years regular guests did start to realise that they were being bugged and even used the system to order all sorts of items by saying things like "I thought the hotel would put flowers in this empty vase"? Then later as if by magic some flowers would arrive in the room. The KGB mindset was that they did not want westerners to think that they could not afford such items for guests or that hotel was not to a western standard!
Once uncovered by the new manager of the hotel the offices were left as they were for many years and were finally opened to the public in 2012 as the KGB Museum within the hotel. Touring with the guide you also get a real picture of life before the Iron Curtain came down, a place where they were all supposed to be happy Soviet citizens, living a great life, never wanting, led by wise leaders also a place where there were no accidents, nothing goes wrong. Or you hear about the real world, a somewhat a different and a tougher place to live if you happened not to be part of the political ruling elite, for example.
Costing €10 the one hour tour is really well worth it. Added to that, if it's a clear day you get fabulous views over the city of Tallinn. I would recommend that you pre-book as the tours are popular and are carried out in separate Finnish and English tours. Estonia is located close to the current Russian border and can be reached by a whole range of flights to its principle airport at Tallinn and the transit time into the city centre takes around 15 minutes.
Regent Holidays (www.regent-holidays.co.uk) offers an eight day Essential Estonia tour, priced from £585 per person. The price is based on two sharing and includes return flights from London Gatwick to Tallinn with Easyjet; accommodation throughout with breakfast; transfers; and bus tickets for journeys between Tallinn, Navra, Tartu and Parnu, returning to Tallinn.
Geoff
www.thetraveltrunk.net
Facebook
Twitter