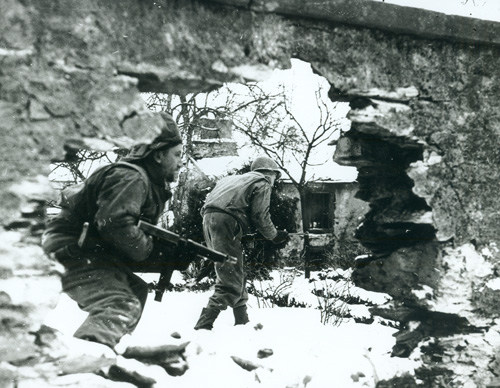 The platoon again opened fire as the Germans got to the fence. This time, it was Private First Class Milosevich who let rip with the .50-caliber jeep-mounted machine gun. The armor-piercing bullets, employed by rear gunners on B-17s to bring down fighters, blew holes a foot wide in the German soldiers. But the .50 caliber's field of fire was too narrow, and the gun was not easy to maneuver from its fixed position in the jeep. Milosevich tried to take it off its stand but burned his hand because it had become so hot. He wrapped a handkerchief over the burn and again picked up the gun so he could better traverse the pasture.
Suddenly, Milosevich saw a German paratrooper to his left only yards from Lyle Bouck's dugout. He fired and the German fell.
The enemy fire suddenly became particularly fierce. Milosevich decided to make for his dugout. A German appeared a few yards away, wielding a "potato-masher" grenade. Milosevich let rip, cutting the German in two. Milosevich made it back to his dugout and began to fire again. He screamed for Slape, who dived into the dugout, bruising his ribs.
The Germans kept coming.
Slape took over on the .50-caliber machine gun.
"Shoot in bursts of three!" shouted Milosevich, knowing the gun would overheat and they would be out of ammunition if Slape kept firing away without pausing.
"I can't!" shouted Slape. "There's too many of them!"
Slape continued to fire, hitting dozens of men with a sweeping arc. Milosevich saw the unwieldly gun start to pour off smoke. When he looked down the hillside, it seemed that they were outnumbered by at least a hundred to one, and the Germans just kept coming.
In their dugout on the extreme right side of the position, Sam Jenkins and Robert Preston had by now run out of ammunition for their BAR and were using their M-1s. Jenkins couldn't understand why the Germans were attacking again without artillery support. If they brought just one tank into play, they would all be quickly blown off the hill.  He fired again and again, knowing it was vital to hit the Germans before they got close enough to throw a grenade through the hole's firing slit.
Nearby, Private Louis Kalil suddenly noticed that some of the Germans were fanning out and trying to infiltrate through the position's flanks. A few feet from Kalil, Sergeant George Redmond was squinting through the sights of his M-1.
To the left of the dugout, a German paratrooper crawled along the rock-hard ground. He got to within thirty yards of Kalil and Redmond and then quickly aimed his rifle, loaded with a grenade, and fired. It was a superb shot. The grenade entered the dugout through its eighteen-inch slit and hit Kalil square in the jaw.
But it did not explode. Instead, it knocked Kalil across the dugout to Redmond's side. Kalil was half-stunned as he lay sprawled on the base of the dugout. Redmond dropped his rifle, grabbed some snow, and rubbed it in Kalil's face. Blood gushed from Kalil's jaw. The force of the impact had forced his lower teeth into the roof of his mouth, where several were now deeply embedded. His jaw was fractured in three places.
Redmond sprinkled sulfa powder on the wound and then pulled gauze out of both their first aid kits and started to wrap Kalil's face. There was no morphine in the kits to kill the pain. Once the shock wore off, Kalil would be in agony.
"How bad is it?" asked Kalil.
"Oh, it's not too bad, Louis," said Redmond.
"But I've got blood all over myself. It can't be very nice."
"It's not too bad."
"Okay, I'll take your word for it."
Kalil knew Redmond was trying to make the wound sound a lot less severe than it really was. He could feel the teeth embedded in the roof of his mouth cutting into his tongue.
The battle still raged. Small-arms fire sounded like radio static during an electrical storm, a constant ear-piercing crackle. Redmond's fingers did not shake despite his fear as he wrapped the last of the gauze around Kalil's jaw. He knew the Germans could penetrate their position any moment. If they were to stand a chance, they would need to return to firing as soon as possible.
Redmond tied the last gauze bandage and met Kalil's gaze.
"Don't worry about it," reassured Redmond.
"If things get to where you can take off, then take off," Kalil replied. Redmond looked at Kalil fiercely.
"We're staying here—together."
"All right."
Redmond grabbed his M-1 and began to fire. Kalil was now in terrible pain but did the same, aiming with the use of just one eye at the figures that still approached up the bloodied hillside. It was so cold in the dugout that Kalil could feel blood freezing to his face, stemming the flow from the wound. The damned cold had been good for one thing at least. In the desert, he would surely have bled to death.
You can follow Alex on Facebook and Twitter and all of his books are here www.alexkershaw.com