War History online proudly presents this Guest Piece from Jeremy P. Ämick, who is a military historian and writes on behalf of the Silver Star Families of America.
One thing that many young people search for after graduating from high school is a little direction in their lives, seeking out answers as to what might be their calling. For Mid-Missouri veteran Walter Foster, the way he found resolution to this ageless concern came from his decision to enlist in the United States Air Force.
A native of Mississippi, Foster graduated from high school in 1969 and began taking classes at a local junior college.
"After a semester, I decided I wasn't ready to be back in school," Foster chuckled. "That's when I decided to join the Air Force because a lady with the draft board had told me that I would probably be drafted once I left school."
Foster added, "Shortly after I enlisted, I received my draft notice and probably would have been sent to the Army had I not already joined the Air Force."
The young recruit's journey began in March 1970 when he traveled to Lackland Air Force Base (AFB), Texas, for eight weeks of basic training, followed by several weeks of specialized training at Ft. Lee, Va., where he learned to become a cook.
"Let's just say that becoming a cook was one of those situations that I did not choose—the Air Force knew that's where people were needed at that time so that is where they sent me," he laughed.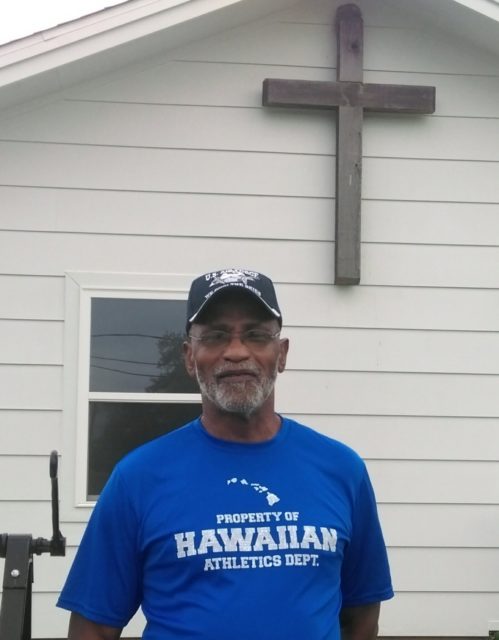 When he finished his cook school in early summer, he returned to Mississippi on a 30-day leave before beginning his first overseas duty assignment with a service squadron on the air base in Osan, Korea.
For the next 13 months he was in Korea, Foster explained, he provided meals to the airmen stationed on "Site 91"—a radar surveillance site located more than 60 miles from Osan.
"Although I was assigned to Osan , I worked three days on and three days off at the radar site," Foster said. "It was a small station that maybe had three buildings and ten personnel assigned, and myself and another cook would prepare the meals."
When his tour ended in October 1971, he and a friend stationed at Osan received orders back to the states, which were assignments they viewed as less than favorable. Instead, Foster said, he and his friend volunteered for an opportunity that seemed to offer a little more excitement and the chance to "see more of the world."
"They were looking for cooks to volunteer for Vietnam, so we did," he said. "They sent me to a service squadron in Saigon and I began working as a cook in one of the mess halls—I believe it was the biggest dining facility over there," he added.
Shortly after his arrival, Foster volunteered to work in the "in-flight kitchen," preparing box lunches for pilots and flight personnel, a job requiring him to work six—and sometimes seven—days a week to help keep up with the frenetic mission schedules.
"About 12 months into my tour, I was sent home on leave and when I came back (to Vietnam) I was sent to work in the mess hall on Bien Hoa (an air base located 14 miles northeast of Saigon that was used by the United States during the war)," Foster recalled.
For the remaining six months of his overseas tour, Foster continued to prepare meals in the base's mess hall all the while enduring frequent rocket attacks. One of these attacks, Foster explained, pointing out a newspaper clipping he saved, resulted in the death of 12 South Vietnamese and the destruction of two American jet bombers in late August 1972 after a barrage of 51 Soviet-made 122mm rockets slammed the base.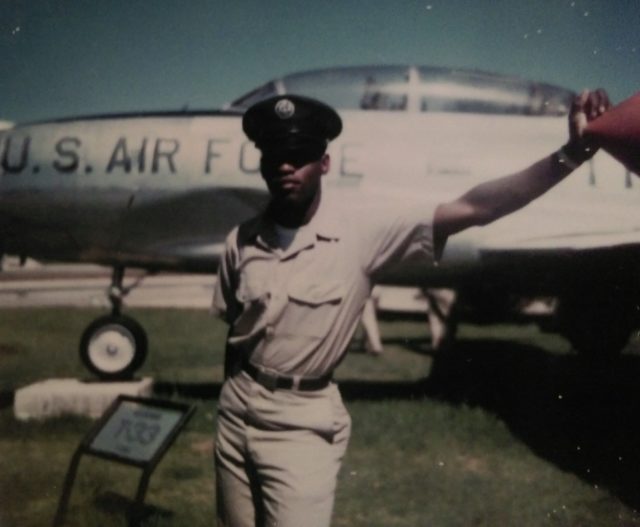 The Vietnam veteran returned to the United States in January 1973 after receiving orders to report to 351st Combat Support Group at Whiteman AFB in Knob Noster, Mo. While there, he spent the next several months working three- day alert tours as a rations cook at the various Minuteman I missile launch control facilities scattered across western Missouri.
"While I was stationed at Whiteman, there was a dance on base and that's where I met Joyce," Foster recalled. "We fell in love and were married several weeks later."
In September 1973, Foster was discharged from active duty under "Palace Chase"—a program that allows active duty airmen with a remaining obligation to transfer to a reserve component to finish their enlistment.
Foster returned to Mississippi and completed the next two years of his obligation with the Air National Guard. Following his discharge in 1975, he and his wife came back to Missouri and he continued his service in the Missouri Air Guard from 1976 to 1978. Full time, he spent a couple of years as a dining facility supervisor at Whiteman and then went to work for Waterloo Industrial in Sedalia, Mo., eventually retiring in 2012 after 34 years of employment.
"Many years ago I was called into the ministry," Foster said. "I always had an inkling that I someday wanted to be a pastor," he added.
In addition to raising four children with his wife, the Air Force veteran served many years as associate pastor with Ward Memorial Baptist Church in Sedalia and was ordained in the ministry in 2000. Since 2003, he has served as pastor of Prairie Grove Baptist Church in Tipton, Mo.
A man of many remarkable experiences, Foster insists that although his service in the military added direction and meaning to his life, his return from service in Vietnam has remained a very personal event forever ingrained in his memories.
"When I arrived in California on my way back from Vietnam, many of the people I encountered hated us—they hated anyone that was in a military uniform," Foster said. "It was actually so bad that you removed your uniform and put on civilian clothes because they would just as soon spit on you as look at you."
With momentary reflection, he added, "It made me angry the way we were treated because we were just doing our job, but in more recent years, with the wars in Iraq and Afghanistan, there's been more support for those in the military and even us Vietnam veterans have finally begun receiving the welcome home we never had before.
"For some, it might seem a little late, but it's a good thing."
By Jeremy P. Ämick – All Photos Provided By The Author