FOR SALE, this War Relic C-47 Dakota (not in flying condition, but in smaller framed skin panels for wall decoration) and the book The Dakota Hunter, that describes the remarkable final career of this 1944 built Gooney Bird.
The Dakota Hunter bought this derelict Douglas Dakota / C-47 in June 2013, saving it from the scrapper. The aircraft was on loan from the Aviodrome Museum in Lelystad and transported to a hangar theater at former NAS Valkenburg in Holland in Sept. 2010.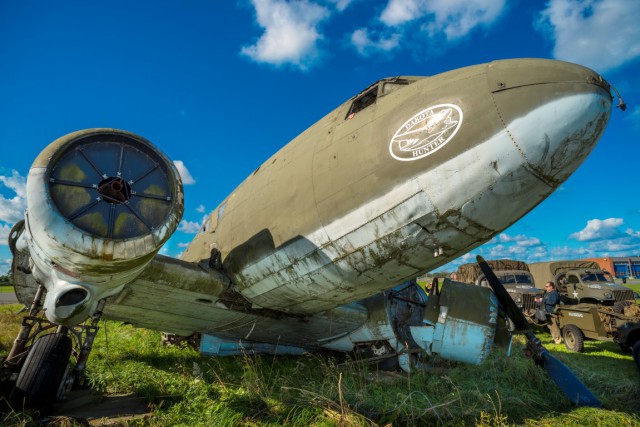 The aircraft was intended to become a Musical star in the most successful Dutch Show production ever ("Soldier of Orange," attracting almost 2 million visitors since its start).
On the way to the theater, the deep loader transport of the Dakota ran into an unnoticed mouse trap/ wedge on a fly over bridge with concrete side walls. The German built walls stood in a span 3 feet narrower than filed, and surely less than the central wing section width could handle. The resulting crash totally trashed the C-47 with the port engine shearing off and shredding the air frame. (Some thought it was as a delayed revenge of the WW II German Army, downing a Dakota 65 years after the war).
Her role as a Musical Star was over before it had begun and the aircraft was dumped along the parking lot of the Hangar Theater for some years, forgotten and abandoned. In its agony, the smelting oven option came closer every year. With a group of vintage aviation buffs, we had a better plan. Nevertheless, we had no other choice than to take the air frame apart but keep it all as much as possible in useful pieces. Due to salty coastal winds & hefty skin corrosion, total restoration was cost prohibitive, but see what finally comes out.
The cockpit of this C-47 is in the process of becoming the first PRO certified DC-3 Flight Simulator in the World. In cooperation with the Dutch Dakota Ass.(DDA), the Flight Sim company MPS works on a training platform to instruct future DC-3 pilots. The mission is to reduce real DC-3 flight time for training purposes, doing half of the total instruction time needed for the type on this 'fixed' war veteran machine. Imagine the saving in flight hours, the precious metal in less wear & tear of engines, and lower costs of fuel, insurance, maintenance etc.
More news to follow soon about this marvel combo of a 70 year old air frame and Hi Tech simulated controls and a 3D projection screen, that makes you really think you fly high up in the sky, without the high expenses of complex hydraulics and actuators.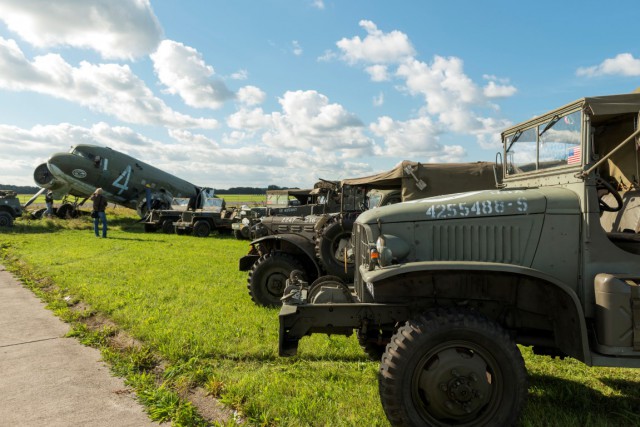 It is all written in my book "The Dakota Hunter", now on sale at Amazon USA/ UK , Barnes & Noble, my publisher Casemate USA/ UK, and other major outlets, in hard cover version or as e-book. Click here for direct access for ordering the book at Amazon
For my readership on War History Online, there will soon come for sale a limited number of riveted aluminium skin panels, taken from this same Dakota as depicted in this post.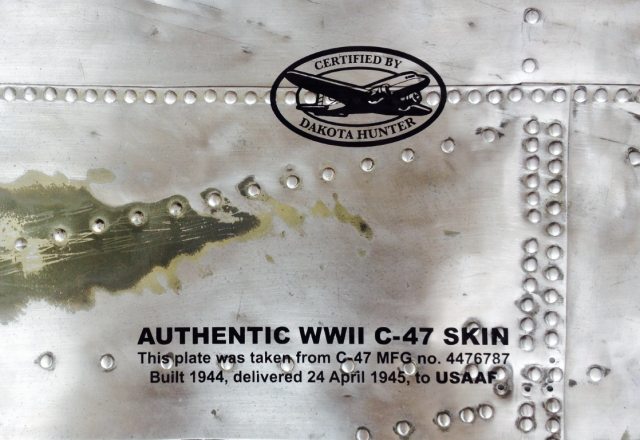 While the cockpit, wings and stabilizers found their way for exhibitions/ displays, the fuselage was badly corroded and only certain smaller sized parts could be saved. From this, we will cut panels in sizes appr, 40 x 28 cm / 11″ x 16 ". They will be partly polished, have rivet lines and will carry a certificate of authenticity and ID number signed by the Dakota Hunter (see photo of sample).
The panels framed make a very nice piece of interior decoration, along with the large size photo prints of this aircraft (also shown in this post), that will also come for sale in a matching size for dual framing of autographed photo & certified skin panel.

Photo courtesy RUUD DUK
For a good review of my book, see War History Online review written by Mark Barnes.
For more information about the photos and panels, please view my Facebook page at www.facebook.com/thedakotahunter.
With your 'like' given on this page, I will stay in touch with you for more news to come soon .
You can contact me at www.dc3dakotahunter.com for more info ab
out my book.